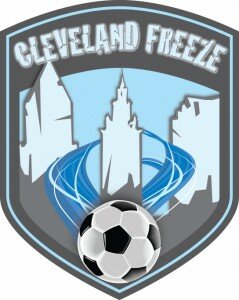 The Cleveland Freeze announced today that Hector Marinaro, the all-time leader in points and goals in professional indoor soccer, will become the Freeze's head coach for their inaugural 2013/2014 Professional Arena Soccer League (PASL) season.
This comes after the Freeze previously announced Co-Owner and Director of Team Operations Louis Kastelic as the team's Head Coach.
"I am honored to have been offered the job to coach this team and was fully prepared to do so, but hiring Hector is what is best for this organization," Kastelic commented.
Marinaro, who will remain the Head Coach for John Carroll University's men's soccer team, will lead the Freeze into their first-ever PASL season.
"Indoor soccer has been a huge part of my life that brought me a lot of success and great times," Marinaro remarked. "It gives me an opportunity to get back into the game that gave me so much. I love the game of indoor soccer and hope to bring back some excitement to the indoor soccer fans of Northeast Ohio that supported me for so many years throughout my playing career."
Marinaro, a legendary professional player, brings a robust resume to the Cleveland Freeze.
"There is no doubt in my mind that Hector will do a terrific job coaching the Freeze," Kastelic concluded. "His accomplishments as a professional player are remarkable and I cannot wait to see all the things he can do now as our coach."
Marinaro finished his 21-year playing career with the Cleveland Force as a player and assistant coach. He is the all-time leading scorer in the Major Indoor Soccer League (MISL) with 1,223 goals and 701 assists. His accomplishments as a player include nine MISL Scoring Championships, being a fifteen-time MISL All-Star, leading Cleveland to three championship titles and having the MISL League Most Valuable Player Award renamed in his honor in 2005. A native of Canada, Marinaro also played with the Toronto Blizzard and Rochester Rhinos in addition to earning six caps with the Canadian National Team.
Marino's coaching career is also a success. Since he was hired at John Carroll University in 2006, Marinaro has led the Blue Streaks to a record of 69-53-17. In 2007, the team won the OAC Tournament Championship. The Blue Streaks under Marinaro have been to the OAC semifinals five times and the championship three times. In his second season, he led JCU to a13-8-1 record and their fifth OAC Tournament Title, giving them an automatic berth into the NCAA Division III Championship. The team finished in the round of 32 after being eliminated on penalty kicks.
"We are honored to announce Hector as our head coach," Freeze President and GM Scott Snider commented. "After long discussions with Louis and Hector, this is most certainly a fantastic opportunity for our organization. There is no better time to be a soccer fan, a Cleveland Freeze fan and a Clevelander. We look forward to this season."
"I am very impressed with the ownership group that has been put together," Marinaro concluded. "I wouldn't get involved unless I felt the ownership group was committed to bringing quality indoor soccer to this area. I have seen franchises come and go since I retired as a player and I want to bring back the excitement that the indoor soccer fans of Northeast Ohio deserve."