This is part 2 of the European Soccer Experience as ISN's own Kris Reid visited Rapid Vienna, home of U.S. national teamer Terrence Boyd. He was treated to a training session, a tour of the city, and a lot of football talk with one of our sport's biggest young stars.
Kris takes it from here.
Kris Reid: So I´ll be honest, I didn't necessarily know too much about the Austrian league until recently.
Terrence Boyd: Me neither! This is one of the biggest clubs in Austria. They are like the Bayern Munich of the Bundesliga or Real Madrid of La Liga.
KR: I was maybe a little unaware of the details of the Austrian league until lately, but it appears as though this club is a big deal here.
TB: I didn't really follow this league until I was signed over the summer, but I am quite satisfied so far.
KR: You had your bicycle kick a few weeks back. Pretty awesome stuff so far.
TB: It is a bit of luck, too, you know. In practice, it doesn't always work, but this time it did. It's crazy.
KR: What prompted you to play for the U.S. Men's National team as opposed to Germany?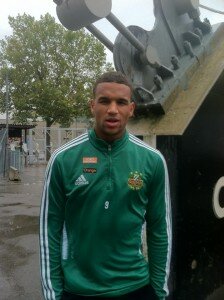 TB: The U.S., they cared for me. They brought me in for the Under 20′s. And then it was the first time I was able to play for the national team and then I got my passport ready. I mean I'm a big fan of the States. I love the States and I want to live there after my career. But in Europe it's all about soccer. The level is highest in Europe. I love the States. For me, it's the grandest country, the best country. I'm really so proud to be able to represent them. It's not something everyone gets to do.
KR: I feel like you're part of the next generation of people who are going to start representing the USA internationally because historically we haven't had a great soccer culture relative to the Europeans.
TB: I think it's one of the countries that is developing the fastest. With every big event, with every World Cup it's getting bigger. I mean there is so much potential there. There is a huge population and so many great athletes. Like, if some of the kids who normally played American football started playing soccer, you know. There are so many gifted athletes in the states. If the USA treated soccer like Europe does, I think the USA would be the best.
But I am a big American football fan, too. My family, when I met them for the first time in ten years, my father was an Olympic qualifier. I invited them to the U.S. soccer camp. The evening we played, my grandpa was like "I have no idea what soccer is about, but just do your best." They don't really take it seriously in the States. It's funny!
KR: Would you ever consider playing for a German team?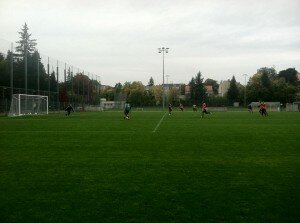 TB: Well, of course I want to play for a German club, but I want to represent the USA internationally. After the Antigua match, my fourth U.S. match, Peter (the media relations director for Rapid Vienna) asked me, "Do you really want to do this?" And I said, "Of course, one hundred percent." But of course, I want to play in the German league. To me, it is the best league in the world.
I mean, if you look at the EPL, it is the same five teams. And the other teams are just kicking long balls and it's a rough game. But in the Bundesliga, there are maybe eight really good clubs. They are all really good and competitive. You never know who can win. You never know what can happen.
KR: I think any year, any team on any given day can beat another team.
TB: Of course, Bayern is the biggest deal, and Shalke and Dortmund, too. They are always at the top.
KR: But they could always lose to any other team, like Bremen.
TB: That's true. It's crazy!
KR: So you are set on the German Bundesliga?
TB: Not really. My favorite club is Arsenal so that would be a dream come true.
ISN: You are on a three-year contract with Rapid Vienna.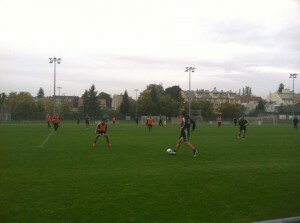 TB: Right. I didn't come here to stay only a couple of months, or to leave after one season. You never know what the future brings. First, I have to play good and create options. Of course, if you want to be one of the best, you have to play for the best teams and against the best teams. Right now, I am still progressing, still developing.
KR: In your first game over the summer, you scored two goals. Crazy!
TB: Yeah. It is crazy. But there are still times where I didn't score (for five matches), but in the last match I scored again. It's crazy for me because I've been a reserve team player and now the media is saying, "What's wrong with Boyd? Why isn't he scoring?" After I scored the bicycle kick, they gave me some nicknames like Air Boyd. I say calm down because you never know what could happen.
KR: Back to USA soccer culture, you said it will continue to progress.
TB: Yes, I think in ten to twenty years, I hope, the USA will move towards the top twenty leagues in the world. Maybe even top ten, you never know. The potential is there.
KR: I think so, too. What about the Jamaica game?
TB: We lost the first one, which shouldn't happen. The second match we won. And then we just beat Antigua, so that's good. It was crazy because we changed the system after the first loss. Things happened. We were, like, not scared, but just maybe they overpowered us in the first match. Fresh at every tackle, everyone versus one battle. They recovered well, extremely fast.
KR: So I know your team is tied for second in the Austrian league with the team you play on Sunday (Austria Wien), making it a big match.
TB: Even if it's the last place team, it's always an important game. Like, in the last game, we lost three to nil. And if we lose at home, it's crazy. They told us not to go out on the street.
KR: Do you have a routine when preparing? A favorite song?
TB: The same songs before, yes. Right now, Aesop Rock and Sol.
KR: What about the team? Did they take you in as part of the family?
TB: I prefer to talk about music (laughs). No, it's been good. They integrated me. I still feel like I'm in Germany because we speak the same language. Many things are similar. I feel comfortable here.
After the interview Terrence drove me around Vienna and we talked about music and he showed me the sights. He treated me to lunch and a coffee at Starbucks. An incredible gesture from a rising star in the game of football. I would not be surprised if he becomes a household name in the soccer community in the next few years.