Great Lakes Futsal, Ohio's largest youth futsal league announces the start of the 2012-13 winter season with play at 3 Northeast Ohio locations: Parma, Akron and new for 2012, Eastlake beginning November 10th.
Great Lakes Futsal is quickly becoming known on a national level as local directors and former Cleveland professional soccer players Chris Dore and Otto Orf have been spreading the word about the benefits of playing the game to the local soccer community since 2008.
On the heels of major announcements by the U.S. Soccer Federation and U.S. Youth Soccer to incorporate futsal play into their academy system curriculum, Great Lakes Futsal opens a third location at One Wellness in Eastlake, OH. The new location joins last year's addition, the Akron Sports Center and the charter location at Ohio-Nets in Parma.
"Our leagues now host over 350 teams each winter and include players from almost every community and club. We even have teams joining us from Erie and Pittsburgh, Kentucky, and Columbus," said Dore, "It is very satisfying to see how quickly young players develop their skills by playing futsal for just one winter. It really shows when they go back to playing soccer in the spring. Because playing futsal requires repeated use of essential soccer skills and is very fast compared to the larger outdoor game, kids go back outside and have more confidence on the ball and more time to see the field once they get the ball under control."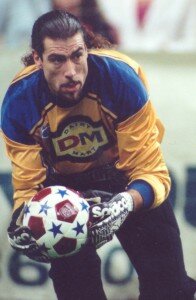 In 2011, Great Lakes co-director Otto Orf, former U.S. National Team Futsal player, was invited to join his former coach to train the national team in Torrence, CA in preparation for the Futsal Grand Prix in Manaos, Brazil. More recently Otto travelled to three cities in Spain to study the game of futsal and revisited Segovia, the site of his 1996 FIFA Futsal World Cup appearance.
"Returning to Segovia with this US Youth Futsal delegation, especially with former U.S. teammate Jon Parry, was very special to me," Orf added. "In Cleveland, Chris and I have been working hard to promote and teach the game. We have helped produce some great talent and these kids are now getting exposure as we compete on more of a regional and national level. I would love to be able to help some local young players experiences the things I have over the years. As far as skill level is concerned these kids are way ahead of the players in my day. We continue to educate ourselves so we can provide the best training methods and environments for our young athletes. Then maybe someday we will be able to buy a ticket to sit in the stands and watch them play!"
Great Lakes Futsal is offering free coaches clinics, youth open houses, and adult play nights leading up to the start of their 5th season.
Free Open House:
One Wellness, Melinz Parkway, Eastlake. Sunday Oct. 21 1:30-4pm
Akron Sports Center, 925 Grant Street, Akron. Tuesday Oct. 23 6-8pm for youth. 8-10pm for adults.
League Play Begins soon:
Team registration is open now and there are opportunities for individuals & adults looking to join a team.
Boys/girls ages: Futsal Jrs. (4-8), U-9, U-10, U-11, U-12, U-13, U-14, U-16, U-18, Adult men, women and coed teams.
Visit the website at: www.GreatLakesFutsal.com, call Great Lakes Futsal at (216)282-4625 or email [email protected] to learn more.