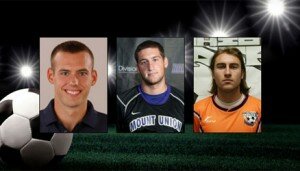 Zanesville Athletic (ZAFC) has announced the first three signings in club history. Tyler Graziani, Colin Combs and Ryan McClay will be sporting ZAFC green and black in 2013.
Graziani, from Imperial, Pennsylvania, recently finished his first season with the Xavier University Musketeers where he made five appearances as a freshman. In high school, Graziani was selected to the All-Section and All-Conference teams in 2009, 2010, and 2011 for West Alleghany High School. In 2011 he was chosen as a member of the All-State team.
As a youth player, Graziani grew up playing for Beadling Soccer Club where he helped his teammates reach two PA West State Cups. Graziani was a member of ODP Region 1, playing competitively in European countries such as Italy, Croatia, and Slovenia.
Combs, a defender, started all 16 games this season as a sophomore for the Mount Union Raiders. He was also a four year player at Pickerington North High School.
McClay was a four year letter-winner at Canal Winchester High School and was First Team All-District in 2001. He also participated on the '84 ODP State team.
In college, McClay was a two year letter-winner at Wilmington College and participated on Miami University Club team for three years. In 2007 and 2008, McClay played for the Cincinnati Excite, a member of the American Indoor Soccer League. In 2009 and 2010, he was a member of the Chicago Storm Reserves and played for the Professional Arena Soccer League side Ohio Vortex in 2011 and 2012.
Zanesville Athletic is excited to welcome these three talented athletes to the club. If you are interested in trying out for Zanesville Athletic email for more information.