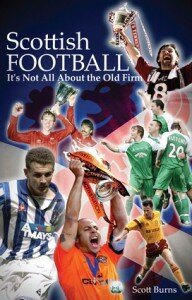 Everyone loves the SPL. It has a long and rich history, great derbies, and incredible personalities.
But when you think of the Scottish game, you think of Celtic and Rangers. The fact Rangers went into administration and went into the lower leagues doesn't change a thing.
Even British prime minister David Cameron is talking about Celtic and Rangers; this time he wants to bring these two Glasgow giants into the England football system. Some call it a political move; others think the two could seriously benefit from the move.
There is something about Scottish football that is special and more importantly, unique. But who gets all the glory and is the subject of all the stories? It all changes now.
Scottish Football: It's Not All About the Old Firm by Scott Burns is a special read; it is different than all the other books written about the Scottish game. It offers up stories and a focus you won't find anywhere else. It takes the back road through Scottish footballing history, getting past the Old Firm.
A lot of people probably know about Sir Alex's time at Aberdeen, but most people probably would look past the likes of Raith Rovers and Livingston. Some might be familiar with Hibs and Hearts, but might not be able to recall anything about Inverness Caledonian Thistle.
The book gets to the heart of football in Scotland. It isn't about what happens in Glasgow. There are so many other stories to tell and this book does just that in a masterful way. You feel connected to the legendary teams that beat the odds, winning hardware that was supposed to end up somewhere else.
This is a must have for all those who love the beautiful game. It is about the battle of David and Goliath and the fact that games are played on the pitch, not in popularity polls. It is about games that deserve and need to be played because the giants sometimes fall. People often refer to the giant-killing of the FA Cup, but that is just a typical week in Scottish football.