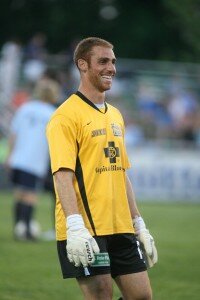 It's been quite a journey for Tomer Chencinski. Some might call it a rollercoaster ride. A footballer's journey that took him all over the world: from Moldova to the United States to Finland to Sweden to Israel. You name it and Tomer has probably played there.
"For me I have taken the dirt roads, the back roads to get to this point. I feel that everything happens for a reason. It built my character," Chencinski said of his career to this point.
He grew as a goalkeeper during his early days with the Harrisburg City Islanders and Philadelphia Union, but has really come into his own with success in Europe.
"Tomer was hard-working, someone who had aspirations for something higher," City Islanders head coach Bill Becher stated. "He was dedicated to the game. He had great confidence and always wanted to get better. He never put his head down."
It certainly seems like a new chapter of his life and his career has begun with a call-up to the Canadian national team.
"I was very excited,"Chencinski stated. "It is something that I will treasure forever. It is something I won't forget. It shows all the hard work that I am putting in is paying off."
Many, including Becher, were not surprised by the call-up to the senior national team. It was a great opportunity, one that would allow Tomer to train with the best Canada has to offer and even travel to Qatar to do so.
"The facilities are top-class. Everything is immaculate. I can really see this place hosting a World Cup with the number of fields they have and how good the facilities are."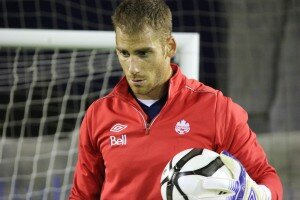 The heat of Qatar is always the start of any controversy, but it is not issue for Chencinski and Canada.
"The weather is great. We train in the late afternoon or evening so it is not too warm."
Chencinski is adamant that this is just the beginning for him as a player. That certainly makes sense as goalkeepers are often the last to develop and many play until their late 30s or even into their 40s.
Canada, a country that is still reeling from failing to qualify for the 2014 World Cup, is trying to make changes and move forward. Calling on European-based players like Chencinski, currently playing with Maccabi Tel Aviv, is a great start.
"The play in Israel is very fast. The league is growing and more people are starting to watch it. We average 15,000 a match. A lot of people follow our team. Our team is very attacking, very attractive."
The men's national team program is under even more pressure considering the fact that Canada will be hosting the Women's World Cup in 2015. The journey won't be an easy one as evidenced by its 2-1 loss to Japan on March 22.
Marcus Haber was able to bring things even at 1-1 in the 58th minute after an early goal from Japan's Shinji Okazaki. But a goal from Japanese striker Mike Haavenar less than twenty minutes later sealed Canada's fate in the first friendly.
Things didn't get any easier in the second match in Qatar against Belarus, arguably a stronger opponent than Japan. Chencinski would get the start in goal for Canada, going the full 90 minutes in a 2-0 loss.
Vitali Radzionau and Uladzimir Khavaschynski provided the goals for Belarus off two solid opportunities, while the Canadians struggled with finishing even though there was no shortage of opportunities. Left back Marcel De Jong nearly landed a goal in the first half; Tosaint Rickett, Will Johnson, and Marcus Haber all had chances of their own in the final 45 minutes. But opportunities aren't goals and opportunities don't equal wins and that certainly was the case for Canada this weekend.
It wasn't a Cinderella ending for Chencinski or the Canadian national team, but that doesn't mean it won't be a happy ending for both in the very near future.