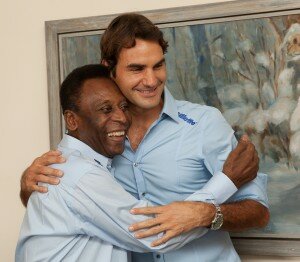 With Roger Federer in Pelé´s beloved Brazil to participate in the Gillette Federer Tour, Gillette brought the world's greatest tennis player in history together with the world's greatest soccer player in history for a first time ever meeting – while also introducing Pelé as a new ambassador for P&G.
The meeting, which took place over the weekend at Pelé´s residence, involved an exchange of gifts from one another´s sport. Pelé signed a shirt for Federer, the same one worn in Sweden when he won the 1958 World Cup. Federer signed a tennis racquet, which he had been saving for the day when he would finally get to meet his idol. Together, they shared many laughs and stories as well as wishes to each other for good health.
Says Federer, a global brand ambassador for Gillette, "Meeting Pelé today was an absolute dream come true. It was an honor to be introduced to the most important and most famous personality in world soccer. Welcome Pelé to the P&G family, and I couldn´t imagine having a better partner!"
Adds Pelé, "It is such an honor to be a part of the P&G family, and to be welcomed by the best in tennis – Roger Federer. I look forward to joining him and P&G's other great champion athletes. We will do many positive things together and commit ourselves to the development of sports in Brazil and worldwide."
Excellence, innovation and superiority are the major attributes of P&G and its brands and are the same qualities that made Pelé the best player in the world.
In July 2012, the company celebrated 87% awareness of the P&G brand in Brazil – the best result in recognition among Brazilians in the history of the company in the country. Today, nine out of ten people know P&G.