Pelé is a name everyone knows and with good reason. He is the greatest player to ever play the game and still draws attention wherever he appears or speaks.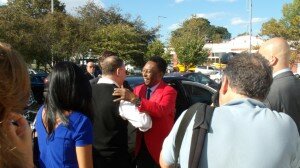 People still cherish any opportunity to see him in person anywhere you go around the globe. Commentators and analysts still care about what his says; his words care a heavy weight even today.
He will surely be the face of the 2014 World Cup in Brazil, representing the best of the beautiful game. His love of country and his fellow Brazilians is as strong as it ever was. He has been a strong advocate for Neymar, seeing the same greatness he had in his youth. That's not to say that there will ever be a player of Pelé's caliber. No, I don't think that is possible. Some try to compare Messi to Pelé, but that is simply not an argument to make. Messi's accomplishments for both club and country don't measure up to the legend of Pelé, who had a career that spanned decades. And Messi's influence hasn't created new markets for the sport, something that Pelé can certainly argue.
Pelé is someone that brought soccer to the States, his mere presence made the sport viable. Simply put, the 1994 World Cup and Major League Soccer wouldn't have happened without his influence. Having the world's greatest player actually competing here gave us a chance that we wouldn't have normally had.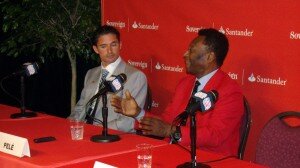 Pelé came from the humblest of beginnings and reached the highest levels of the game in what has to be called a legendary career.
His involvement with the resurgent New York Cosmos made them instantly credible and a recent appearance with the New England Revolution for Santander made headlines in Boston and around the country.
While this piece doesn't do him justice, we wanted to make sure that fans realize that Pelé still matters and will always be our greatest ambassador.