Soccer coaching books and manuals are "a dime a dozen." Publishers see it as an easy sell, something that is always in demand. That may certainly be the case, but there has always been a demand for something better, something of a higher level.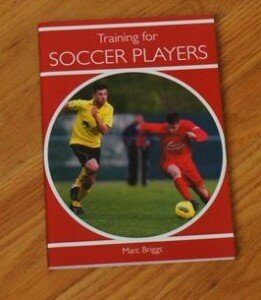 Training for Soccer Players by Marc Briggs is that highly evolved resource for coaches that want to go "the extra mile," coaches that are at the pinnacle of their craft.
This title is certainly scientific, but it is also practical. It is something that can be used right away to improve training and preparation. Topics are wide-ranging, from training drills and anaerobic training to aerobic training and fitness testing.
It provides you with realistic options for a customized training program with every aspect played out in graphs, charts, and statistics. All aspects of the player and coach are addressed from physical demands, strength/power training, and nutrition. It is carefully broken down into highly detailed subtopics. For example, the section on diet gives specific statistics, offering suggestion for pre-event meals, recovery foods, and hydration.
It is a must-have for anyone involved with the coaching profession. It is certain to improve training for all players, resulting in better development at all levels.