The National Premier Soccer League (NPSL) is proud to announce that ASA Charge has joined the league as an expansion team. They will begin play in the Mid-Atlantic Conference of the South Region in 2014.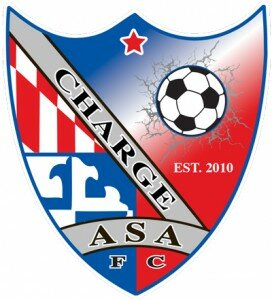 "We're looking forward to bringing NPSL soccer to Maryland in 2014 with the addition of the expansion club, ASA Charge." NPSL Commissioner Michael Hitchcock added. "Maryland joins a Mid-Atlantic Conference that includes the 2013 NPSL National Champion RVA FC and other strong returning clubs and expansion teams."
ASA Charge is owned by the Arundel Soccer Association, the fourth largest soccer club in Maryland. Their leadership includes the Board of Directors, General Manager Pat Crawford, Head Coach Tim Wittman, and Assistant Coaches Tarik Walker, Dan Bulls, and Steve King.
Crawford is a native of Anne Arundel County and played for Arundel HS and Salisbury University. He would go to play for the EISL's Lafayette Swampcats, where he led the league in scoring. From there he played in Florida before returning home to Maryland to play in the USL and eventually serving as owner/manager/player for the NPSL's Charm City FC.
Drafted out of high school by the Tampa Bay Rowdies (NASL) and the Baltimore Blast (MISL), Wittman spent 15 seasons with the Baltimore Blast, San Diego Sockers, and Baltimore Spirit (NPSL). He was a five-time All-Star and the 1987-88 MVP, winning league championships as both a player and coach. Whitman was inducted into the Maryland State Hall of Fame in 2004 and to the Baltimore Blast Hall of Fame in 2005. Currently he serves as the Assistant Coach of women's soccer at Johns Hopkins University.
"Participating in NPSL allows us once again to connect the elite, young adult part of soccer directly with the rising Maryland youth players," Crawford commented. "Charge has a history of involving young players directly with the team, and we get a chance again to give the youth boys something to aspire to."
Matches will be played at Arundel High School Stadium in Gambrills, MD. That stadium recently underwent renovations that included a new turf field and upgrades to lighting and concessions. It now features seating for over 4,000 spectators.
"Experienced players, experienced leadership, and club experience in winning on a national stage mean that Charge is in an excellent position to contribute to the quality of the league straight out of the gate," Crawford concluded. "ASA looks to step right into the mix with the likes of league champions RVA FC and the club powerhouses of D.C. United, so we know what standard we have to meet. The bar has been set high."
More information on the team can be found on their website at www.ASAChargeMen.com. Their Twitter, Tumblr, and Facebook pages will feature news from both the ASA Charge Men and Women. This information can be found on Facebook at www.facebook.com/ASACharge, on Twitter @ASACharge, and Tumblr at http://asacharge.tumblr.com.
ASA Charge joins Del Rey City SC (Los Angeles, CA), Spartans Futbol Club (Portland,OR/Vancouver,WA), SO Samba FC (Hood River, OR), FC Carolina Discoveries (Rock Hill, SC), BCS United Clash (Bryan-College Station, TX), Minnesota United FC Reserves (Blaine, MN), Greater Lowell Football Club (Lowell, MA), Atlanta Silverbacks Reserves (Atlanta, GA), NPSL Virginia Beach (Virginia Beach, VA), FC Bordo Saint Louis (St. Louis, MO), PA West Soccer (Pittsburgh, PA),Gate City FC (Greensboro, NC), Nashville Atlas FC (Nashville, TN), Virginia Legacy (Williamsburg, VA), Cincinnati Saints (Cincinnati, OH), Flower Mound FC (Flower Mound, TX), Temecula FC (Temecula, CA), Storm FC (Broward County, FL), and Lansing United (Lansing, MI) as expansion clubs for the 2014 season.
The NPSL is a national league that operates in the 4th Division of the U.S. Soccer pyramid. NPSL teams are eligible to participate in the U.S. Open Cup through their affiliation with the U.S. Soccer Federation (USSF) and the United States Adult Soccer Association (USASA). The NPSL is the fastest-growing national soccer league in theU.S., operating in 70+ markets across the country. Two Major League Soccer (MLS) clubs, D.C. United and the New York Red Bulls, operate U-23 squads in the NPSL.