The ISN office has a framed Norwich City jersey signed by Darren Huckerby front and center. It was worn by the eventual San Jose Earthquakes star in an FA Cup match some years ago. So you can say we have a soft spot in our hearts for the Yellows from Norwich.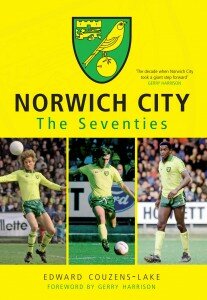 Norwich City FC: The Seventies by Edward Couzens-Lake never mentions Huckerby, but rather focuses on a golden age of English football. It was a good time for the English game and a transformative era for one Norwich City team.
Yes, Norwich is in the EPL now, in a league followed by billions. But it all started with a great run by the Canaries, a decade full of of progress and excitement.
It's not to say that it was an easy journey to greatness. It certainly wasn't that, but rather a ride on a road full of potholes or a jaunt on a wooden roller coaster.
However without that journey, the Canaries would never have made it to the EPL or even the Championship. To understand the present, you have to understand the past and there are plenty of lessons there.
The author is a natural and brilliant storyteller, able to recall the key players, games, managers, and personalities of the period. One thing we learned is that you can't nail down a single person that started the metamorphosis of Norwich City. It was more of a chain of events that changed the direction of the club.
It's an exciting history and a fantastic title. You start the book as a curious observer and finish a Norwich City fan. It's that good.
Kudos to Amberley Publishing for yet another incredible football title; they certainly have created quite a niche for themselves.