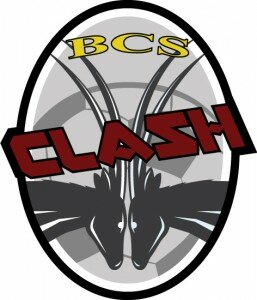 The National Premier Soccer League (NPSL) is proud to announce that BCS Clash (Bryan-College Station, TX) has joined the league as an expansion team. They will begin play in the South Central Conference of the South Region in 2014.
"The great soccer republic of Texas is adding another quality market with the addition of College Station," NPSL Commissioner Michael Hitchcock commented. "BCS Clash will provide a chance for local players to continue to develop by playing high-level NPSL soccer and who knows, maybe there is a Johnny Futbol waiting to be discovered and developed in College Station, Texas."
The South Central Conference already includes Flower Mound FC, Houston Regals SCA, Liverpool Warriors, and Tulsa Athletics.
BCS Clash is led by David Gutierrez, Alfonso Colins, Chris Lehr, and Doug Kent. Gutierrez serves as owner and head coach with Collins, an employee of the Houston Dynamo, and others leading the front office.
"We want to be able to show our community that homegrown talent stands a fighting chance against other professional teams," Gutierrez stated. "With the right recruitment and the proper coaching, a soccer team has the potential to accomplish anything. Throughout these next months we will be doing everything we can to play our cards right and garner the best talent this community can muster."
The team will play their home matches at the Allen Academy, a facility with an AstroTurf field and seating for over 600.
"You can tell this is a league devoted to American soccer," Gutierrez added. "Everyone from the owners down to the last player on the bench is passionate about what they do and they are all rational about how they do it. There are tons of options as far as professional soccer leagues to join but the NPSL has a formula that is proving more and more successful ever year. Every year the league grows significantly by not only gaining new membership, but by also retaining and supporting its already established membership. The BCS Clash is proud to be apart of the solid soccer model that is the NPSL."
The club can be found on the web at www.bcsclash.com, on Facebook at www.facebook.com/bcsclash, or on Twitter @bcsclash.
BCS Clash joins Minnesota United FC Reserves (Blaine, MN), Greater Lowell United Football Club (Lowell, MA), Atlanta Silverbacks Reserves (Atlanta, GA), NPSL Virginia Beach (Virginia Beach, VA), FC Bordo Saint Louis (St. Louis, MO), PA West Soccer (Pittsburgh, PA), Gate City FC (Greensboro, NC), Nashville Atlas FC (Nashville, TN), Virginia Legacy (Williamsburg, VA), Cincinnati Saints (Cincinnati, OH), Flower Mound FC (Flower Mound, TX), Temecula FC (Temecula, CA), Storm FC (Broward County, FL), and Lansing United (Lansing, MI) as expansion clubs for the 2014 season.
The NPSL is a national league that operates in the 4th Division of the U.S. Soccer pyramid. NPSL teams are eligible to participate in the U.S. Open Cup through their affiliation with the U.S. Soccer Federation (USSF) and the United States Adult Soccer Association (USASA). The NPSL is the fastest-growing national soccer league in the U.S., operating in 70+ markets across the country. Major League Soccer (MLS) clubs, D.C. United and the New York Red Bulls, operate U-23 squads in the NPSL.