The National Premier Soccer League (NPSL) is proud to announce that PA West Soccer has been granted an expansion team for Pittsburgh. The PA West Soccer entry will begin play in the Midwest Region's Great Lakes Conference in 2014.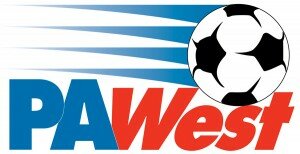 "PA West is known as one of the great, forward-thinking state soccer associations, which is why it's so exciting that PA West is bringing NPSL soccer to Pittsburgh," NPSL Commissioner Michael Hitchcock stated. "Their NPSL team will be great for PA West elite adult players to continue to play and develop, while inspiring the youth players of PA West as the next generation of players."
The Great Lakes Conference already includes AFC Cleveland, Detroit City FC, FC Sparta Michigan, Lansing United, Zanesville AFC, FC Buffalo, and the Erie Admirals.
PA West Soccer is led by Association President Natalie Schwoeble. The PA West Soccer NPSL team will be led by Executive Director Tim McCoy, Director of Coaching Paul Halford, Head Coach John Kowalski, along with Schwoeble.
Kowalski is the best known of the group, currently serving as the head women's soccer coach at Robert Morris University. His coaching experience includes time in the USL, MLS, and the MISL along with a variety of U.S. Men's National Team programs. He has coached notable soccer veterans like Carlos Valderrama, Eric Wynalda, Paul Child, and Dave Kasper.
"This new and exciting venture provides a higher level of competition for our older youth and young adult players," Schwoeble added. "We are very proud to be the first state association in the country to sponsor an NPSL team."
The team's mission includes a focus on player and game development. They provide their players with opportunities to improve each and every day. They provide a bridge for those players who want or need to play at a higher level, providing the soccer community with a team that they can call their own.
"We want to help our players improve whether that means going from being a sub to a starter, from one of the starting 11 to All-American, or making the jump from the college game to the pros," McCoy concluded. "In addition to developing players, as a USSF state association, we also have a mission to grow the sport. The addition of the team in Pittsburgh is another step toward making the game more visible in a market that has a >heritage with the game. Our success could provide a road map for other state associations to consider adding a team to their player development offerings."
PA West Soccer can be found at www.pawest-soccer.org with a new website being developed after an "It's Your Team-Name It!" contest is completed. PA West NPSL can also be found on Facebook at facebook.com/pawestnpsl or on Twitter @PAWNPSL.
PA West joins Gate City FC (Greensboro, NC), Nashville Atlas FC (Nashville, TN), Virginia Legacy (Williamsburg, VA), Cincinnati Saints (Cincinnati, OH), Flower Mound FC (Flower Mound, TX), Temecula FC (Temecula, CA), Storm FC (Broward County, FL), and Lansing United (Lansing, MI) as expansion clubs for the 2014 season.
The NPSL is a national league that operates in the 4th Division of the U.S. Soccer pyramid. NPSL teams are eligible to participate in the U.S. Open Cup through their affiliation with the U.S. Soccer Federation (USSF) and the United States Adult Soccer Association (USASA). The NPSL is the fastest-growing national soccer league in theU.S., operating in 65+ markets across the country. Two Major League Soccer (MLS) clubs, D.C. United and the New York Red Bulls, operate U-23 squads in the NPSL.