Both FIFA 14 and Pro Evolution Soccer 2014 have something to offer. EA offers a great, fun product every year with their FIFA series, while Konami's Pro Evolution Soccer is always looking for an identity.
I think they finally found it with PES 2014, a quality product with a lot to offer.
First, Pro Evo is the only game with the UEFA Champions League, UEFA Europa League, Copa Libertadores, and the AFC Champions League. Reason enough to buy, right?
Well, there's more. Great teams, great leagues, and a much improved gaming experience thanks to the FOX engine.
Things are good at Konami. They offer something different, something more authentic. Yes, PES 2014 plays like real soccer, which is great. It's a different experience than the fast, arcade style of FIFA 14.
This year's edition of Pro Evo is leaps and bounds above last year's attempt. But is it better than FIFA 14?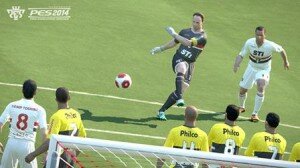 Depends on who you ask. PES 2014 feels nostalgic, almost European. The graphics are great. The stars look like they do in real life.
Yet others complain about a bit of lag, slow load times, and the dreaded lack of licensed teams. Konami is doing better with the latter, but it is still an issue that must be fully addressed. Online play and the Master League both need to be reinvigorated.
EA has created a supporters' culture with the FIFA series. The launch, complete with creative TV commercials, is an event on its own. EA is a marketing monster with enormous resources.
Can Konami compete with that? Yes, the company has been one of the stalwarts of the gaming industry for years. They know what they are doing, just ask the team behind the legendary Metal Gear series or those that created the Winning Eleven series, the predecessor to Pro Evolution. The problem is that many people aren't that familiar with Konami's soccer offering. Winning Eleven and Pro Evolution can certainly claim to have a cult following, but more can be done. Yes, Pro Evolution outsells FIFA in certain parts of the world, like Brazil. But what about here in North America? We should expect more.
Our suggestion is to just buy both of the titles. That way you will get the best of both worlds: the fun of FIFA and the authenticity of PES.
Pro Evo is just waiting, waiting for an off year of the FIFA series. Then they can go from playing catch-up to setting trends. It could happen.
More Photos