Manchester United is one of the world's biggest sporting brands, a brand valued at over $3.17 billion by Forbes. No wonder there are dozens of books written about the storied club each and every year.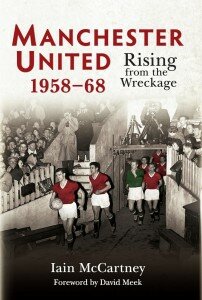 However, Manchester United: Rising from the Wreckage 1958-68 by Ian McCartney is a special title, offering something different and something unique.
It focuses on the events leading up to and after the tragic Munich crash, an event that tested every person associated with Man U. It is a story of unbelievable resilience, a story where a team literally rises from the wreckage to become FA Cup and European Champions in the club's most memorable and most difficult decade.
We hear about the leadership of Jimmy Murphy and the courage of Matt Busby. And we hear about the lives and careers lost in an unimaginable tragedy. Every death was one to be mourned with the story of Duncan Edwards taking center stage. Edwards, one of the most promising young players in club history, never had a chance to play out what would have been an incredible and global career. Every story is told with deep respect for those that were lost and those that were left to carry on.
The Munich air disaster was a trying and difficult episode in the history of English football, something that will never be forgotten. McCartney is flawless in his execution of the story, accurately capturing the highs and lows of such a turbulent and difficult time. It is a story of tragedy, but also that of hope lost and found again.