The titles of Luca Caioli's books are simple, but the content is extraordinary.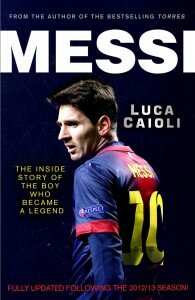 Ronaldo and Messi are his newest projects; both are fascinating journeys into the life of global footballing superstars.
Reading them back-to-back gave us a bit of a different, yet enhanced experience.
Ronaldo is a flashy superstar who puts forth a passionate and sometimes controversial persona, while Messi's humble nature makes you appreciate his awe-inspiring talent even more.
These titles dive into the lives of two international stars, starting with simple beginnings and ending in a life of celebrity. Subtle details, some never seen before, highlight the stories.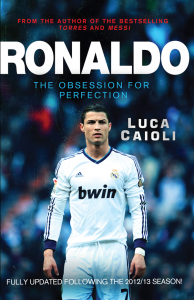 You'll hear how Ronaldo made it to Sporting Lisbon, how he became a Red Devil and eventually changed to the Whites of Real Madrid.
You'll learn how Messi went from a "nifty little player" to a repeat FIFA Ballon d'Or award winner.
Both are fully updated editions from the 2012/13 season. And both help us understand the world's top two players and the headlines they create each and every week.
From Ronaldo's record breaking contract to Messi's blockbuster summer tour, this magical pair is always making news in a big way.
Yet we never see the players out of the spotlight, away from the glitz and glamour of club football. Until now.
Many questions are answered in these detailed texts. Our favorites include:
Why do Ronaldo and Messi score more goals for club than country?
Why did Ronaldo allegedly want to leave Real Madrid?
How will Messi share the spotlight with other superstars like Neymar?
Overall these texts are great reads for any footballing fan, no matter what side you support. These two players represent the best the game has to offer, both on and off the field. They are icons, superstars that are on another level of global popularity. Ronaldo and Messi are just as good as their namesakes and represent the best the fall publishing season has to offer.
It is a rare opportunity to step into the inner circle of the world's best players. Something you will never forget.
Ronaldo is available for preorder here.
Messi is available for preorder here.