The National Premier Soccer League (NPSL) is proud to announce that Greater Lowell United Football Club has joined the league as an expansion team. They will begin play in the Northeast Region's Atlantic Conference in 2014.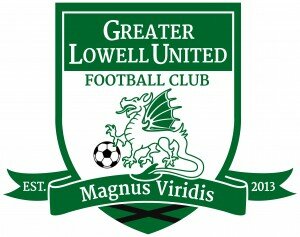 "We are excited to bring NPSL soccer to the great soccer city of Lowell, Massachusetts with the launch of Greater Lowell United FC," NPSL Commissioner Michael Hitchcock added. "Lowell will be a great addition to our competitive Atlantic Conference of the Northeast Region while providing great opportunities for Massachusetts players to play high level NPSL soccer."
The Atlantic Conference already includes Brooklyn Italians, New York Athletic Club, New York Red Bulls, Rhode Island Reds, Seacoast United Mariners, and Seacoast United Phantoms.
GLUFC is led by a passionate front office that includes Director of Operations Tim Melican, Director of Business Operations Manny Andrade, Director of Marketing Lee Pender, and Head Coach Joao "John" Ramos.
As co-founder of GLUFC, Melican oversees day-to-day operations of the club and is heavily involved in recruiting sponsors, staff and fans alike. Andrade, a local business owner and entrepreneur, brings considerable business development experience to GLUFC.
Pender brings years of marketing, public relations, and journalistic experience to the club, while Ramos sports a decorated playing and coaching career.
"The NPSL presents the perfect opportunity for us to establish ourselves in a soccer-ready market and immediately jump into a high level of competition," Melican stated. "The NPSL's stability and national profile will enable us to gain credibility and build fan interest from the first time our squad takes the pitch."
The team will play their home matches at the iconic Cawley Stadium, nestled in Lowell's Belvidere neighborhood. Cawley is home to Lowell Public Schools sports as well as various events, including many prestigious soccer tournaments.
The facility was built in 1937 and features an artificial playing surface, locker rooms for home and away players and officials, a large working scoreboard and PA system, and a spacious press box. Cawley also has ample parking in a large lot directly next to the stadium.
GLUFC wants to identify themselves as Lowell's team, a team the whole city and area can come together and support. Players and staff will be active in their interactions with the community, in schools, businesses, and houses of worship.
"We bring passion for the game and for our city," Melican concluded. "Our goal is to set alight the soccer scene in Lowell, a city with a passion for the game but no major outlet for enjoying it live. Demographically and geographically, Lowell and the towns surrounding it are ideally suited to hosting a professional soccer team and filling out development and youth squads."
More information about the club can be found at www.glufc.com, on Facebook at www.facebook.com/GLUFC2013, and on Twitter @glufc2013.
GLUFC joins Atlanta Silverbacks Reserves (Atlanta, GA), NPSL Virginia Beach (Virginia Beach, VA), FC Bordo Saint Louis (St. Louis, MO), PA West Soccer (Pittsburgh, PA), Gate City FC (Greensboro, NC), Nashville Atlas FC (Nashville, TN), Virginia Legacy (Williamsburg, VA), Cincinnati Saints (Cincinnati, OH), Flower Mound FC (Flower Mound, TX), Temecula FC (Temecula, CA), Storm FC (Broward County, FL), and Lansing United (Lansing, MI) as expansion clubs for the 2014 season.
The NPSL is a national league that operates in the 4th Division of the U.S. Soccer pyramid. NPSL teams are eligible to participate in the U.S. Open Cup through their affiliation with the U.S. Soccer Federation (USSF) and the United States Adult Soccer Association (USASA). The NPSL is the fastest-growing national soccer league in theU.S., operating in 65+ markets across the country. Two Major League Soccer (MLS) clubs, D.C. United and the New York Red Bulls, operate U-23 squads in the NPSL.