India is one of the brightest emerging markets in the beautiful game. FIFA clearly was aware of this when they awarded the country the 2017 U-17 World Cup, ushering in a new era of prosperity and growth for the entire region.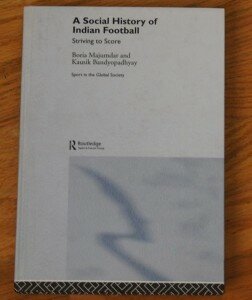 A Social History of Indian Football: Striving to Score by Kausik Bandyopadhyay and Boria Majumdar is the definitive text for anyone looking to learn the history of Indian football. Simply put, it is THE resource for Indian football. This is not an easy read, but it is a worthwhile one. Sport in India is shown in a political, social, and historical context. It is very academic, something you could use for research or (even better) your own enjoyment.
Key moments, events like the formation of the IFA and Mohun Bagan's 1911 IFA Shield victory, are defining ones. So are terrible tragedies. 16 fans died at an East Bengal/Mohun Bagan match in 1980. This book shares them all in exquisite detail.
And you hear the unknown stories like that of Mohammed Salim, the first Indian footballer to ply his trade in Europe. Yes, that's right he played for the legendary Celtic FC decades before Baichung Bhutia played for Bury.
India does everything big. And that is certainly the case when it comes to their footballing dreams. On one hand, the dreams seem closer to reality; the book suggests that India has the workings of something special. India has the history, passion, and the low-cost infrastructure needed to grow the game in a country where there is a massive population and new wealth in an emerging middle class.
But there are also the facts. India has never played in the World Cup finals. India struggles to progress in the FIFA World Rankings, the best coming in 1996 at #94. India's program for women's soccer is literally a generation behind similar countries. Simply put, there is a lot of work to do.
There is no question about the amount of information in this book. It is absolutely loaded with everything you would want to know about the game in India. It certainly will give you insight into the country's direction moving forward. India is at a crossroads. Which direction will they go?