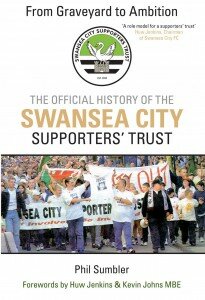 Swansea City Chairman Huw Jenkins called the Swansea City Supporters' Trust "a role model for a supporters' trust," but they are so much more than that.
They represent the best supporters the game has to offer. They are responsible for saving their team from the football graveyard that has claimed so many clubs in recent years.
From Graveyard to Ambition: The Official History of the Swansea City Supporters' Trust by Phil Sumbler is a labor of love, about dedicated supporters that helped their club get back on the right path, one that led to an ambitious and exciting future. You couldn't ask for a happier ending with Swansea becoming the first Welsh team to ever make it to the EPL, a place where the Swans have had enormous success as noted by their qualification for the UEFA Europa League.
Many pundits credit Brendan Rodgers for the resurrection of Swansea City, but the supporters are the ones that deserve all the credit. Their impact will be felt for years to come as they literally own part of the club, ensuring that their voice will always be heard and more importantly, listened to.
Supporters from around the world should look to what happened at Swansea City as the best of times and the worst of times. It shows the power of fans and supporters and how a difficult situation can be the beginning of great euphoria. They serve as a great example to supporters' groups in emerging markets, especially in North America. English supporters are light years ahead of the rest of the world and this book carefully demonstrated that exact point.
This title is ideal for those interested in supporters' groups, supporter culture, Welsh football or the EPL in general. It is a great read with tons of superior content and photographs. It details a great journey and a great story, one that changed the face of the game forever.