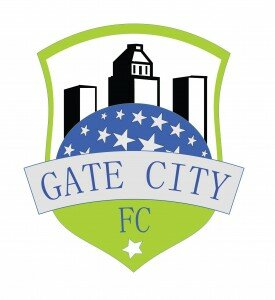 The National Premier Soccer League (NPSL) is proud to announce that Gate City FC of Greensboro, NC has joined the league as an expansion team. Gate City will begin play in the Mid-Atlantic Conference of the South Region in 2014.
"Our NPSL presence continues to grow in the Carolinas with the welcomed addition of Gate City FC," NPSL Commissioner Michael Hitchcock stated. "Gate City is going to successfully bring NPSL soccer to Greensboro which has proven to be a strong soccer market on all levels. We're confident that Greensboro will embrace the NPSL model of our community-based clubs who are committed to grassroots soccer while growing the game."
The Mid-Atlantic Conference already includes Virginia Legacy SC, CASL Elite, Chesterfield United FC, D.C. United, Myrtle Beach Mutiny, and 2013 NPSL National Champion RVA FC.
Gate City FC is led by Chairman/President Justin Cox, Executive Vice-President Hayley Dunn, and Vice-President/Head Coach Brian Japp.
Cox has been repeatedly honored for his work on and off the pitch. A former MLS Project 40 player and member of the U-17 Men's National Team player pool, Cox holds a USSF "C" coaching license. He received America's Top Young Entrepreneurs Award from Inc. Magazine in addition to The Business Journal's "40 Leaders Under 40" Award after building the leading environmental remediation company QAS Inc. from the ground up.
Japp is one of the most respected coaches in the region. A former All-American and two-time NCAA National Champion at UNC Greensboro, Japp went on to a decorated playing career that included time with the Memphis Storm, Miami Freedom, Miami Sharks, and the Carolina Dynamo. He holds the NSCAA Advanced National Badge and has been a coach at Greensboro College, the Carolina Dynamo, and Greensboro United.
"With the help of the NPSL and after many years of research and hard work, my dream of bringing world-class soccer back to the great city of Greensboro has come to fruition," Cox added. "I am excited at the prospect of leading this team to much success here in my hometown. This expansion team represents a new chapter for Greensboro, which has a long, rich history of enthusiastic support for professional soccer. I hope this enthusiasm will provide us with a strong fan base and loyal supporters."
Gate City FC will play its home games at Jamieson Stadium, which is located on the campus of Grimsley High School in Greensboro,NC. The 10,000-seat stadium features a Bermuda-style natural grass playing surface, press box, video message center, and elevated projection lighting.
"The mission is simple: create a nationally recognized, winning soccer brand along with an affordable family-friendly entertainment experience, and a unique marketing platform that will become the flagship franchise of a growing American soccer market," Cox concluded.
They can be found at www.gatecityfc.com, on Twitter @GateCityFC, on Facebook at facebook.com/GateCityFC, or on Youtube at youtube.com/gatecityfc.