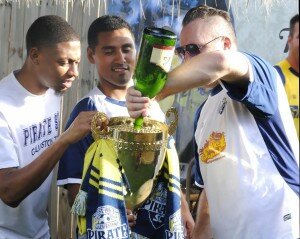 Galveston Pirate head coach Brendan Keyes is sharing his years of coaching experience with the world, literally. Keyes is leading a delegation of professional coaches and players to India and Mexico with the purpose of offering top-flight instruction in an international camp format.
These events should be great publicity for his Galveston squad and the NPSL as a whole.
Keyes will be joined in India by former I-League coach Mohamed Nizam Packeer Ally and former Ireland Women's National Team coach Noel Mulhall. Ally currently serves as Director of Football for the Football Federation of Sri Lanka, while Mulhall remains one of the most coveted coaches in all of Ireland.
Five Pirate players will also be participating in the camp that will take place in Mumbai on February 11-15, 2013. It will be a great opportunity for them to see soccer in a booming market.
"India is the fastest growing country in terms of soccer," Keyes stated. "They have more kids playing soccer than anywhere else."
India has become a hotbed for soccer thanks to an emerging middle class, a huge population, and a passion for the sport. Their I-League is quickly becoming one of Asia's best professional leagues in a country known for cricket.
But it certainly could be a country known for the beautiful game thanks to the success of Indian players worldwide. It all started with Baichung Bhutia, who made history in 1999 as the first Indian footballer to play in Europe. Today Sunil Chhetri is making waves in Portugal as only the third Indian pro ever to play abroad.
But there is no doubting the country's potential and the talent of their players.
"It reminds me of America 25 years ago," Keyes added. "It is an open market, a golden nugget."
Keyes knows this firsthand as his club signed midfielder Pratik Shinde to a contract in 2011, making him the youngest Indian player to ever sign with a foreign club. The 15-year-old had been courted by Spanish clubs before landing in the U.S. under the watchful eye of Keyes.
In a few months Keyes will head to Mumbai to share his expertise and passion for the world's most popular sport. But that is not the end of his global tour as another international camp is planned for July 2013 in Queretaro de Arteaga, Mexico. Keyes will be joined in Mexico by Oscar Carrillio, a player-coach with Galveston in 2012.