Apr 11
21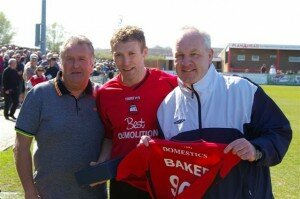 April 9, 2011 is a day Darren Baker will never forget.
He was honored for his 900th appearance at Eastbourne Borough FC. This is a feat surpassed only by King's Lynn's Mick Wright, who made 1,152 appearances between 1961 and 1981.
Former manager Pete Cherry, who gave Baker his debut in 1992, was on hand for the presentation along with current manager Garry Wilson. It was truly a special event for Borough, who faced Fleetwood Town with the hopes of avoiding relegation.
Things quickly turned sour in a 6-0 home defeat that put clouds over the near future of Baker's non-league club.
A win against Kidderminster on April 16 was absolutely essential, but Richard Pacquette scored the squad's only goal in a 1-1 draw with the Harriers. With that said, Eastbourne is now headed to the Blue Square South after three seasons in the country's top non-league football league. A wide range of emotions: joy for Baker and his accomplishments and a sense of starting over because of relegation.
Borough does have this summer to look forward to as they face either Brighton and Hove Albion or Horsham in the Sussex Senior Cup final at the new £105 million Amex Stadium. The match was delayed until July 16th to enable it to become the first-ever match at this state-of-the-art facility.