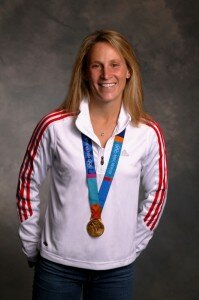 ISN had the privilege of speaking with USWNT legend Kristine Lilly, who currently serves as a brand ambassador for Korrio and assistant head coach of the Boston Breakers, about the future of the professional women's soccer in North America. No one knows the game better than an athlete with 352 caps with the U.S. national team, claiming 2 Olympic gold medals and 2 World Cup championships in the process.
1. What was your initial reaction to the announcement of WPS folding?
Well obviously I wasn't happy the WPS folded, but I wasn't totally surprised. I knew they were having some troubles and then suspending the league didn't seem too promising. It really stinks for soccer here in the U.S., but I know there are still talks and works to make a league happen for the girls to play in.
2. What effect will the lack of WPS have on the women's national team?
I don't think there are immediate effects to the women's national team, but if time goes on and we don't have a place for the girls to play then I think that will hurt our pool of players. The league gives girls a chance to play, be seen and to try and make the U.S. team. I think the league plays a big role in giving a place for a player to play and grow.
3. Does the WPSL or W-League model offer a viable option for the future of the professional game for women?
I think the WPSL or W-League are models that we need to look at. They have been around a while and maybe we need to start somewhere at a level that has worked and then grow from there. I think coming together with all of the spearheaders of the leagues and U.S. Soccer to come up with something that will help the players and the sport grow here is important to keeping our nation at the top of the women's game.
4. What could WPS have done differently to ensure long-term success?
I am not sure what was needed to be done differently, timing, could have been better. The economy taking a nose dive right when we launch didn't help. But I am not a business woman, so I leave that part to those who know business. However, we need to find a way to keep selling the game and reaching our fans to let them know we need their support to continue to make little girls dreams a reality!