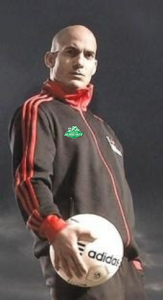 Houston Hurricanes FC is proud to announce the appointment of Thiago Reis as head coach.
"The search is over," Hurricanes President Brendan Keyes stated. "We've got our man."
Reis brings a multitude of experience as a player and coach to the Houston club. He has previously served as head coach of the Club America Academy, Director of Operations at 3v3 Street Soccer, and head coach of Galveston Pirate SC.
"I am very happy to be part of a club with a rich history," Reis proclaimed. "I am looking forward to getting started right away."
The University of Houston graduate hopes to make the team competitive in their first season and have a strong run in the Lamar Hunt U.S. Open Cup. The Hurricanes will play in a revamped South Central Conference in the National Premier Soccer League (NPSL), the fourth tier of the American soccer pyramid.
This conference is extremely competitive with several new clubs joining the fold for the 2013 season. Among them is a team that will surely be a rival to the Hurricanes, Liverpool Warriors. The Warriors recently joined the NPSL with the hopes of a Texas derby taking center stage this summer.
The first order of business for Reis will be the club's open tryouts this Thursday at the Chester L. Davis Sportsplex in League City, TX.
"All players will have to work hard and be dedicated to make my team," Reis concluded. "I want to give the City of Houston a team to be proud of."