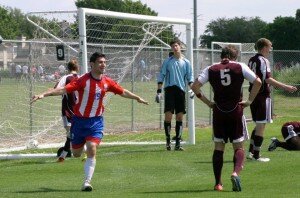 Polite and unassuming, yet oozing national pride and self-confidence Juan Coca laughs as he recalls the video he sent Notre Dame College's Head Men's Soccer Coach Michael "Mac" McBride.
"My video was so bad really, my video was so bad. I didn't even like me as a player in the video; I was like what is this?" Coca said in his distinguishable Spanish accent.
McBride noticed the skills in the video despite what Coca recalls it being a last minute idea and the video quality being poor.
"His personality is simply infectious," McBride said. "He's energetic, loves the game and has a lot of potential."
But even the keen eyes of McBride couldn't imagine the potential or talent he was getting in the San Juan, Puerto Rico, native.
"Mac and I laughed about it after I got here," Coca recalled. "He couldn't see much in the video, I scored a really bad goal."
For over an hour the 5-foot-7 speedy attacker dressed in his Notre Dame College Men's Soccer travel top with a neatly combed faux hawk reminisced inside Notre Dame College's Keller Center about his early career playing in small gymnasiums and humble soccer fields.
His is a fascinating story, a bilingual, dual citizen, with deep family roots and an even deeper rooted love for his native Puerto Rico, it's clear that he is still somewhat in awe of his own achievement and of the fact that he is now playing for the Puerto Rico national team.
Juan Antonio Coca was born in San Juan, Puerto Rico, on May 31, 1993 to Ana Maria Nogueres and Jose Coca and his bond with the city and the island was a motivating factor in his early establishment to his soccer loyalty.
"I learned futbol mostly by myself and with my friends," recalls Coca as his Spanish intertwines his English. "I remember when I was really young I use to wake up at 8 a.m. and go to the basketball court in front of my apartment. I would look up Ronaldinho, Messi, Cristiano Ronaldo, and Alexis Sanchez videos and learn from them," Coca said smiling as he thought back. "I use to imitate what they would do in the fields and gyms, everything from shots, to tricks, and crossing. This is where I really grew as a player."
Coca began growing through his own personal training, but it wasn't till the summer after his sophomore year that he started playing competitively more often. What Coca failed to mention was it was at that point that he twice led Colegio Adianez High School to back-to-back Sub Championships.
What he did recall was how he spent nearly every waking moment playing where ever he could.
"I use to call friends up and set up some 'futsal' as we called it in Puerto Rico," Coca said with a hint of laughter. "We use to go to basketball courts, set up small goals and kill each other. This is where it went down and I developed much of my skills."
"There is nothing better than meggin a stranger," he said with a gleam in his eyes. "But better than that was meggin or scoring against your best friend."
He thought back to his many memories of his times on the basketball courts playing against his peers, remembering his biggest influences.
"My friends and coaches and my family always was there influencing me," he said as almost reverted to Spanish.
His father once a manager of operations for the United Parcel Service in the Caribbean lost his job when UPS downsized. The new found time allowed him to focus on Juan's soccer career and aspirations of attending college in the U.S.
"When my dad lost his job he dedicated himself to make sure I improved in what I loved since he never had that opportunity," Coca said.
"My mom was a great source of support for me emotionally and economically," he said. "She was always there for me and made me feel comfortable and secure. That's why I love her. She took me to a lot of my early national team practices."
"The joke in Puerto Rico is because everything is 10 or 15 minutes drive that a two hour drive is like flying, those were the trips my mom took with me," he said.
"Other than helping in transporting and support his family wasn't much of an influence on his game. "They really didn't know much about the sport," Coca said. "My dad always knew about sports, but he was more of a basketball kind of guy."
Coca's family roots run deep and he carries a sign of his connection to his two brothers, Joey and Danny Coca on his right forearm. The tattoo of three stars signifies his love and always having his brothers with him.
"I miss home and my family," he explained. "It reminds me to never forget where I came from or who I am."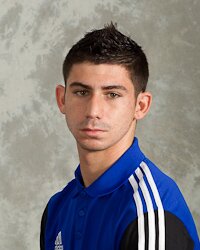 Coca came from a life where he ate and slept soccer in Puerto Rico. "There was a moment I realized that I wanted to keep playing my passion for a long time, and even though everything doesn't go as planned I will still live soccer because futbol isn't a sport, it's a lifestyle," Coca explained.
While he lived the life, he also credited Sergio Castro, Erick Cespedes, Santiago Morel, Gatinho, and Roberto Gotay as coaches who were a big part in his development.
"I really appreciate everything they did for me and all those hard and long practice they made me go through," Coca said. "It really paid off and I learned so much from them and others."
The payoff he said started to show when he was invited to a tryout for a Puerto Rico youth national team. With the dream of playing for Puerto Rico he went and was subsequently hooked.
"When I arrived there was over a 100 players all over the field, attackers in one area, defenders in another, and midfielders another all running around," Coca said. "The sport completely changed and the coaches were more serious and didn't give as much feedback. That made me grow and realize I had to impress them every time I got in the field."
That moment, one of his most memorable ones started the long path to his first career appearance in the Red, White, and Blue for The Blue Hurricanes.
"It's all about hard work, sacrifice, and dedication," Coca said.
While he always wanted to attend college in the U.S., Coca wasn't sure it would happen. Then one day after a national team training session someone approached him and said there would be schools interested.
"After that I got invited to a showcase in the U.S. and got offered a scholarship," Coca said.
That scholarship wasn't with Notre Dame College, but due to a few missed emails the offer expired.
Eventually signing with Notre Dame a dream come true for the young Coca, but he explains it was tinged with sadness as the rules of the NCAA meant that he could not play in his first season. "The NCAA has a lot of rules, and because I failed a few classes when I was younger I wasn't able to play this year," he says. "I was able to train with the team so it helped prepare me for next fall when I will be able to play."
That signing made Coca the fifth player in the 11 years of the Notre Dame College Men's Soccer program with national team experience. He joined an exclusive list of some of the best players to dawn the Blue & White for Notre Dame College under Head Coach Michael "Mac" McBride.
"We're all really thrilled that 'Juany' (Juan) has been called up to represent Puerto Rico this summer," stated McBride. "He has yet to kick a ball, in anger for us, but we are already very proud of him."
The young wonder boy from Puerto Rico will however have four years of eligibility to play for the Falcons while he continues to build his resume both with the national team and for the highly successful program at Notre Dame College.
The Falcons have won an incredible 73 percent (160-of-227) since their inception in 2001. During that time under McBride NDC has gone 160-52-15 including back-to-back undefeated regular season campaigns.
"I am really happy to be here and represent Notre Dame College," Coca said. "There is a lot of hard work yet to do."
That hard work will include pressure that comes with being a member of a very exclusive group of players in the illustrious history of Notre Dame College Men's Soccer.
McBride first brought William Poveda to College Road in 2002 in just the second year of the program after the Guayaquil, Ecuador, native earned caps with Ecuador's U17 National Team. Poveda still ranks ninth in program history (9).
Five years later in 2007 McBride secured the services of Surry, England, native Jacob Child. The 6-foot-1 left back represented England's U16 National Team prior to going onto become the Falcons all-time leader in starts and appearances (85). A year after Child's arrival Abergele, Wales, native Dan Knight joined Child after making 25 starts and 26 appearances for the Welsh U16, U17, and U19 National Teams. Knight served as a three-year captain and led the Falcons to 32 clean sheets in 84 appearances ranking him only behind Child for appearances in the Blue & White. Jacob Sheppard continued the tradition in 2009 after three years in the Canadian National Team pool.
But on April 1, 2012 Coca set himself apart from the group when he made his first appearance and start in a World Cup preparation tournament for the Puerto Rico U20 National Team at the Dallas Cup in Dallas, Texas. In that game, a 2-0 win over the Houston Dynamo STX Academy Coca scored the second his first goal for his country. That moment marked the first time any Notre Dame College player had ever earned a cap while a member of the NDC program.
"There really is nothing like it," he said beaming with pride. "Wearing your nation's color, sweating that jersey, scoring that goal after all the hard work was probably one of the best feelings ever."
Coca would go onto score three goals in four starts for the U20 National Team, as he led Puerto Rico to the quarterfinal of the oldest international youth soccer tournament in the U.S.
"All I ever wanted was to represent my country and everything that it stands for. It was indescribable really," exclaimed Coca.
"I know it's a huge honor for him to play for his country," said McBride. "Simply put, it's the pinnacle of any player's career."
But for Coca he sees that now is the time to prove himself with the NDC squad. "I'm ready to show what I can do," he said. "Even though it's been a tough year with all my ineligibility, next year I'm coming more ready than ever. I'm going to have a very productive summer and I'm coming ready to prove myself as an athlete and a student."
"We look forward to him making his debut for NDC when he returns from international duty," McBride responded.
Clearly happy in his present surroundings and having already secured his first four caps and three goals for the U20 National Team he has affectionately grown up aspiring to represent, Coca – whose personal favorite player is Alexis Sanchez – is content to go about creating his own legacy with an element of quiet dignity. His drive is a simple one, "As for NDC, our goal is to be national champions," Coca said. "My hope as a freshman is to get some good minutes in and be a good contribution to the team and our college."
Coca who is studying sports management at Notre Dame College hopes to one day be a sports agent but, only after his playing career ends, will continue training and preparing for finals. Once his finals conclude he will return to Puerto Rico and rejoin the national team for a summer of training.
"There is a long way to go and things have to work just right," he explains, "but I hope to play professionally one day."
If Coca does move onto play professionally he would join two current Falcons playing professional soccer. Frank Jonke scored 25 goals for NDC in 2004 went onto make his professional debut for AC Oulu in Finland on April 25, 2009 where he scored the goal that tied the match 1-1 against FC Hämeenlinna. Jonke dominated the season by recording nine goals, and helped lead Oulu win promotion to the Veikkausliiga by finishing first in the standings. Jonke currently plays for SR Delemont in Switzerland and the Falcons 2010 First Team All-American Tom Mellor signed this year with the Harrisburg City Islanders in the USL-Pro division. Mellor led NDC with 19 assists in 2010 as the Falcons went 23-1-0, losing their only game in the National Championship. Jonke and Mellor are rumored to have the 2010 National Player of the Year, Luke Holmes join them in the professional ranks later this year, were preceded by three other Falcons, including two captains.
But until that day Coca will stay focused on his current goals.
"This is just the beginning and I am ready for what awaits," Coca said. "It's an honor to represent my nation and everything it represents."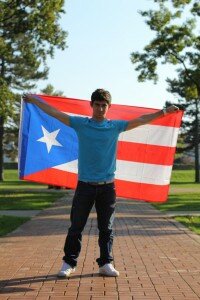 Opting to play for the United States as opposed to his nation of birth would be a tough choice. "I want to see Puerto Rico make a World Cup, it's my dream, and our dream as a country," he says. "It's a long way off, but it would be a tough choice," he explains. "I'm Puerto Rican and I want to keep seeing them grow, but the U.S. is a well respected nation and as far as exposure it would be a tough choice."
Whether he gets that tough choice or not will be an exciting but humble journey for Coca.
"This is just the beginning and I am ready for what awaits," Coca said. "It's an honor to represent my nation and everything it represents. I want to thank all my friends and family, you are the ones that got me where I am now and will keep pushing me on."
He concluded breaking midway into Spanish as he stressed his appreciation for where he is.
"I appreciate everyone that have influence on my development. Mami, Papi, Joey, Danny los quiero mucho, un saludo y abrazo a todos mis amigos," (Mom, dad, Joey and Danny love you very much, and a hug for all my friends).