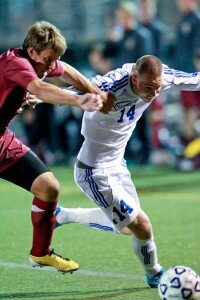 Playing in front of tens of thousands of fans, signing autographs, and traveling around the globe with one of the best teams in the world while being in the national team pool is the fantasy of almost every youth soccer player in the world. But for Notre Dame College's 2010 First Team All-American, Tom Mellor, he experienced all of those things before leaving high school.
"I want to prove people right, and prove people what I've got," declares Mellor as he spoke from his apartment in Harrisburg, Pa., with the confident air of a man at ease with himself having come through many trials and tribulations on his path to a professional soccer.
Indeed, the boy who started out learning his skills in England, and once sat in Manchester United's Old Trafford dressing room dreaming of being a Red Devil, has come a long way …
Mellor who played two seasons for Michael "Mac" McBride at Notre Dame College is preparing to make his professional debut with the Harrisburg City Islanders of the United Soccer Leagues Pro division, joins Frank Jonke (SR Delemont in Switzerland) as current soccer professionals from Notre Dame College and the fifth player in the illustrious 11 years of the small South Euclid, Ohio, program.
"I always wanted just wanted to be a professional soccer player," Mellor stated.
Ex-professional player and Tourbeau College Soccer Showcase president Chase Neidig believes the tall winger's speed and tenacity could offer something different to the Harrisburg midfield.
"Tom was made to be a professional player and that shows in his work rate," Neidig said. "He is one of the best one vs. one attacking players to come out of the college ranks in a very long time."
Neidig concluded, "Tom has an exceptional high game IQ for his age, he will give fits to opposing teams when he comes flying down the left wing serving balls into the box."
The Falcons have won an incredible 73 percent (160-of-227) since their inception in 2001. During that time under McBride NDC has gone 160-52-15 including back-to-back undefeated regular season campaigns and hasn't lost a regular season contest since Oct. 27, 2009.
During Mellor's two seasons with NDC, the tall lanky left footed winger made 45 appearances with 43 starts scoring 16 goals while providing a program best 30 assists as NDC went an impressive 39-5-2 including a dominating 23-1-0 campaign in his final season as the Falcons only loss came in the NAIA National Championship Final.
Tom Mellor was born in Shaw, England, on August 13, 1990 to Dave and Kath Mellor.
"My dad spent hours and hours on the field with me and my brother," Mellor said. "In fact I'd say that I have no bigger critic than my dad to be honest, but I think its good because he knows what I can do and he has high expectations. It's not like he's criticizing me from the point of someone who knows nothing about soccer."
Surrounded by a family with a passion for soccer also meant that the game became an integral part of his home life as well as his school and social life. Indeed, he gladly credits his father's own persistence for his successes.
The 21-year olds abiding memory of his early coaches is one of fun and enjoyment.
"When you're playing for one of the biggest clubs in the world under renowned coaches that developed the likes of (David) Beckham, (Paul) Scholes, and Giggsy (Ryan Giggs) it's like living a dream," said Mellor.
But it wasn't just the coaches that provided great inspiration. While still very young Mellor enjoyed working with David Beckham, Ryan Giggs, Rio Ferdinand on a skills video.
Then around the time Mellor was 11 he played in front of nearly 50,000 fans as Manchester United and Manchester City youth teams played directly before the first team's game. That game featured the fierce rivalry between both Manchester senior teams, but it was also the last game for Manchester United legend, Dennis Irwin's career for United.
Mellor remembered fondly during the game when he did a step over and the fans began cheering and applauding him. "It's the best feeling," Mellor sighed as he reminisced.
Mellor then reflected on the final result where fellow Notre Dame College and 2010 First Team All-American, Luke Holmes scored the winning goal for City, defeating Mellor and United.
"Luke likes to remind me about that goal from time to time," Mellor laughed.
Despite the early success as a youth, it wasn't always easy for Mellor.
After eight years with Manchester United, Mellor was called into the manager's office when he was 16 and released.
"I broke down in tears," Mellor recalls. "All I wanted was to play for Manchester United, but everyone has their own opinions and I was a late bloomer, so I can't blame them."
Soccer was rooted deeply in his family and with the persistence of a father who believed in both of his sons. Tom's dad continued to remind his son of his abilities and the hard work and dedication he had already put into his dream.
"My brother and I spent around 20 hours a week with our dad working on extra things," Mellor said.
Dave Mellor a firefighter would come home after a long night without sleep and take his sons to a field where they would work on their weaknesses while giving encouragement and advice.
David, Tom's younger brother went through similar struggles after being released by Manchester United, but earned himself a professional contract with Oldham Athletic FC in the npower Football League in England where he has made 20 starts for the first team this season.
In addition to developing his technical and tactical skills, the late blooming Tom was undersized and other obstacles to overcome.
"My dad told me that we would make be bigger and stronger," Mellor said. "He sent me to an ex-body builder and that worked."
While slender, Mellor now stands 6-foot and has the build of a sleek and speedy middle distance runner.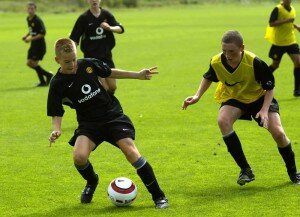 But following his release from United, Mellor went on trials with different clubs around England but he kept hearing, "you're not quite ready, you're not quite big enough." And it took the young Englishman several tryouts before Barnsley FC signed him to a youth contract in 2006.
Mellor while often told he was one of the most technical players at Barnsley found his confidence waning and sitting on the bench getting around five minutes a game.
"I wanted to quit," Mellor said. "I kept thinking about all of my setbacks and that I use to be playing at Manchester United, but maybe I wasn't good enough."
But as his parents continued to remind him of his abilities and the sacrifices Mellor continued to chase his dream of playing professionally.
Eventually signing a youth contract in 2008 at Wrexham AFC, Mellor started to find his form and impress the staff and scouts.
His impressive performances finally earned him a contract offer from the North Wales club. Despite being one of the oldest clubs in Britain and the oldest in Wales, Wrexham participates in the Conference National, the fifth tier of English football, Mellor felt England might not be right for him and started to weight his options of pursuing a career in America.
That option had become available after conversations with Notre Dame College Associate Head Coach Carl Nolan, a year after Luke Holmes had made the same step.
Five weeks later Mellor was stepping onto campus at Notre Dame College.
"It happened so fast," Mellor said. "It was a bit of a surreal moment; stepping off the plane I was like, 'shit I'm in America for the next four years."
The quick decision wasn't made haphazardly, as the family sat down and figured out how they would make things work, but it kept the young Mellor from having time to think about the life changing decision.
Instead he began thinking back to the advice his coaches at Manchester United had given him when he was young as he looked forward to the unknown.
"I started writing down the little things the coaches use to tell us," Mellor said.
He remembered what Eric Harrison and current Manchester United's first team coach Rene Meulensteen had said. "Enjoy, enjoy, enjoy," Mellor said. "The main essence was to enjoy my soccer and be confident."
His youth coaches also stressed the importance of making every shot and pass as if it was his last. "You never know when it will be your last," Mellor said.
Mellor also began thinking more and more about his accomplishments and who he had played with, and then he wrote them down.
"When you see it on paper," Mellor said a little in awe. "Where I've been and what I've done, it's pretty impressive."
The once waned confidence began to resurface in Mellor but his first season for Notre Dame started a bit slow.
"I was playing forward and I wasn't comfortable," Mellor said. "Lucky for me someone got injured and I went to Mac and told him I'd played there before."
McBride determined it was Mellor's time and gave the rookie his fifth straight start but his first at the Oldham, England's preferred position.
Mellor did well and earned the nod at his preferred position the next day. That game his coming out party, Mellor dominated scoring two timely goals while providing an assist as the Falcons stormed to a 5-2 win over second-ranked Concordia College (Calif.) at the University of Mobile Kick-Off Classic.
"I felt comfortable out wide," Mellor said. "It gave me the confidence to play and have fun."
The comfort was evident as Mellor went on a seven game scoring streak between Sept. 12 and Oct. 14 as NDC rattled off six wins and a draw.
Mellor would conclude the season earning NSCAA/adidas All-Region IX Team and First Team All-American Mideast Conference honors with a team best 11 assists to go along with eight goals as Notre Dame finished the season with a 3-1 loss to The Masters College in the NAIA National Tournament quarterfinals.
Mellor's second and final season at Notre Dame College came in the historic 2010 season. NDC rolled to seven consecutive shutouts to open the season outscoring its opponents 36-0. During the strong defensive run Mellor chipped in with a pair of goals and five assists.
It was truly Mellor Time in the Falcons 12th game of the year, both of his parents were in attendance when the second year attacking winger set up fellow Oldham, England, native Luke Holmes for the opening goal. Mellor would go onto record his first collegiate hat trick along to go along with a pair of assists in the Falcons dominating 7-1 win over Malone.
Mellor would go onto lead the nation with a program record 19 assists while scoring eight goals. A goal and six assists came during the Falcons historic run to the NAIA National Championship game. During that game Mellor hit a screaming free kick that brought NDC back within a goal (3-2) in the opening half. Notre Dame would fall 5-3 to Hastings (Neb.), ending its best season in school history just shy of the ultimate goal.
Following that season Mellor went home for the holidays to see his family. His mother, Kath needed a bone marrow transplant, but delayed the transplant because of his visit.
"The way my mom is she didn't want to be in the hospital when I was there."
In February after Mellor returned to Notre Dame, his mother went in for the transplant but things went terribly wrong as she had multiple organ failures, went into a coma and had to be kept on life-support. Mellor flew home two months later as things appeared to be turning around.
"I sat in the car with my dad and the doctors said she wasn't going to make it through the weekend."
But against all odds, Kath shocked the doctors and came through to be an inspiration to Mellor each day.
"When I think I don't want to go to training," Mellor said. "You have those days when you don't want to do sprints and I just think that my mom went through that. I think about it for 30 seconds and realize I can do sprints."
Mellor returned to Notre Dame and enrolled in classes, but understandably his focus was off.
"I tried to focus on classes," Mellor explained. "School was never really my thing, and then my mother fell ill, the priorities went a little bit."
That distraction and his desire to play professional soccer came to a head prior to the 2012 spring semester.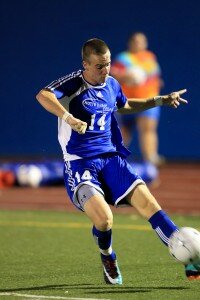 "I didn't withdraw from school because of a pro contract," Mellor said. "They suspended me so that gave me extra motivation to find a team," he explained. "Luckily for me it paid off for me and I made something of myself."
"To see her in the situation she was," Mellor said. "She was on her last leg I want to make it to the MLS and be able to fly her over and show her the lifestyle I have."
The speedy winger made his first appearance for the Harrisburg City Islanders on Friday, May 04, 2012 in a 2-1 loss to the Charlotte Eagles in the Islanders home opener.
If it hadn't been for a spectacular save by the Eagles keeper, Andrew Dykstra, Mellor was sure to bag the tying score with a brilliant strike towards the top corner. But Mellor made his next step towards his goal.
"I'm ready to prove those people wrong that didn't believe in me," Mellor said. "But I want to want to be the best I can be. I want to do it for my parents. I want to do it for my mum for obvious reasons. I want to do it for my coaches who believed in me. I want to play in the MLS."