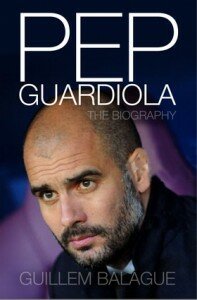 Guillem Balague's Pep Guardiola: Another Way of Winning is a special title written about a special coach, player, and person. Some might call Guardiola a legend as a player and coach and that certainly would be fitting.
This book sheds some light on the enigmatic Guardiola, an intellectual on the pitch and the sidelines. He is a man that brought honor and stability back to Barca, coming on board at a time of great turbulence. What he did was make history, leading FC Barcelona to the greatest run in club football history.
But was it easy? No, he had to deal with complex players like Ronaldinho, Zlatan Ibrahimovic, Thierry Henry, and Samuel Eto'o. At the same time, he had to be ever so concerned about the development of Lionel Messi.
He performed his job with class and emotion, creating a family-like atmosphere at Barcelona. He would play the role of big brother, father figure, disciplinarian, mentor, and friend. His players wanted to play well for him because he gave so much, truly his heart and soul, to the club.
His fellow coaches have only great things to say about him. Sir Alex thought enough of Pep to write the foreword.
Why did he have so much success? The title suggests there were a lot of factors. A world full of talent certainly helps, but a leader in touch with a club's history and tradition might play a bigger role. Add in that Guardiola is a man-manager of the highest quality, bringing out the best in the best. I think it is safe to say that his players, especially Messi, would agree.
A lot of people questioned Pep's decision to walk away from the ever so successful Barca side, but that choice to get away makes so much sense after reading this book. So does the decision to return to football at Bayern Munich. Taking an unorthodox path in football is nothing new for Guardiola.
The best part of Balague's work is showing Pep as a young player just learning the ropes at La Masia, Barca's famed youth academy. He learned what it meant to play for the club, what it meant to pull on that legendary kit, and all about those that came before him. Framing that legacy was a key part of his development as a player and eventually a coach.
Reading this book will give you a deeper understanding of Guardiola and his constant, unchanging quest for excellence. It is well-written, thoughtful and perfectly capture Pep's love and emotion towards the game.