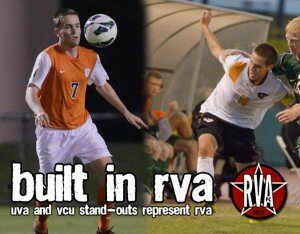 Richmond's new soccer club gives local college players the opportunity to stay fresh.
RVA Football Club (RVA FC) has signed two prominent local players from college soccer powers UVA and VCU.
Todd Wharton, a 2012 Deep Run graduate, recently finished up his freshman season at UVA. The Glenn Allen native finished the year with 18 starts, earning a spot on the All-ACC freshman team.
Now Wharton will return home to Richmond to develop his skills before his sophomore season in Charlottesville this fall.
Another Richmond Strikers alumna, Nate Shiffman will also suit up for the club's first season. Shiffman was the captain of VCU's NCAA tournament team this past fall and believes the new club will allow him to continue to grow.
"I'm looking forward to training over the summer and getting better every day," Shiffman said. "Because when you train with better players you obviously get better as a player."
The team will participate in the NPSL, which boasts some of the top collegiate players as well as former professional players. Most importantly, it gives players an opportunity to highlight their talents in front of the Richmond area, a soccer hotbed.
"There's always been so much talent in Richmond and it's good to have those people around you to always challenge you to get better," said Wharton.
It also gives Wharton the opportunity to give back to the organization his father and RVA FC General Manager Greg Simmonds built, Own Touch. With the goal being to develop soccer at all ages in the area and is mostly geared to younger athletes.
"(The younger players) are always looking up to us and it's good to give back to them and try to help them live out their dreams also," Wharton said.
Not only will the local athletes be able to train with the local college stars but they can catch them in action in Richmond.
"It's definitely helpful for the young kids to come out to our games, see us play at this level," said Shiffman. "It's a good perspective for them to watch us play, it gives them a little passion and ambition to play in college."
Though the main goal of the new organization is what has Shiffman and Wharton most excited. Continuing to improve and hopefully make the jump to the professional ranks once their college playing days wrap up.
Learning from former European professional turned RVA FC Coach Grover Gibson is a big incentive.
"I think working with him is an excellent opportunity to teach me how to be a player professionally," said Shiffman. "He's like a mentor to me in a way. Because I can learn from anything he tells me."
For the VCU midfielder those opportunities will come within the year; for Wharton he still has three years in the Cavaliers uniform and hopes to expand his abilities.
"Hopefully I can learn from all the other experienced players on the team, that I can take with me back to UVA and provide some more leadership or a different aspect to the game that I didn't have last year," Wharton said.
The club will open their first season in May with a full schedule to be released at a later date.