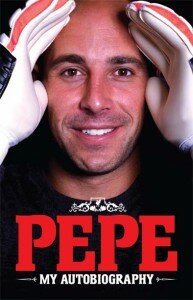 Fox Soccer's highly acclaimed BEING: LIVERPOOL has made the Reds America's team. All it took was a North American tour, a friendly trip to Fenway Park, and a little time on network TV.
Many characters shined in this one-of-a-kind series, but none brighter than keeper Pepe Reina. He was a leader in the locker room, on the pitch, and in training. But most importantly he was a skillful player deserving of the title "world's best."
If you liked BEING: LIVERPOOL, you will absolutely love Pepe: My Autobiography. It is a personal journey through Reina's star-studded career. It covers a celebrated youth career at Barca, making a name for himself at Villarreal, and becoming the world's best at Liverpool.
Awards come early an often and so do championships. Yes, big championships like the Euros and the World Cup. We get a rare honest glimpse into the life of a Premier League footballer and a star of the international game. Reina doesn't make the book a selfish record of his achievements, but rather a blueprint of his successes. In other words, he explains how he got to the pinnacle of the beautiful game, giving credit to those that are due: teammates, family, coaches, and friends.
We see what Reina was thinking at the highest and lowest points of his career. We're talking about winning the first World Cup for Spain and having second thoughts about life at Anfield. There is never a dull moment.
I can't think of a better storyteller, a great goalkeeper with a great view. No one sees the game better than the man between the posts and no one is under more pressure. Taking a PK is one thing, but trying to stop five is another.
This is a great read, up there with the books written by Sunderland's Louis Saha and Swansea's Ashley Williams. You don't have to love Liverpool or the Spanish team to enjoy this book, but it will certainly make it that much better.
If I was publishing this book I would call it BEING: PEPE. That certainly is a fitting title for such a brilliant man and footballer. And it is certainly great being Pepe Reina.