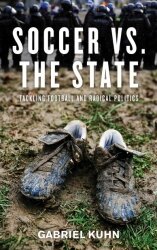 ISN had the privilege of interviewing Gabriel Kuhn, author of Soccer vs. the State: Tackling Football and Radical Politics. Kuhn is one of soccer's most compelling and challenging figures.
Soccer vs. the State has garnered rave reviews from critics worldwide and rightfully so. It is a must-read for those who love football and see the game as an instrument of social justice. It offers content and commentary that you will not find anywhere else.
Kuhn took on questions from a variety of topics, including his own personal experiences with the beautiful game, corruption, and the power of international football.
Check out the podcast or purchase the book or e-book.
If you have trouble accessing the audio, visit International Soccer Network on iTunes.