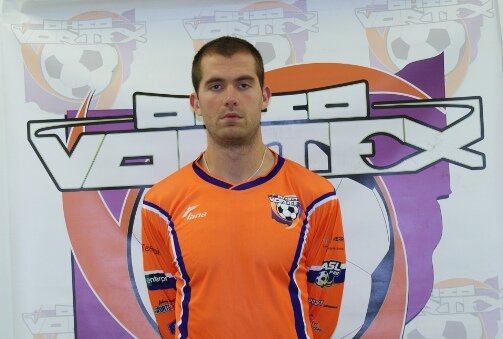 Name: Michael Pertz
Number:51
Position: Defender
Date of Birth: 12/11/86
Hometown: Medina, OH
Height: 6'5"
Weight: 208
Previous Club: Real Maryland (USL-2)
Pertz, a defender with good size and deceptive speed, signed with the Vortex on November 12, 2009. He tallied 3 goals, 1 assist, and 11 blocks in the 2009-2010 season. Pertz would then sign with the Real Maryland Monarchs (USL-2) before training with Crystal Palace Baltimore (USL-1). The defender logged 7 appearances with the Monarchs despite playing behind some of the league's best defenders.
Pertz began his career at the University of Akron (OH) before spending time at Mount Vernon Nazarene University (OH) and Azusa Pacific University (CA).