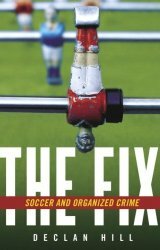 Words are a bit hard to come by when discussing the virtues of this riveting text. The best way that it can be described is groundbreaking, genre bending, and above all controversial. You can say that the book opens a "whole can of worms". It causes you to rethink the idea of professional sports and to question the purity of the beautiful game. Simply put, the book is pure brilliance. It is perhaps the finest work of sports journalism since Gavin Newsham's Once in a Lifetime or H.G. Bissinger's Friday Night Lights.
Declan Hill, one of the world's premier investigative journalists, brings out many issues facing the future of the world's most popular game. Hill is able to create an engaging story that is backed up with unprecedented interviews, loads of research, and a strong passion for the sport. The book is one for literary critics and hardcore soccer fans alike. The text raises so much doubt about the game we all love that you might not be able to see things the same again. What causes this doubt and questioning? Allegations of corruption among the small leagues of Asian soccer to the world's biggest stage, the World Cup. You will hear stories of greedy players, referees, coaches, and national soccer regulators. All made a choice to throw away their careers and chose an easy path to money and eventually shame. The key word to describe the corruption is widespread; Hill suggests that this is not a national problem or even a regional one. It is an issue that threatens to undermine the legitimacy of worldwide soccer.
Hill is given a formula several times on "How to Fix a Soccer Game". This is not just a general explanation, but a precise step-by-step process on who gets the money and how the fix goes down. It seems hard to believe, but Hill will learn the results of matches before they even happen.
I think the most important element of the book is the fact that it is completely believable. Every instance of corruption is supported with a great deal of evidence. Hill takes many risks to bring out the truth; meeting dangerous people in dangerous places is just the tip of the iceberg. Hill underwent a globetrotting adventure to find out if all the stories and legends of match-fixing were true. Unfortunately for the sport, he found fixed matches from fixed clubs in fixed leagues.
The book raises doubts, but offers solutions to slow corruption and save the game. The ending is one of hope and inspiration, a fitting way to end a text that shakes the foundation of soccer as we know it. Anyone who loves soccer or even sports in general will find it difficult to put this one down. I have to say it is one of the finest works of literature and storytelling that I have ever seen.
Purchase the Book
Official Website