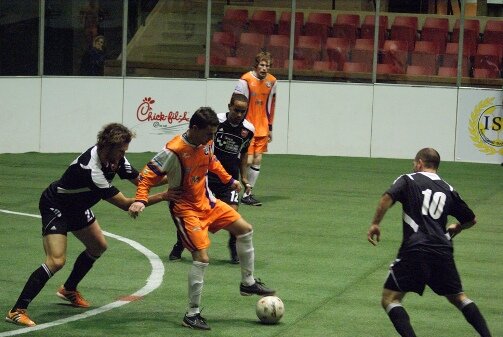 Vortex Fall to Kings at Home

CANTON, OH - December 4, 2010 - Four goals and two assists by forward Allen Eller were still not enough as the Ohio Vortex (1-3) fell to the Cincinnati Kings (5-0) by a score of 11-8. This would be Ohio's third defeat at the hands of the Kings this season.
Cincinnati's Eddie Herstenberg shared the spotlight with Eller, leading the Kings with 4 goals and 1 block. Former Canton Invader Matt Breines would finish with a hat trick for the visitors, while Drew Ducker logged another 2 goals for Cincinnati. Jeff Hughes and George Davis rounded out the goals for the Kings' attack.

The Vortex would get two goals and an assist from striker Adis Kuduzovic with singles added by midfielders Steve Gillespie and Milko Cecez.

Defensively both goalies performed well with Cincinnati's Jay Schneider netting 14 saves and Ohio's Eric Sebor finishing with 10 saves.

Cincinnati's dominance of the Eastern Division continued in this match where the Vortex never took the lead, playing "catch up" the entire game. The home team was able to keep things close until the final moments where Cincinnati finally pulled out of reach.

"We came out kind of sloppy, gave up some goals that we could have done away with," Ohio Vortex defender Ross Cochran commented. "The second half was definitely an improvement."

The Vortex hit the road on December 11th for a match with the Detroit Waza before heading back to the Canton Civic Center to face Illinois Piasa on December 18th.