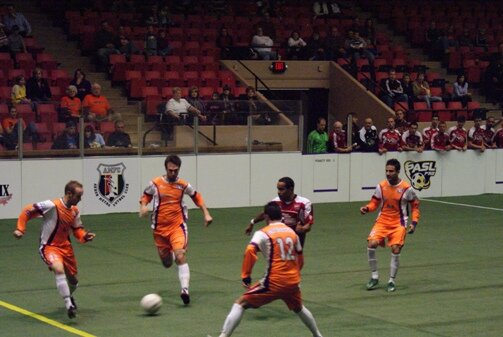 Ohio Falls to Cincinnati in Second Home Game
CANTON, OH - November 19, 2010 - Allen Eller's hat trick was not enough as the Ohio Vortex (1-1) fell to the visiting Cincinnati Kings (2-0) by a 9-4 margin at the Canton Civic Center.
The Kings' roster included several professional players who apply their trade outdoors with the Rochester Rhinos, Cincinnati Kings PDL, and the Dayton Dutch Lions.

Cincinnati's defense, led by goalkeeper Craig Salvati, produced an unbelievable 19 blocks to go along with 14 saves.

"Craig's a machine," midfielder Jeff Hughes commented in a post-game interview. "He's a vocal leader. If we have him out there, I always feel like we are in the game. He's not going to make silly mistakes; he's not going to give up the easy goal."

The Kings got a pair of goals from Jeff Hughes, Sam Fiore, and George Davis. Single goals for Cincinnati would come from former Canton Invader Matt Breines, Chris Dobrowolski, and Kwame Sarkodie.

The Vortex did get three assists from Steve Gillespie and another goal from Milko Cecez in addition to the Eller hat trick. Jared Dombrowski and Louie Rolko would bolster the Ohio defense with two blocks apiece.

The next home game for Ohio is December 4th at the Canton Civic Center as they face the Kings in what looks to be an exciting rematch.