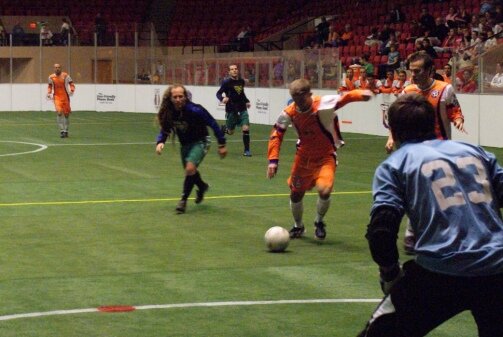 Vortex Start Season with Big Win over Rivals
CANTON, OH - November 13, 2010 - The Ohio Vortex (1-0) defeated the Detroit Waza 11-10 in PASL-Pro action on Saturday night. The Vortex attack was buoyed by five goals from veteran striker Allen Eller, who finished last season with 34 goals.

"Allen is our leader on the field and off the field as well," Vortex midfielder Milko Cecez commented. "He led us in goals last year so we know we can rely on him. We try to feed off his energy on the field."

The match was quite a rollercoaster for both sides with the result in question until the final seconds of the game. Detroit (0-1) would get a hat trick from both Dan Dragoi and Rodrigo Gonzalez and a solid performance from goalkeeper Anthony Santilli, who finished with 13 saves on the night.

The Vortex would enjoy 12 saves from keeper Sasha Djuric, making his first start with the Vortex. Djuric would replace Nate Rausch, who did not return this season after registering 145 saves in 2009/2010.

"He made some good saves down the stretch, some key saves," Cecez continued.

The Vortex return to action at the Civic Center on Friday, November 19 as they face the Cincinnati Kings with a 7:30 pm kickoff.

In Friday's action from the PASL-Pro, the Kings defeated the Louisville Lightning by a 6-5 margin thanks to a hat trick from Jeff Hughes. The Cincinnati striker had a great start to the 2010/2011 season after leading the league in goals with 37 last season. The Kings also got a great performance out of keeper Craig Salvati, who finished the night with 14 saves.

Louisville looked equally impressive, especially with the duo of former MLS players Othaniel Yanez and John Michael Hayden taking the field together. Both Yanez and Hayden scored a goal along with Safet Kovacevic, Adam Boyer, and Chad Hagerty.