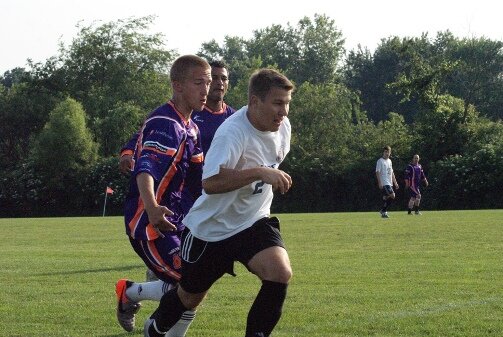 Vortex Dominate in Exhibition Play
AKRON, OH – June 11, 2010 – It was a beautiful evening for soccer as the Ohio Vortex (PASL-Pro) strolled to a 6-0 victory over the Akron Metro Futbol Club (AMFC) U-18 squad in an exhibition matchup.
It was clearly "a game of men against boys" as the AMFC U-18s struggled to find any sort of rhythm against a veteran squad. The Vortex would put up three goals in each half in an easy victory for the Canton, Ohio franchise.
The lone bright spot for Akron Metro was Dylan Parsons, who was a difference-maker on the field. Parsons, a senior at Archbishop Hoban HS, was perhaps the only player who could even compete with the older professional players.

The reason for the match was simple: both clubs share the same coach, Denzil Antonio. Both the professional and youth players appreciate the work of Antonio. "He really teaches you a lot. He really gets you ready for college," Parsons commented. "He can tell you what to do and what you need to work on to be part of a college team one day."