"Truly magnificent and one of a kind"
BEING: LIVERPOOL is a masterpiece. What's not to love? This series takes you inside one of the world's greatest football clubs.  Unprecedented access lets you see the real life of Liverpool's best, including Brendan Rodgers and Steven Gerrard.  You see their most private moments in their homes with their families and their most stressful moments on the pitch.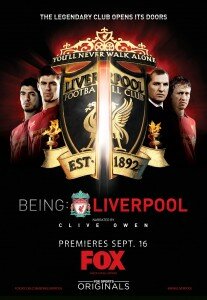 A common statement is that this has been done before, that we have been down the road before with Hard Knocks.  This is different; this is not staged or scripted.  Rather it is authentic and completely organic.  It's not clear if it is Liverpool or the production team that makes it so natural, but it is.
Rodgers shines in the first episode entitled "The Silver Shovel". You know right away why Liverpool hired him in the first place.  Rodgers is first-class in every regard; his passion and respect for the beautiful game are unreal.  He is a leader that cares about every player, saying that he thinks of them as his sons.  We have no doubt that he will be an immense success at Anfield and that the BEING series will be one of the most heralded sports franchises of all time.
Simply put, BEING: LIVERPOOL is a giant step in the right direction when it comes to sports television and football documentaries.  We are excited about what FOX has in mind for the BEING franchise; we imagine that other football clubs and other sports are on the horizon.