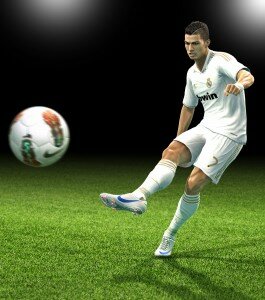 PES Brand Manager Tim Blair takes a few minutes to talk to ISN about the newest edition of Pro Evolution Soccer (PES 2013), which is now available in stores.
1. Can you talk about the importance of the having licensing for the Champions League, Europa League, and Copa Libertadores?
Licensing is a big deal to the fans of PES.  Everyone wants to play with their favorite teams and inside their favorite competitions. The Champions League and the Copa Libertadores represent the largest club team competitions in the world. Fans love interacting inside these competitions.
2. How exciting is it to have your product endorsed by Cristiano      Ronaldo and Neymar? How did these relationships come about?
It is very exciting. Cristiano Ronaldo was the face of PES in 2008. We have kept in contact with this team through the years and it made sense to have him on the cover of PES again in 2012 and now in 2013. He is the most electric personality in the game today. The relationship with Neymar came about through our fervor and our close eye kept on the next big thing. Neymar is that next big talent in soccer. PES is the best and most popular soccer game in Brazil so this was an easy match.
3. What is the biggest improvement from PES 2012?
The top 3 largest improvements are:
A. Player ID which recreates the top athletes in soccer from their facial expressions on down to their individual movements
B. Pro ActiveAI gives players the most intelligent teammates on attack and defense. It results in a very even playing and fluid soccer experience
C. Finally PES Full Control (PES FC) gives players control over every shot and pass. Full manual shots are now possible, allowing for a higher level of precision and play. Inside this control is the Response Defending which now leaves defenders able tackle from any angle.  Players can also add much more delicate touches on the ball when receiving lofted or through passes. This enables them to tack on a flick or a cheeky flick to evade defenders.  
4. How important is the Winning Eleven/Pro Evolution legacy to the team that develops the game?
Extremely important. As with any brand, it means something to the people who play it. PES was made over 15 years ago to be the most realistic soccer game available. That is still the goal today and as you can see from a gameplay aspect, the development team is delivering on this.
5. What goals or expectations do you have for PES 2013?
We want to grow. We want to win over new fans that really understand the game and therefore appreciate the small intricacies of the game and how PES captures these in the digital format.
6. How many of the Konami employees working on this project are truly soccer fans?
I'd say all of them. If you took a stroll through the PES Productions, everyone has their team garb on display.