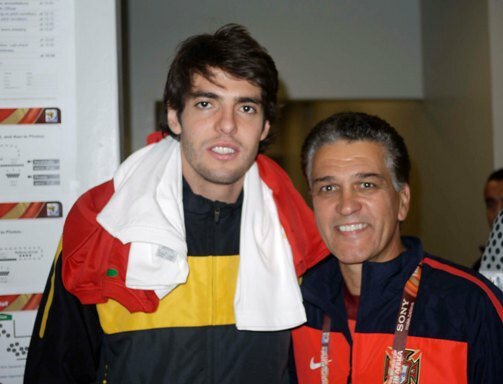 My World Cup Journey has Ended
By Dan Gaspar
Portugal was defeated by Spain 1 to 0. Portugal was in Group G, "The Group of Death" that included Ivory Coast, North Korea and Brazil. Portugal played against number 1 team in the world, Brazil and number 2 in the world, Spain. I believe our players represented Portugal with dignity, honor and pride. Although we are sad and disappointed and certainly not satisfied to have to leave South Africa at this stage of the competition, we do come home with our heads held high. It was an absolute fantastic experience.
I want to share my gratitude for all your kind comments and support throughout my World Cup experience. I never say goodbye, but instead see you soon my friends. Now, I am anxious to return to the U.S. and see my family and friends and to share my unique experiences as an American born coach participating in the 2010 South Africa World Cup with the Portugal National Team. It was a great opportunity for me to learn and grow as a professional coach as well as have the opportunity to make contributions at the highest levels.
Dan Gaspar's Interview with Gary Melo, Rogers Sportsnet
When you start the journey that is the World Cup, there's always a sense of anxiety. You try to focus on the two segments of the tournament: there's the qualification aspect, which Team Portugal has already achieved, and then there's the knockout phase, which requires a winning mentality. The loser goes home and the winner stays. We've reached that stage and we don't want to go home. As Team Portugal prepares for the match against Spain, we're in a good space and a good frame of mind. The game plan is on track. We haven't conceded a goal at the World Cup and if we can maintain that discipline and sense of structure, we're always in a position to compete.
I think our game against Spain is going to be a lot like a boxing match. Each opponent is going to take a few punches here and there to see how the other team adjusts and reacts. That will determine the rhythm of the match and I think that will be extremely important. These are two teams with skilful players who will try to assess the opposition. The teams who are able to identify and expose areas of weakness and capitalize on their opponent's mistakes generally are the teams that come out on top. It's only natural that the history between these two nations gives the match a bit more significance. After all, we are neighbors. It's also kind of ironic that the two counties have combined efforts to bid for either the 2018 or 2022 World Cup and now we're in opposing positions where one of us will go home.
Entering the knockout phase, there has been a greater emphasis on penalty kicks in training. We divide the players into three teams with each player taking three penalty kicks, rotating at three different goals. I've taken the opportunity to share my philosophy on defending penalty kicks with Portugal's three goalkeepers. Ultimately, it's their style and personality that should dictate how they react to a shooter. There are a number of things a goalkeeper can look for as the opposing player prepares to shoot. Essentially, it's psychological warfare between the shooter and goalkeeper. When penalty kickers train, they try to master a routine: they get a bag of balls, put them down, place one ball down in a particular way with the valve facing a certain way, they take so many steps in their approach. What a goalkeeper can try to do is interrupt that routine and there are various ways to do that: taking their time to set up, walking up to the ball, moving on the line, switching to a second pair of gloves.
Then, you get into the technical aspects by looking at the approach the shooter takes. If it's a normal approach to the ball, then in most cases it's a normal swing from the player. For example, if a right-footed shooter stands to the left of the ball, then the natural swing would be the right foot kicking to the right of the goalkeeper. If there's some sort of deception used, like a long run to the ball or a short arching one, they're likely to go against their natural swing. Then, a goalkeeper can look at physical aspects such as where the hips are facing. If the hips are opened up to a certain side, then generally that's where the ball is going. These things happen very quickly and it's very difficult to process all this in a few split seconds. Some players are getting craftier now. They have those little hesitation run-ups to see if a goalkeeper moves. If he does and the shooter is clever enough and skilled enough to go to the other side, he has an advantage. If a goalkeeper doesn't fall for it, the shooter will try going to his strongest side.
And of course, we try to get a history on the opposing players. Even during the match, you try to study the tendencies of certain players. If a player has had several shots on goal and tends to go to the same side, chances are that's his favorite side in taking a penalty kick. Sometimes during a warm-up before games, a potential penalty taker wants to practice his penalties and we try to alert our team to those types of situations. All these may help prepare a goalkeeper, but I don't have the perfect answer or solution. If I did, then you could only imagine how valuable I would be to a team!
On Monday night before the match, we had a special guest visit the Portugal team. Francois Pienaar, the former rugby player who captained the Springboks when they won the 1995 Rugby World Cup in South Africa, spoke to the players. If you've seen the movie Invictus with Matt Damon as Francois and Morgan Freeman as Nelson Mandela, then you are familiar with his story. The players watched an edited down version of the movie and the highlight of the presentation was having Francois there to give an incredible inspirational message to the team. Number one, he asked the players to imagine. He asked them to imagine the support of the nation; to visualize those young boys and girls who wear their jerseys with their names on it to bed the night before in great anticipation to watch them play. Number two was no "ifs." Don't accept the word "if" like, "What if I don't make the right pass? What if I don't make the right tackle? What if I don't take the right shot?" He told the team to remove that word from their language. Instead use the word "if" I do this than there is a positive outcome. And the third point was positive energy. From the moment you wake up, maintain positive energy because it's contagious. Francois truly captivated our players and he left them with one final message: Don't play with fear, but play with excitement.
Portugal's Magical Moment Versus North Korea
By Dan Gaspar
Now that is how you play football! Portugal's 7-0 win over North Korea on Monday was obviously a big moment for the team. It really was the perfect game for Portugal. Our head coach Carlos Queiroz and staff prepared the team very well. The tactical plan was executed flawlessly by our players. We saw great mental preparation from the players so we couldn't have asked for a better effort or a better result. You could see the desire in their eyes and could feel the intensity in the locker room. And most importantly, it certainly puts us in a very good position to get through to the next round.
Having six different players score for our team was huge. To have that kind of variation in scoring, from six players, is tremendous for Portugal. It was a total team effort. The team had four changes in the starting line-up from the previous match and that can be a primary motivator for the players. For the coaching staff, it's important to have players who can be called upon at any given moment. We have a roster of 23 and we know we can depend on any of those players to get the job done. They all have been prepared to be called upon if needed.
I think the biggest difference between this win and our draw against Ivory Coast was our flank play, and quick and deep runs from midfield. They were all very effective. And to the credit of the North Koreans, they came to play. Even though they use a 5-3-2 system, which is a very defensive set-up, they came to play football. Ivory Coast literally parked the bus in front of goal against us and were just totally reliant on counter attacking. Portugal's last matches against North Korea, the 5-3 comeback win at the 1966 World Cup, certainly served as motivation for our team.
Two great players who played that game and were part of that successful run in 1966, the legends Simoes and Eusebio, are here with the team. They are here to offer inspiration and wisdom and to share their knowledge and experiences. I would have to say that that was a factor in our performance. And Both Simoes and Eusebio were extremely excited and thrilled about this 7-0 win, so that shows you how historic a result this was for the Portuguese team. What's important now is to focus on the next task at hand. When you're in the winning business, all a victory does is bring relief. You only celebrate when you win a championship so for us the win was a relief and it instilled a tremendous amount of confidence, enthusiasm and spirit. After the match, you enjoy the moment but as of this morning we start preparations for Brazil.
I believe the Magic began a few days before our match versus North Korea It was not a great pass, spectacular finish or perfectly timed tackle. It was Bingo! We played Bingo in South Africa. In Portugal we would play every other day. Often times for no particular reason staff and administrators would win the prizes. The players would always complain that it was the same winners all the time. When we played in South Africa the players asked two servers of the hotel to sit with them and enjoy the game of Bingo. Well, guess who won the first bingo game. It was me the American! I was the first to complete one line with the correct numbers. The second prize was won by one of the servers. He had a huge smile on his face while he was collecting his prize. The team leaped from their chairs and gave him a standing ovation. It was a celebration. Well, guess what happened next? The second prize was won by the other server. Once again there was a standing ovation and celebration. I wondered how this was possible. The numbers were called out in Portuguese. The servers had no idea what numbers they were calling.
The players decided collectively that when a number was called they would tell the servants it was a number on their card, even though it was incorrect. The servers had no idea and believed they had won. It was an act of kindness and concern for others. Naturally, I could not be selfish and keep my prize. We called someone from the kitchen and I donated my prizes to them. The kitchen employee put the prizes down on the floor and starting dancing and chanting. We all were jumping up and down with joy. I felt I was at a church revival. His happiness was contagious. The Valley Lodge manager was thrilled for the employees. She told me the winners gave her all her prizes to put into the safe. She said the winners were considering various options on how to get the prizes home safely. Why? Because these are prime prizes that if they walked home with them there would be a good probability that they would get stolen.
Here we are in a room full of super egos with great abilities to play soccer; Portugal's national gladiators who are preparing themselves for battle to defend their country on the soccer field. Yet, they were sensitive enough to recognize that the servers were the stars tonight. For sure the servers will never forget this evening. This experience for me has not only been about the X's and O's, it's been about the human side of things and the goodness that we are all capable of sharing. It was a magic moment. The feeling in the room was of joy and happiness for the three servers who won the prizes. I will never forget the atmosphere and the kindness of our players. Having the humility to understand at that moment was really important. It was moving moment for me and those who were present. You know, I was thinking of the differences of being associated with a team that qualifies for the World Cup as compared to being a fan at a World Cup. I would not give up my seat for anyone, but other than game day we are isolated from the World Cup atmosphere.
My family called me the night before the North Korea match. I asked, "What's all that noise?" They told me that the Portuguese immigrants have taken over Cape Town. People would be having dinner and someone would stand and begin to sing the Portuguese National Anthem. We are not exposed to the spirited environment. Just before kickoff against North Korea I had a huge surprise. One of the staff members sitting in the stands was able to get my attention. I was able to run over and give my wife and sons a kiss and a hug. It was a very surreal moment. I could see their happiness and pride for their husband and dad.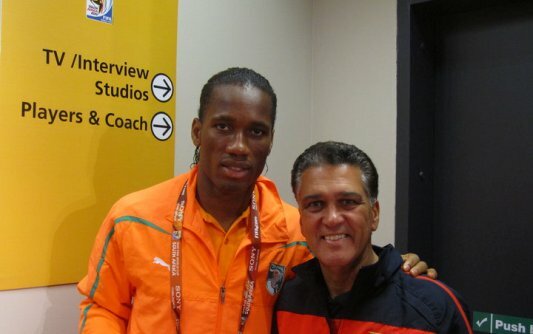 Game Must Be More than Vuvuzelas and Jabulani
By Dan Gaspar
Figo, 2001 FIFA Player of the Year and former Portugal National Team captain, and Pauleta (all-time leading goal scorer for the Portugal National Team) stopped by our hotel to give their best wishes.

Our first match of the World Cup was a draw versus Ivory Coast. This game highlighted the challenges of Group G also known as the "Group of Death." This means any one of the four teams has the potential to be one of the two teams that is capable of getting through to the next round. They waited until the deadline to decide if Drogba would dress and he did. He sat on the bench for Ivory Coast. No doubt he is their leader. I noticed after the game he pulled his teammates together and formed a circle. This leads me to believe he is also their spiritual leader. When he stood on the touchline to come into the match, the roar of the crowd shook the stadium. When he entered the field you could sense his presence. The only time that I had a similar sensation was when I was with the South African National Team and Thierry Henry from the French National Team came into the game. Like Drogba, when Henry received the ball everyone on the pitch backed off out of respect for his ability.

There were over thirty seven thousand people attending the game. All six African teams who have qualified for the World Cup will be well supported and stadiums packed to the max. Lots of attention has been given to the Vuvuzelas and the adidas soccer ball -- Jabulani. My thoughts are that we are guests of South Africa and that the Vuvuzelas is part of their culture and we need to accept the Vuvuzelas as part of the soccer match. The Vuvuzela has definitely made the South African World Cup unique. It is a reverberating sound that makes bench and player communication impossible. It's a plastic horn buzzing sound and has become an iconic accessory at the matches.

Everyone is going ballistic over the new adidas ball, Jabulani. The name of the ball Jabulani means "happiness." Apparently it has brought very little happiness to goalkeepers and field players. There are eleven colors in the ball representing the eleven languages in South Africa and also the eleven players that lined up before the game. Should Portugal get into the next round, we will play our matches in higher altitude. The ball will move a little faster and bounce higher. In my opinion, too much focus has also been given to the adidas ball.

The goals conceded that I have observed have not been a result of the trajectory of the ball, but rather technical mistakes from goalkeepers. It is what it is. Inside this ball are their hopes, dreams and aspirations. Players need to love the ball. Quality, technical players will adjust and discover the best way to manage the ball. The ball dips and bends and players need to keep their eyes on the ball at all times. Players cannot assume anything. The World Cup should not be about the Vuvuzelas or the adidas ball; it should be about the game.

I had the good fortunate of bumping into Didier Drogba after the game and naturally took a photo with him. My first impression was good. He was pleasant and patient. We needed to take three photos to get it right and he accommodated me.

In the past World Cups the African players were free spirited. They played with joy and imagination -- no fear of losing, sending numbers forward. Today, many of the African players are playing in top clubs around the field where they must be responsible and accountable for their actions. Tactically they are more disciplined and the African countries expectations are higher than the past. So, the fear of losing has increased. Fewer risks are taken. More of a defensive position with quick counters is implemented.

The entire country is euphoric about Bafana Bafana. The entire country stops to watch and support their national team. I hope they move on to the next round. This World Cup is more than just a soccer tournament for South Africa. It's a moment for them to shine and potentially be a moment of glory. They want to prove to the world against all odds that they can successfully host the world's biggest sporting event. It's a rebirth, a second wind for this country and continent. It was Nelson Mandela's dream to unite the nation through sport. So far the World Cup has taken my breath away. The true test in any major event is to take this amazing and wonderful spirit beyond July 11th.

We need a positive result versus North Korea. They managed a goal against Brazil. They are disciplined and well organized with two quality forwards. We need to find the back of the net more than they do.
Moment of Truth for Portugal National Team
By Dan Gaspar
The moment of truth is just around the corner. Portugal plays its first World Cup match, Tuesday, June 15th at 4:00 pm versus Ivory Coast in Port Elizabeth at the beautiful Nelson Mandela Bay Stadium. As many of you know, we defeated Cameroon 3-1 in a preparation match in Covilha, Portugal. Eighty thousand people bid us farewell from the Eduardo VII Park as we departed from Lisbon. When we arrived in Johannesburg we were greeted by thousands of Portuguese immigrants at the airport as well as along the highway. I've never seen so much green and red colors. Portuguese immigrants are the largest number of immigrants in South Africa. Our training sessions are also attended by thousands of Portuguese fans. According to the police, 200 cars followed us to our final destination.
There are eight teams who are receiving the most security attention. The United States is considered a high-risk team and has extensive security. The Portugal National Team is also on that list as a result of the popularity of the team.
We also defeated Mozambique 3 to 0. These results were beneficial on many levels. Cameroon and Mozambique are similar in many aspects to Ivory Coast. These positive results have build momentum and confidence that will prepare us versus Ivory Coast. Our players have worked very hard physically, emotionally, mentally and tactically to meet the challenges of our World Cup opponents. Our desire and hope is that our players can deliver the results that will make all Portuguese citizens and fans proud of our efforts. Soccer is without doubt full of surprises. The expectations are high and the demands are immense, but our hope is that we realize our potential.
The Portugal National Team and staff understand that is a once in a lifetime opportunity. We cannot make any guarantees, but we can promise that everything they have will be left on the field. A strong team becomes one in purpose and desire. Carlos Queiroz has done a very good job in organizing events to establish cohesiveness, both on and off the field. Everyone is encouraged to participate and communicate in team building activities, creating a dynamic environment and encouraging creativity. You can build trust with well planned activities. The goal is to strengthen the group through building team work. A soccer team is a collection of people who come together to share something in common. In our case, it's to go as far as we possibly can in the World Cup, preparing our team to be in the best position to compete.
Our circle is closed tight. I cannot share our preparation in detail, in particular on the field preparations and team meetings. Those are sacred areas and require ultimate respect and confidentiality. However, here are some off the field activities that you might be interested in knowing about.
Portugal Air Force
Our players lived a different experience. When our players arrived at Santos Pinto Stadium they were surprised to discover that they would be trading their uniforms and soccer shoes for camouflage military clothes, painted faces with National Team colors and were given paint ball arms. The Portuguese Air Force turned the soccer stadium into a theater of combat and special operations. They were involved in a strategy of cooperation organized by the Portugal Air Force. The focus was on creating a spirit of cohesion, loyalty, discipline and completing a mission. We all had to work together in order to achieve success. Our team was divided into two groups. Each had to perform activities that required cooperation and communication. After each event they earned an envelope with a note inside. Gathering all the envelopes allowed the players to group the notes together to understand the mission. The leader of each group read a quote from Aristotle and Christopher Reeve.
Joao Garcia
Joao Garcia is an alpinist. He is one of ten who have climbed 14 of the biggest mountains in the world without oxygen. His idea was if one Portuguese has climbed the biggest mountains then one team can win the World Cup. His message was that you need to love what you do and do it with honesty and hard work; that the event should be the motivation and that anything is possible. He said that 12 people have gone to the moon, but only 10 have climbed the 14 biggest mountains.
Black Eyed Peas Concert
The Black Eyed Peas held a concert in Lisbon Portugal at the Portugal National Team Stadium. The Portugal National Team adopted the song 'I Gotta Feeling' as its theme. We were in Covilha at our training camp and could not attend the concert. They organized a live feed to the concert and transmitted images of our team and staff viewed on a large TV screen at the stadium as 40 thousand people chanted 'Portugal, Portugal Portugal.' The song 'I Gotta a Feeling' has motivated us, relaxed us and helps give us positive results. As Nani said we would have loved to attend the concert, but we cannot and asked the crowed to enjoy the concert for us.
Fernando Rocha
Comedian Fernando Roach performed for our team. Laughter is a great stress reliever. He had us all rolling on the floor. By the end of the evening we felt like we had done a thousand sit-ups. Our abdominals were sore because of the strain of laughter.
Lion Park Safari
You cannot come to South Africa and not experience a Safari. We had three jeeps filled with players, coaching staff and administrators. We saw plenty of animals and took plenty of photos. Although we felt safe inside the jeep, it's amazing to see such great athletes and players fear and respect these massive, dangerous animals, especially the lions. That was another great team event that helped bring the team together. When you are together for over a month team bonding is crucial on and off the field.
Gala
After our victory against Mozambique we attended a Gala. One of our players and a coach sat at each of the tables. It was a first class occasion. Coach Queiroz, Ronaldo, Simao and Deco were on stage to answer questions. We were all in our official Portugal suits. My guess is that there were at least 400 people in attendance. It was a fun evening with excited Portuguese fans from South Africa. Bingo Often we play Bingo. There are lots of drama and plenty of banter. One night, I got up and yelled, "I Love the Game!" They assumed I won, but I never said 'Bingo.' Countless dinner napkins were tossed at me. It's on video… cannot wait to see it!
H20 Spa
Incredible spa facility… Naturally these superstars have traveled the world and have experienced the best of the best. They were impressed with the first-class environment. After a demanding training camp in Covilha it was a great move to have the players relax and regenerate. Players had all types of relaxation methods -- from the pool, sauna, steam, hot and ice baths, massages, fresh and salt water, whirl pool etc. The spa was on top of a mountain with some great views. Everyone was chilling, big time!
Fernando Ferreira
Fernando Ferreira world class singer performed for us. He imitates 100 voices of famous singing artists in several languages. He was amazing and our players and staff truly enjoyed his talents.
South African Magician
Each magic trick was more challenging than the one before. Players were impressed. They thought they had figured the magic trick out, but they could not catch him. He was too quick and a professional. Some of the magic tricks at the end would just shake your head.
Hysteria in Covilha for the Portugal National Team
By Dan Gaspar
The entire village of Covilha is ecstatic about hosting their special guest, the Portugal National Team. Carlos Queiroz, his coaching staff and the FPF administration (led by Carlos Godinho) have left nothing to chance. The attention to details has been impeccable. This level of organization and commitment to perfection is meant to limit any potential surprises. Their mission is to create an environment that does not allow any excuses for failure.
Let me give you an inside tour of the steps taken to assure that all aspects of preparing Portugal for the World Cup have been taken.
We first arrive in Covilha to assess hotel facilities and field conditions back in March after our National Team friendly versus China. Then after our initial visit our coaching staff led by Carlos Queiroz and the administration staff arrived on May 12th, 2010 two days prior to the arrival of the Portuguese National Team players.
Each staff member carefully reviewed all they need to successfully execute their responsibilities related to their expertise at a first-class level. Careful inventory of facilities and all equipment is taken and a back-up plan is always in place. Logistics are carefully planned. There is no doubt when and where you should be. All staff is interrelated. One cannot function successfully without the other. You truly see the meaning of vertical integration that will provide a first-class experience by all those involved in the process. Everyone is obsessive in their task.
Carlos Queiroz and Carlos Godinho had a staff meeting to request feedback from all of us on any items that we need, or challenges that we may experience. Their goal was clear -- Portugal had a very difficult qualification process. Yes, we should be pleased and proud that we are going to South Africa, but everyone now must give a little bit more of themselves. Always giving a little bit more. To succeed in South Africa, it's not enough to just dream about a good World Cup. We must work hard at all aspects of our functions in order to compete. The message was clear and no doubt that the challenge posed will be accepted by all of us. We are consumed by the process.
We will be staying at two hotels: the Hotel Turismo da Covilha, 649 meters above sea level; and Hotel Serra Da Estrela, 1487 meters above sea level. It is very difficult to find this variation in altitude conditions in such a close proximity. We train in the valley and sleep in the mountains… sun in the valley and snow in the cold mountains when we arrived. It's heating up now.
When you arrive in your room you have a beautiful hospitality basket waiting for you and a nice note from management stating, "It is our pleasure to welcome the entire National Team delegation. Our mission is to help in your success to the World Cup." Players will be at one end and coaching staff on the other end. Administrators will be above and below the players and coaching staff. Security guards are placed at the entry points on the floors. Any time we move, the security guards communicate to each other in advance to let those involved with security know where we are at all times. Both hotels were completely scrutinized by the Portuguese National Police, including sniffing dogs for explosives. Blueprints of both hotels and fields were obtained. This gave a good visual of the field dimensions and hotel access points. All these measures are to protect the safety of the players and the confidentiality of the group. This creates an environment that gives the group comfort and peace.
The hotel in the valley was fully equipped by the Portuguese Football Federation with the latest in gym training equipment. The hotel in the mountains is primarily to live and rest, although we do have medical rooms set up.
Game rooms are offered to the players at each hotel. It's great to see them away from the field and enjoy themselves with table soccer, ping pong, pool and video games. They still remain competitive regardless of the game they play. There is a third hotel which is a beautiful spa -- fantastic for relaxation. We will visit that hotel on occasion for recovery purposes.
During our meals the players sit at one long table. The coaching, medical staff, and administrators sit at another long table. There is an established meal protocol; the staff and administrators will begin to eat only when everyone has arrived. When the players are done with their meal, they all stand up and leave at the same time. That is determined by the senior players.
We have two South Africans on our coaching staff that will make sure our transition from Portugal to South Africa is seamless. All the precautions that have been taken in Portugal will be implemented in South Africa as well. Having the South Africans with us assures that there will be no surprises awaiting us. They were here for our match versus China in March and were fully briefed on what the level of expectation is.
Also, in the room is a detailed training camp binder of our itinerary and plan for the 2010 World Cup preparation. The program takes us from Portugal to South Africa every step of the way. All daily events are outlined; the traveling delegation is highlighted with photos of each member, photos of all the hotels as well. The program indicates what training sessions are open or closed to the public and press.
We also have Nike gear inside our rooms. We have a little green basket where we leave our clothes after our training sessions and then it's replaced with new gear daily.
There are sacred areas that only the coaching staff and administrators are allowed -- soccer fields, locker room, bus and specific hotel areas. Anyone who wishes to enter our hotels must be approved by security. There are a number of fenced off areas where the public is allowed to take a peak or sneak an autograph from the heroes as they enter the bus or enter or exit the fields we train in. Essentially, the players are isolated. In every turn or twist you always are in the presence of security. Outside or inside, they are everywhere. No one is allowed near the team unless they have proper credentials. Either they have the official Portugal gear or have a badge that identifies them. You must remember that these players are national treasures. Both hotels are exclusive for the Portugal National Team.
Transportation to and from hotels and fields are with the official Portugal National Team bus as well as two shuttle buses. All travel is by police escort. As we travel to and from our destinations all intersections are controlled by police as they wait for us to drive by. The traffic is stopped to allow our bus to move with ease. The roads are tight and winding. The police who travels with us are responsible for taking a head count. During our travel it's amazing the passion of the people as they wave Portuguese flags with excitement and cheer us on with encouragement.
Our first training session was open to the public and press. We had approximately three thousand fans attend plus an incredible number of press members. We have two soccer complexes at our disposal and all the training equipment that you may ever need to do your job. The soccer stadium up near the mountain is Estadio da Estrela and the other soccer stadium in down in the valley is named Complexo Desportivo Covilha. You request what you need for training equipment and they set it up for you on the pitch -- including the official World Cup adidas ball!
Portuguese television is obsessive with soccer. You cannot watch any channel without soccer coverage every few minutes. The game of soccer is as important as the general news coverage or any popular show in the Portuguese culture. You get all the Portugal National Team details in real-time.
Portugal World Cup Player Gala
By Dan Gaspar
I almost did not make it to the Portugal National Team official player presentation. I had flight delays resulting from airplane technical difficulties and then the volcanic dust cloud. The airport was absolutely chaos. I just made it in time, but my bags arrived a day later. That is another story for another day.
On May 10th, 2010 Carlos Queiroz announced his selection of 24 players who will have the honor of representing the Portugal National Team and defend the Portuguese national pride.
It was a gala event, not unlike a Hollywood red carpet affair. It was a attended by the Who's Who of Portugal. Pedro Pinot from CNN was the host, and he did a magnificent job. The honored guests were: Fernando Couto and Carla Couto; former Portugal National Team captains as well as Joao Pinto; Eusebio, Portugal's legendary player and Portugal National Team Ambassador; Monica Jorge, Women's National Team Head Coach; Portugal Football Federation President, administrators and Men's National Team staff; various politicians, and of course there was an incredible number of TV and radio reporters as well as journalists. This event was televised live for an hour. The broadcast covered the history of the National Team, highlights of the qualification games, interviews as well as action highlights of the players that were selected. It was a fantastic production.
Portugal soccer fans were all sitting on their edge of the seats and holding their collective breath in great anticipation of Carlos Queiroz's final selection.
Professor Queiroz and his staff spent many hours in tracking players, both attending live matches and evaluating game footage. It was a very tedious process that consumed a great deal of time and effort, as expected. The staff established rigorous criteria and logged the data collected. The selections were based exclusively on the player's merit. Professor Carlos Queiroz signed off on the official player roster document with his lucky pen and handed it to the Portuguese Football Federation Director of Sports, Carlos Godinho.
Unlike the typical soccer fanatic who sees a match once and is a loyal supporter of their club. Naturally, these influences affect the fan's perspective. Here are the 24 selections for the Portugal National Team World Cup squad:
Goalkeepers (3): Eduardo (Sporting Braga), Beto (FC Porto), Daniel Fernandes (Iraklis)
Defenders (9): Paulo Ferreira (Chelsea), Miguel (Valencia), Rolando (FC Porto), Ricardo Carvalho (Chelsea), Bruno Alves (FC Porto), Ricardo Costa (Lille), Jose Castro (Curunha), Duda (Malaga), Fabio Coentrao (SL Benfica)
Midfielders (9): Pepe (Real Madrid), Pedro Mendes (Sporting Lisbon), Miguel Veloso (Sporting Lisbon), Raul Meireles (FC Porto), Tiago (Atletico Madrid), Deco (Chelsea), Simao (Atletico Madrid), Danny (Zenit), Nani (Manchester United)
Forwards (3): Cristiano Ronaldo (Real Madrid), Liedson (Sporting Lisbon), Hugo Almeida (W. Brennen)
When the team was announced there was an immediate buzz, in favor or against. The debates were and continue to be intense. It is impossible to keep everyone happy, and there will always be disappointment at certain players being left home. But there were some far more contentious decisions made by the managers of other countries. Diego Maradona has left Inter Milan captain Javier Zanetti, at home; Marcello Lippi has ignored Luca Toni; and the organizers of the World Cup in South Africa expressed their disappointment that Brazilian Head Coach Dunga excluded Ronaldinho from his squad. Even the U.S. squad couldn't escape controversy when Bob Bradley told Charlie Davies that he would be left home after receiving a letter from Sochaux indicating that the U.S. ace would not be fit, and that they would not medically clear him before the World Cup.
After the ceremonies we had a wonderful dinner. When we arrived at the restaurant it was impossible not to sense some disappointment as well as agreement with the players selected from all that were in the restaurant. We sat, raised our glasses and toasted to "Go Work".
Carlos Queiroz and I took the taxi back home. We knew we were going to get some hassle; the majority of the taxi drivers are loyal fans of SL Benfica and those fans were not pleased with some of the decisions. But it was also clear that in the end, Carlos Queiroz, the taxi drivers, the wait staff and patrons at the restaurant, and I all want the same thing -- to win the World Cup.
The next day there was a live broadcast on Sport TV reviewing the player selection. At the end of the broadcast they shared the final results of those who were in favor and in disagreement with the selection. Ninety one percent were not in favor. I cannot think of a better way to motivate the Portuguese National Team players.
Despite the opinions, former Portugal National Team player Joao Pinto said during his TV interview, "From this moment on, these players selected are my National Team.
Gaspar's World Cup Odyssey Begins
By Dan Gaspar
Well the moment has arrived. I leave for the Portugal National training camp in preparation for the South Africa World Cup!
I have been fortunate to have worked on three different continents with world-class players at all levels. However, I never had the opportunity to participate in the World Cup. In fact I never even attended a World Cup. That is all about to change.
Since I was notified to join Portugal's National Team staff, for the past month I have been functioning on few hours of sleep. From my responsibilities to the University of Hartford to my soccer camps, Connecticut Soccer School and Star Goalkeeper Academy to my family, our two pugs Max and Nuno. It has been an insane pace. But this is my life and soccer is my passion.
It is not often that you get to experience an ultimate dream. Participating in the World Cup competition was the only missing link to complete my professional career dreams.
It is important for me share that my success is very much as a result of people who I was very fortunate to be surrounded by.
People who no mater what had faith and confidence. People who gave me courage to pursue my dreams. People who presented opportunities for me to learn and grow. People who shared their wisdom and knowledge with me. People who were kind and generous with me. It is them I pay tribute and the credit goes to them. I am so grateful to all those who impacted me more than they can ever imagine.
I am proud to be an American born coach who has earned and been given this opportunity. It was in the USA that my formal soccer foundation was developed. I feel I am a reflection of our outstanding coaching system and that I in some way serve as a USA soccer ambassador during my international travels. My goal was to develop my American ingenuity and combine that with my unique European experiences. This combination has shaped me as a coach. Have no doubt that we have outstanding soccer educators in this country and the rest of the world should recognize this fact. I happen to be the fortunate one. This does not mean I am better or special, but simply I am unique. Hopefully, in the near future we will have more like me who will have the opportunity to display their skills in the international arena.
I am so excited about being involved in the South Africa World Cup. What a competition. Think about the magnitude. 204 countries participate. 850 games down to 32 teams who will play 64 games. Finally one team will be crowned "World Champion". This process is certainly worthy of the title "World Champion".
My only regret is that it is not possible to put all my friends and love ones inside my body and have the opportunity look out through my eyes what I will be experiencing. I'm sure it will be difficult for me to express in words what I will see and feel.
When I was notified that I was selected to join the Portugal National Team coaching staff. I went through a maze of emotions. It was as if I was a bottle and the cork was removed and all my emotions spilled out. I began to reflect on the sacrifices that a lot of people had made to allow me this opportunity. I drove back to Colts Park in Hartford and began walking around in the areas that my father used to train me. The tree that I used to throw the ball off and catch is still there. My father was a former professional goalkeeper in Portugal. He was my mentor, my inspiration, and my hero. You cannot imagine how proud he is. In fact sometimes his pride is embarrassing when he is with his friends having coffee or sipping on a glass of red wine. It's all good. He loves his son and I love him.
Since I was informed by Professor Carlos Queiroz, head coach of the Portugal National Team, the process began for me to mentally and physically prepare myself for the challenges I will be encountering.
Mentally I started the process by assembling selected motivational songs on my IPod that would be part of my daily life. Physically I needed to accept who I am today and not what I was 16 years ago when I was also part of Portugal's World Cup qualification process. We lost to Italy in Sao Siro Stadium in the 1993. That loss prevented Portugal to qualify for the 1994 World Cup hosted by the USA.
The University of Hartford players were very patient with my regime. I received total support from my players and coaching staff. Their support and understanding was awesome.
The goalkeeper preparation has begun in my mind as well as offering suggestions on team bonding and mental preparations to cope with the pressures of the World Cup competition.
I am sad and the anxiety is high as I depart my friends and love ones. It's my comfort zone. Now I take this exciting adventure and journey to South Africa. Thinking and hoping everyday that the Portugal National Team will represent their country with pride, dignity, and honor. There are so many factors that we cannot control. One thing is for sure; our players and coaching staff will be as best prepared as possible. No detail will be overlooked. I am confident if there were World Cups awarded for preparation that Portugal would be a very serious candidate to lift the Trophy. Unfortunately, there is no such award. It's about results on the field and the rest is about conversation.
Within the next few hours, I will step off the plane in Portugal and I will smell, eat, drink and eat soccer. The fierce soccer debates start immediately. From the taxi driver to the little kids to the grandparents everyone will have an opinion on the Portugal National Team. This is a country that is completely embraced by the game of soccer. They live it, breathe it, they are consumed by the beautiful game and so am I.
The Real Cristiano Ronaldo
By Dan Gaspar
I want to share a story about Cristiano Ronaldo. It's a story that I'm sure you are not aware of, but one that needs to be told. I believe in destiny -- this is an example. Behind the superstar celebrity is a genuine and caring human being.
I was fortunate to be invited by Professor Carlos Queiroz, Portugal National Team Coach to join their staff in preparation for the 2010 South Africa World Cup qualification process. I have worked with Carlos before, and I felt honored to be a part Portugal's preparation.
Not long after, I received a phone call from a good friend, John Moreira. John has worked at Star Goalkeeper Academy, a camp which I own. He and his family are good friends of mine and have been for many years. His son Brandon, who was a quality soccer player, was experiencing knee problems. The doctors initially thought that he was suffering from a soccer injury. It turned out that Brandon had Osteosarcoma (bone cancer).
The Moreira's had a difficult decision to make; amputate the leg or receive chemotherapy in the hopes that they could catch all of the cancer. Brandon's passion was the game of soccer. The thought of having one of his legs amputated was devastating to the teenager. He couldn't imagine a life with one of his legs missing. The family opted for chemotherapy.
Throughout this trying period, John had kept in touch with me and regularly updated me on Brandon's status. So it was devastating to hear that not only did the chemo fail to shrink the size of the tumor, but the cancer had metastasized to other parts of the body. John and I shared a special bond, and I felt compelled to be there for my friend and his family. I jumped onto a plane and flew to Toronto.
Brandon was a very special young man. Instead of me offering Brandon support and courage, Brandon gave me much more than I could give him. He was calm, brave and his warrior-spirit imbued his house with a sense of peace. He was an inspiration. Despite having lost considerable weight and entangled in oxygen tubes, in his soft-spoken voice he always managed to say just the right thing. He pleaded with everyone not be angry and that God is good. Sixteen years old! That was his gift to all of us.
His dad John said that Brandon had created a bucket of wishes. One of his wishes was to go to Old Trafford and watch Ronaldo train. Given the circumstances, that wish was not going to come true. Like so many kids around the globe, Ronaldo was Brandon's idol. He thought Ronaldo was the best footballer on the planet. Pictures of the Portuguese winger in full gallop gliding with ease past bewildered defenders covered Brandon's bedroom wall. John asked me if I would contact Ronaldo and ask him to call his dying son. I informed John that I did only one game with Portugal's U23 team with Ronaldo. The likelihood of Ronaldo remembering me was remote but I would do my best. I wanted so badly to fulfill Brandon's wish. He was a remarkable human being, and it was the least that I could do for my friend and his son.
I called the Head Coach of Portugal National Team, Carlos Queiroz and explained Brandon's situation. Carlos and I have worked together on many projects and we have known each other for years. We are brothers. I said to Carlos, "I have not asked you for much, but this is a special request and it would mean a lot to me if you could help me as well as my friend".
Carlos said he would do his best, but he could not make any promises. But I knew that if anyone had the influence to be able to help me to help Brandon and his family, it was Carlos Queiroz. To contact Ronaldo you have to go through several layers of people – agents, managers, lawyers, etc… and you never know how long that may take.
Carlos called me back the same day and said, "The mission is in motion". I knew that Carlos would come through.
In the meantime, I knew Brandon was a Manchester United, Benfica and FC Porto fan. I called my contacts and asked if they could call Brandon, to give him strength and urge him to continue to fight his battle. José Moreira from Benfica, Carlos Queiroz from Manchester United and Vitor Baia from FC Porto all called to wish him well and to have the courage to continue to fight. They were all special, but they were not Ronaldo -- he had still not called.

I needed to get back to the University of Hartford. The Hartford Hawks had a game on Saturday evening and I flew back on the Friday before.
Saturday was a great evening. The University of Hartford beat The University of New Hampshire and I also received a call from John that Ronaldo did call. It was a tremendous relief for me, and I knew what it meant to Brandon. In fact, he promised Brandon he would call the following day.
Brandon's house was full of his friends, anxiously waiting for his phone to ring. Ronaldo did not disappoint. He called and Brandon and a house full of friends and family were overjoyed. Manchester United was playing away to Chelsea that weekend in September. Ronaldo promised to send his match jersey and boots to Brandon. Brandon was ecstatic, but it was the conversation that he cherished most. He said "I can't believe I just spoke with my idol, Cristiano Ronaldo -- I am the happiest kid alive." A couple of days later Ronaldo went on to text Brandon to see how he was feeling.
Brandon, only 17, died on Oct. 3, 2008. Ronaldo sent his autographed boots, framed jersey and a telegram with his condolences. But in his telegram it was this message that moved Brandon's family the most. It said, "true champions are those who fight till their last breath, and that is the image I have of Brandon."
I returned to Toronto to attend Brandon's wake and funeral. All of Ronaldo's items were wrapped around the casket. It was amazing.
In February I returned to Toronto to do a goalkeeper seminar. John asked me to go for a ride. We went to Brandon's mausoleum. I was stunned by what I saw -- Cristiano Ronaldo's bronzed jersey and boots. Beneath them were engraved the words from Ronaldo's text message.
Carlos Queiroz invited me to join the Portugal's National Team as it prepared for its World Cup qualification match against Albania last June 6th, 2009 and a friendly match against Estonia on June 10th. It's fascinating how life works; of course I accepted the invitation to join Portugal's staff with honor. The team included the FIFA selection for the 2008 World Player of the Year, Cristiano Ronaldo. His transfer from Manchester United to Real Madrid was a world record of $133 million.
When John's family knew I was going to join the National Team they had a request. They had several items they wanted Ronaldo to sign and they wrote a thank-you card for him.
I flew to Toronto to meet with John's family and to pick up the items they wanted signed by Ronaldo. Then it was off to Lisbon for a national team training camp. When I arrived at training camp I let a few days pass before I approached Ronaldo. As you can imagine, everyone wants a piece of him. During lunch one afternoon, Ronaldo and I were near the buffet table. I told Ronaldo that I had a special story to share with him, and could we spend a few minutes together? He agreed and met me in my room.
It was an emotional meeting as I shared with Cristiano all the details of the impact he had on Brandon, his family and friends. Ronaldo listened carefully.
I wanted to emphasize the responsibility an athlete like Cristiano has to young and impressionable people like Brandon. As we talked, it was touching to see a vulnerable and compassionate side to a guy who is a warrior on the field.
The last thing I mentioned to Ronaldo was that Brandon had kept a daily diary. On the last page it read, "I spoke to Ronaldo, I can now go to heaven." That is the truth behind the real Cristiano Ronaldo.
Gaspar Joins International Soccer Network for World Cup
MINERVA, OH – May 1, 2010 – Dan Gaspar, a member of the Portugal National Team coaching staff, will be providing exclusive content for International Soccer Network. Gaspar will provide an insider's perspective into the World Cup in South Africa.

Gaspar is one of the premier coaching talents in the United States. He possesses four coaching licenses and is a Hall of Fame Inductee for the Connecticut State Soccer Association, University of Hartford (CT), and New England Soccer Coaches.
Currently, he serves as the Head Men's Soccer Coach for the University of Hartford, President of the Connecticut Soccer School, and Founder of the Star Goalkeeper Academy. All of this is in addition to his responsibilities with the Portugal National Team, currently ranked 3rd in the world by FIFA. Portugal is expected to be a contender at the World Cup with such talent as Cristiano Ronaldo, Nani, Deco, Ricardo Carvallho, Paulo Ferreira, and Jose Bosingwa.
Gaspar has decades of coaching experience from all over the globe. His professional team experience includes time spent with the Connecticut Wolves (A-League), FC Porto (Portugal), SL Benfica (Portugal), Sporting Lisbon (Portugal), New York Metrostars (MLS), and Nagoya Grampus Eight (Japan).
He also has experience at the national team level with the U.S. Women's National Team, U.S. Olympic Team , U.S. U-17 and U-18 National Teams , South Africa National Team, and all levels of the Portugal Men's and Women's National Teams. Coach Gaspar has learned from the world's best coaches, including Carlos Queiroz, Luiz Felipe Scolari, Jose Antonio Camacho, Vitor Fernandez, Jose Mourinho, Anson Dorrance and Glenn Myernick.
Dan Gaspar, a member of the Portugal National Team coaching staff, will be providing exclusive content for International Soccer Network. Gaspar will provide an insider's perspective into the World Cup in South Africa.

Currently, he also serves as the Head Men's Soccer Coach for the University of Hartford, President of the Connecticut Soccer School, and Founder of the Star Goalkeeper Academy.