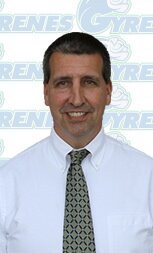 "Find your passion."
"Chase your passion with every fiber of your being."
"Never let anybody outwork you."
Three pieces of advice from Coach Joe Zakowicz. Three lessons he shares with his players.
Zakowicz is one of the good guys in the American game.  Someone of great faith, character, and passion for the sport we all love.  He is the mastermind behind both the men's and women's soccer programs at Ave Maria University in Florida.    He also recently signed on as the head coach of the NPSL's Cape Coral Hurricanes.
"Joe is an exceptional coach with a vast amount of coaching, administration and leadership experience," Hurricanes General Manager J.P. Terrasi commented,  "He knows how to build a team and develop players, but more importantly he has strong Christian values and an unwavering faith that will help build strong character in our players as well."
Zakowicz is a man who has gotten it done at every level.  He began his coaching career with the Central Delaware Soccer Association and as an assistant at DIII Wesley College.
The early days were instrumental in growing Zakowicz as a coach and a supporter.
"It was a tremendous amount of fun and it fed my passion." A passion that would last a lifetime.
Zakowicz would spend first two years as a head coach at Oklahoma Wesleyan University before building a powerhouse of a program at Bethel University in Tennessee.  One of his former players, Melvin Belong, won the NAIA National Championship there in 2008 as the men's head coach.
Yes, his former players and assistants have gone on to big things.  Over a dozen moved on to become college coaches. So you can see he has made an impact, a big one.
Zakowicz would go on to coach and serve as Athletic Director at Mid-Continent University, where he led the men's squad to an impressive  142-64-18 record from 2000-2009.  He would garner a lifetime of personal hardware at MCU, including the NCCAA National Coach of the Year award.
Zakowicz even started and ran his own youth club in Western Kentucky called Jackson Purchase Futbol Club.  This would be a great opportunity to share his passion with countless others, exposing a new generation of athletes to the beautiful game.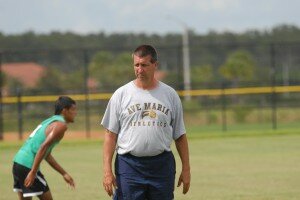 Today Zakowicz is the man with a plan at Ave Maria with 2013 marking his third season at the Florida Catholic university.  But nobody said it was going to be easy.
"I came to Ave Maria two years ago, inheriting a 1-15-1 team. It was and still is the biggest challenge of my coaching career."
But things are looking up for the Gyrenes.
"Our players have shown great growth this spring and we have half a semester yet to train. I am excited for our program and Ave Maria University Soccer. We will win this year!"
College soccer is just one piece of the puzzle for the veteran coach.  Helping an expansion NPSL team find its way is also on the agenda.  Making the playoffs is a priority, but this veteran coach and mentor knows there is more to life than what happens on a pitch.
"The greater goal is to provide a learning environment in which our players can truly grow in the game and as young men. We hope to have an eternal impact on building young men of character during their time with the Hurricanes. I hope we can truly be about developing the players we have and that they might be able to reach their personal goals in the process. The bottom line is that we develop them well."
With his history of helping players and coaches reach their goals, there is no doubt that he will develop them well.
And he does all this because he loves the game.  It's not for the money, but rather the intrinsic rewards.
"We all have a million favorite moments that I call 'hidden paychecks.' Winning championships, celebrations, seasons all come and go, but the relationships and memories are what is special."
Here is to Coach Zakowicz and his journey toward even more special soccer memories!
Korrio understands it is your passion for coaching kids that drives you. We also know that the less time you spend dealing with administrative, communication and automation hassles, and the more time you spend on the field, the happier you'll be. And because you play a crucial role in our children's lives, we want you spending as much time as possible coaching our kids. Korrio offers a modern approach to coaching by allowing new ways to communicate and develop a community on and off the field. Congratulations to the ISN Star of Coaching this month.