Vortex Drop Final Match at Home
CANTON, OH - February 11, 2011- Midfielder Rick King's two goals were just not enough as the Ohio Vortex fell to the Louisville Lightning by an 11-4 margin.

The Vortex (2-11) have failed to gain consistency in play due to injuries, illnesses, and departures. A makeshift squad that included head coach/defender Denzil Antonio did its best to slow down the Lightning attack, but did so with little success.
Mariano Gonzalez finished with a hat trick for Louisville (6-6), while teammates Darren Yeagle and Nick Judah each added a pair of goals. Frank Peabody was solid in goal for the Lightning, finishing with 15 saves.

The Vortex defense was led by defender Jared Dombrowski (4 blocks) and goalkeeper Sasha Djuric (16 saves). The Canton, Ohio club now finishes the regular season on the road after what has been a difficult sophomore season in PASL-Pro.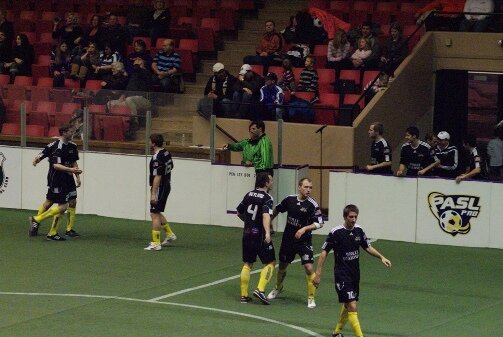 Vortex Suffer 10th Loss
CANTON, OH - February 5, 2011 – The Ohio Vortex (2-10) suffered a 14-7 loss at the hands of the Louisville Lightning (5-6) on Saturday evening.
Louisville was led by midfielder Darren Yeagle, who finished with three goals and one assist. Striker David Horne and former Houston Dynamo midfielder John Michael Hayden each added two goals and two assists for the Lightning.
Forward Pete Angelokostopoulos led the Vortex with two goals with five other Ohio players adding one goal apiece.
The match was tight in the first half with the two squads tied 6-6 going into the break. The Lightning attack came alive after halftime, scoring five goals in the third quarter and another three in the fourth.
The Vortex managed just one goal in the entire second half. Ohio was once again without leading scorer Allen Eller and their offense was sluggish at best without their captain.
Ohio forward Adis Kuduzovic faces possible disciplinary action after being ejected with just 21 seconds remaining in the game. Kuduzovic then reentered the field after the game, headbutting the opposing goalkeeper.
The Vortex hope to salvage their season with their final home match on February 11th at the Canton Memorial Civic Center in a rematch with the Lightning.
Vortex Fall to Canadian Side
CANTON, OH - January 22, 2011 - Without captain Allen Eller, the Ohio Vortex (2-7) limped to an 11-10 defeat at the hands of the Winnipeg Alliance (1-2).
Striker Adis Kuduzovic would lead the Vortex attack with 3 goals and 2 assists, while keeper Sasha Djuric finished with 18 saves. Lucas Martorana would add 3 assists for Ohio.
Winnipeg got a hat trick from both midfielder Kenny Sacramento and forward Matt Marjanovic. The Alliance defense would get 2 blocks from Ivan Garcia and 11 saves from goalkeeper Jeff Seney.
Fans were treated to a reunion game at halftime that featured such indoor stars as Kia and Otto Orf. ASA founder and former NPSL commissioner Steve Paxos was also in attendance.
The Vortex now prepare for a difficult road trip to Louisville and Cincinnati before the final two home games on February 5th and 11th.
Record Crowd Sees Vortex Fall in OT
CANTON, OH - January 8, 2011 - The Ohio Vortex (PASL-Pro) set a franchise record for attendance in their first game of the New Year despite falling to the surging Detroit Waza (5-2).

It would take an overtime goal by defender Costea Decu to push the Waza to an 11-10 victory over the Vortex, who are now 2-5. It was an exciting evening that featured two shootout goals, an overtime period, and a great atmosphere created by fans.

"Every goal we scored the crowd was louder and louder," Vortex midfielder Steve Gillespie said. "They were overpowering the music at times. It was a great atmosphere; I think a lot of people had fun."

Ohio's Eric Sebor and Detroit's Kris Lyons both finished with 15 saves, while Vortex defender Jared Dombroski led all players with 3 blocks. Allen Eller continued to lead the attack for Ohio, finishing with 5 goals and 1 assist. Decu led the Waza with 4 goals, 1 assist, and 2 blocks.

Columbus Crew defender Josh Williams ended up being the star of the evening. Williams signed autographs, took pictures with fans, and served as a celebrity coach for a halftime match. "It's good coming in and helping raise money for the schools," Williams commented. "It was a fun night. I had fun; I hope everyone else did."

Even though the Vortex lost, the North Canton City Schools and the Osnaburg Local Schools were the real winners as they received proceeds from each ticket sold. This successful game reinforces the club's commitment to charities and non-profits, particularly school districts in Northeastern Ohio.

The Vortex will hit the road to face the Illinois Piasa on January 15 before heading back home to face CMISL side the Winnipeg Alliance on January 22.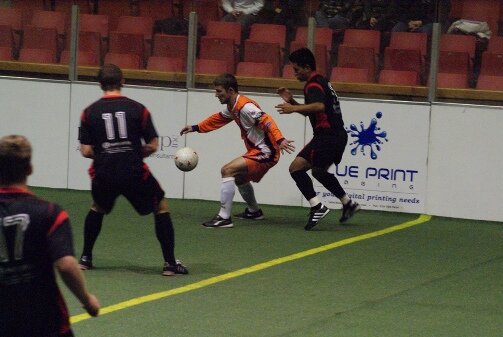 Vortex Holds off Piasa for Home Victory
CANTON, OH - December 18, 2010 – Four goals from striker Nebo Stamenkovic pushed the Ohio Vortex to a 13-11 victory over the visiting Illinois Piasa.
The Vortex (2-4) would be aided by a hat trick from Milko Cecez and a pair of goals from Allen Eller. Eller would also register three assists, while Steve Gillespie and Slavisa Ubiparipovic finished with two assists each.
Illinois striker Roger Gemoules was the star of the night, tallying four goals and three assists. Aaron Reuther and Joe Kelly each added two goals to the Piasa offense, which finished with a late surge.
The goalkeepers were certainly busy all night with a combined 68 shots on goal. Sasha Djuric logged 21 saves for Ohio, while Illinois keeper Greg Crook added 15 saves.
The Vortex started strong, holding a 7-3 lead at the half. Piasa would bring the score to 11-9 at the end of the third quarter, but could not keep Ohio from scoring two more goals in the final 15 minutes.
Vortex Sign Indoor Star
CANTON, OH - December 14, 2010 - The Ohio Vortex continue to make waves in the Professional Arena Soccer League (PASL-Pro), signing star forward Nebojsa Stamenkovic. The Serbian striker made his Vortex debut in Saturday's road match against the Detroit Waza, logging an assist and two fouls in the 8-7 defeat.
Nebojsa last played with the New Jersey Ironmen in the Xtreme Soccer League (XSL) and was best known for scoring the first playoff goal in Ironmen history.
"He is a good indoor player with a strong physique and good soccer knowledge," former teammate and current FC Tampa Bay defender Gordon Kljestan commented. "Unfortunately he was plagued by injuries at the Ironmen."
Nebojsa also played in the USL A-League with the Milwaukee Rampage in 2001 after spending two seasons with the Red Star Belgrade Reserves in his native Serbia.
Nebojsa's late father, Stan, is one of the most recognized names in indoor soccer history. "The Pizza Man" was the league MVP in 1984 and a three-time MISL All-Star Game MVP. Stan would end his professional career in 1988 after netting 311 career assists and 231 career goals. An attempted comeback in 1994 ended after just eight matches with the San Jose Grizzlies.
Star-Studded Vortex Fall in Detroit
TAYLOR, MI - December 12, 2010 – A breakout game by striker Slavisa Ubiparipovic could not save the Ohio Vortex (1-4) from defeat as the Detroit Waza (3-2) came away with an 8-7 victory at the Taylor Sportsplex.
Ubiparipovic, a former star at Cleveland State University, scored five goals in his road debut. Defender Jared Dombrowski and Milko Cecez each added a single goal for the Vortex, while newcomer Nebo Stamenkovic tallied one assist and two fouls in his first PASL-Pro match. Stamenkovic's late father, Stan, is widely considered one of the finest indoor players to ever play the game.
Goalkeeper Eric Sebor, in place of the injured Sasha Djuric, led Ohio's defensive effort with 23 saves.
The Waza attack was led by Miki Djerisilo, who had a hat trick. Aaron Byrd, Tino Scicluna, Nelson Diaz, Scotty Wright, and Costea Decu each contributed one goal each.
Vito Lonigro was solid once again in goal for Detroit, finishing with 20 saves in the victory. Lonigro has been golden for the Waza, serving as the starting keeper in all three of the Waza wins this season.
Ohio returns home to face the Illinois Piasa on December 18th at the Canton Memorial Civic Center.
CSU Star Joins the Vortex
Slavisa Ubiparipovic is one of the most talented strikers to ever play for Cleveland State University, earning First Team All-Horizon League honors in both 2008 and 2009. Now he starts a new challenge and a new chapter in his career, signing with the Ohio Vortex (PASL-Pro).
Ubiparipovic started 19 games in 2008, registering 5 goals and 4 assists for the Vikings. His stats would continue to improve in 2009 when he tallied 6 goals and 5 assists. Before joining Cleveland State, Slavisa was a First Team All-Area and Second Team All-Ohio selection at Mentor High School. Ubiparipovic would initially sign with Xavier University, where he was a member of the 2006 All-Atlantic Rookie Team after starting 17 games for the Musketeers. He would go on to start 15 games in 2007 before heading home to finish his collegiate career with CSU.
The 23-year-old striker gained additional experience with the Cleveland Internationals PDL team. Slavisa was on a short trial with the New York Red Bulls after the 2010 MLS SuperDraft, joining his brother Sinisa as a professional. Slavisa is certainly headed for stardom in the PASL-Pro; he only has to make the transition indoors after so much success in the outdoor game. He is a difference maker, a pure scorer with unlimited potential. The Vortex are very lucky to count him as one of their own.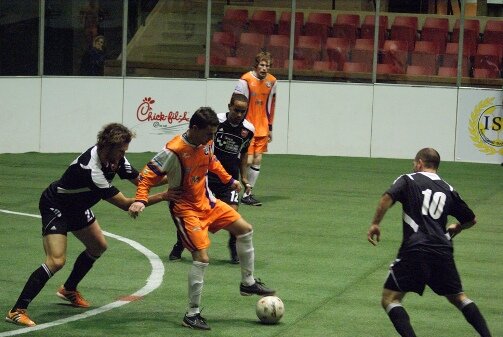 Vortex Fall to Kings at Home

CANTON, OH - December 4, 2010 - Four goals and two assists by forward Allen Eller were still not enough as the Ohio Vortex (1-3) fell to the Cincinnati Kings (5-0) by a score of 11-8. This would be Ohio's third defeat at the hands of the Kings this season.
Cincinnati's Eddie Herstenberg shared the spotlight with Eller, leading the Kings with 4 goals and 1 block. Former Canton Invader Matt Breines would finish with a hat trick for the visitors, while Drew Ducker logged another 2 goals for Cincinnati. Jeff Hughes and George Davis rounded out the goals for the Kings' attack.

The Vortex would get two goals and an assist from striker Adis Kuduzovic with singles added by midfielders Steve Gillespie and Milko Cecez.

Defensively both goalies performed well with Cincinnati's Jay Schneider netting 14 saves and Ohio's Eric Sebor finishing with 10 saves.

Cincinnati's dominance of the Eastern Division continued in this match where the Vortex never took the lead, playing "catch up" the entire game. The home team was able to keep things close until the final moments where Cincinnati finally pulled out of reach.

"We came out kind of sloppy, gave up some goals that we could have done away with," Ohio Vortex defender Ross Cochran commented. "The second half was definitely an improvement."

The Vortex hit the road on December 11th for a match with the Detroit Waza before heading back to the Canton Civic Center to face Illinois Piasa on December 18th.
Eller Leads Team into Battle
The term "captain" is not taken lightly when talking about a sports team. It is a term that requires great leadership and bears great responsibility. A captain is looked upon for guidance on and off the field, often taking on the role of teacher and mentor.

Forward Allen Eller is the unquestioned leader of the Ohio Vortex and the obvious choice for the squad's captain. He is a veteran striker with over a decade of experience indoors and out, spending time in some of North America's best-known leagues. The 2009-2010 season would see Eller lead the Vortex in goals (34), assists (19), games played (15), and shots (93). He would also earn an All-League First Team selection after establishing himself as one of PASL-Pro's top attackers, but his humble beginnings in the sport came much earlier.

Eller's exemplary play at the University of Akron (OH) would catch the eye of the Cleveland Crunch (NPSL), where he signed his first professional contract in 1999. He would go on to play for several more clubs, including the USL's Pittsburgh Riverhounds (1999-2001), WISL's Houston Hotshots (2000), MISL's Harrisburg Heat (2002), USL's Cincinnati Riverhawks (2002), MISL's Baltimore Blast (2002-2005), and MISL's Cleveland Force (2005).

Having a player with such diverse experience is certainly an asset for the Vortex, who are now in their second season. Eller understands why the indoor game is so attractive to casual and hardcore fans alike. "Indoor is faster. You get the ball more and the pacing is different," Eller commented in an interview with International Soccer Network. "Your touch has to be better and your decision-making has to be faster."

Players with experience are always at a premium, which makes a player like Eller invaluable to the young Canton, OH club. "I use my experience to teach the proper way to play," Eller continued. "We get the guys ready to play and help them stay focused."

Focus is an integral part of a game that resembles a hybrid of soccer and hockey, a game where a simple mistake can lead to a quick goal. A handful of goals can be scored in a matter of minutes and a full match can yield more scoring than 10 outdoor matches. The good news is that Eller is usually the one scoring those goals in any match featuring the Vortex.

The Vortex captain started the 2010/2011 campaign with an incredible 5 goals against the Detroit Waza in Ohio's home opener. He followed this up with a hat trick against Cincinnati at home and a goal and an assist against the Kings on the road. Currently Eller is tied for second in scoring in the PASL-Pro with 10 points, trailing just 3 points behind Jeff Hughes, last year's league MVP.

The Cleveland native realizes that the indoor game has changed over the years and is still evolving. Players now have regular day jobs to go along with their professional careers in arena soccer. "People do this because they love soccer," Eller contended. No player or club is making a million dollars in small market franchises in the PASL, but this allows the game to be played with a different sense of passion and desire. People play in this league because they love the game and want to pass it on to younger fans.
Vortex Sign Keeper and Striker

CANTON, OH - November 29, 2010 - The Ohio Vortex (PASL-Pro) formally announce the signing of goalkeeper Eric Sebor and forward Tyler Johnston. Both saw action in Saturday night's 10-6 loss to the Cincinnati Kings.
Sebor was a two-time All-Ohio selection at Solon HS (OH) before playing at Mount Union College (OH), where he was a four year letter winner. In 2006 Sebor led the Purple Raiders with 96 saves, recording 2 shutouts and a .787 save percentage. The Solon, OH native most recently played with Concordia (North Coast Soccer League), Shamrocks (North Coast Soccer League), and Donauschwaben (Lake Erie Soccer League).

"It is an honor and a dream come true," Sebor commented. "I'm looking forward to this opportunity as I hope I can help the team meet its goals."
Johnston, a native of Lorain (OH), finished his collegiate career at Ohio Northern University. The striker was signed to fill in for several Vortex regulars who are battling injuries.
Cincinnati Kings Remain Undefeated
CINCINNATI, OH - November 27, 2010 - The Cincinnati Kings professional indoor soccer team earned their fourth win of the season and outscored Canton-based Ohio Vortex, 10-6.
Eddie Hertsenberg, Jeff Hughes and Drew Ducker each added two goals while Kenney Bertz, Matt Breines, Kwame Sarkodie and George Davis IV chipped in one goal apiece.
Goalkeeper Craig Salvati earned his fourth consecutive win in the net for the Kings. The Kings' next home match is Saturday, Dec. 18 against San Diego, 7:35 p.m. at the Cincinnati Gardens.
Vortex Prepare for Road Trip to Cincinnati
CANTON, OH - November 26, 2010 - The Ohio Vortex (1-1) prepare for their first road trip of the young PASL-Pro season as they face the Cincinnati Kings, currently first in the Eastern Division with a 3-0 record.
The Vortex continue to grapple with the injury bug, forcing several key players out of the lineup. Goalkeeper Sasha Djuric will be given a rest this weekend as newcomer Eric Sebor will be between the pipes for Ohio.
Sebor, a four-year letterwinner at Mount Union College (OAC), was recently signed by the Vortex to serve as a backup to Djuric, who started the first two games in goal.

Also new to the Vortex is forward Tyler Johnston, who replaces Adam Campellone. The midfielder continues to struggle with nagging injuries, but is a returning starter from last season's 8-8 squad. Johnston also played in the OAC, but spent his time with Ohio Northern University. The 22-year-old striker is expected to see his first professional action against the Kings this weekend.

Defender Michael Pertz returns to action after suffering a back injury in training. He is expected to anchor the backline with Marshall University graduate Jared Dombrowski and Scottish international Ross Cochran.

The Ohio attack is in the capable hands of forward Allen Eller, who has already accumulated eight goals in just two games. Eller is perhaps the only player that can match the scoring of Cincinnati's Jeff Hughes, who is another league MVP candidate. Midfielders Steve Gillespie, Milko Cecez, and John Ball all should provide excellent service to Eller, who finished the 2009-2010 season with 34 goals and 19 assists.

This is a challenging match for many reasons. First and foremost, the Kings have home field advantage, hoping for another large crowd at the Cincinnati Gardens. Cincinnati broke their attendance record last week with 1,310 in attendance.

Second, the offensive weaponry for the Kings is almost as impressive as their stingy defense. Reigning league MVP Jeff Hughes leads the attack with help from fellow striker Matt Breines and Sam Fiore. Kwame Sarkodie, George Davis, Shawn Rockey, and Drew Ducker are as formidable a midfield as you will see in the entire league.

Jeff Henderson and Kenneth Bertz anchor the defense for the Kings along with goalkeeper Craig Salvati, who may very well be the best keeper in all of the PASL. The University of Maryland alum kept the Vortex attack at bay in a 9-4 victory at the Canton Civic Center on November 19th.

The Vortex will then head home for a December 4th rematch with the Kings. Ohio will finish up the four-game series when they return to the Gardens on January 29th.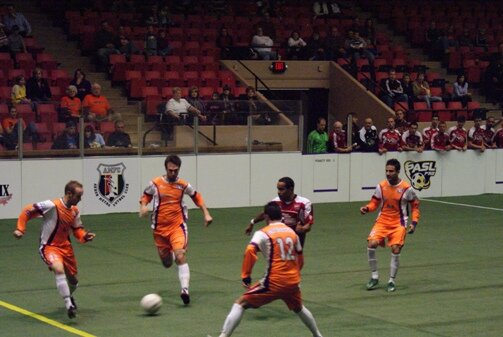 Ohio Falls to Cincinnati in Second Home Game
CANTON, OH - November 19, 2010 - Allen Eller's hat trick was not enough as the Ohio Vortex (1-1) fell to the visiting Cincinnati Kings (2-0) by a 9-4 margin at the Canton Civic Center.
The Kings' roster included several professional players who apply their trade outdoors with the Rochester Rhinos, Cincinnati Kings PDL, and the Dayton Dutch Lions.

Cincinnati's defense, led by goalkeeper Craig Salvati, produced an unbelievable 19 blocks to go along with 14 saves.

"Craig's a machine," midfielder Jeff Hughes commented in a post-game interview. "He's a vocal leader. If we have him out there, I always feel like we are in the game. He's not going to make silly mistakes; he's not going to give up the easy goal."

The Kings got a pair of goals from Jeff Hughes, Sam Fiore, and George Davis. Single goals for Cincinnati would come from former Canton Invader Matt Breines, Chris Dobrowolski, and Kwame Sarkodie.

The Vortex did get three assists from Steve Gillespie and another goal from Milko Cecez in addition to the Eller hat trick. Jared Dombrowski and Louie Rolko would bolster the Ohio defense with two blocks apiece.

The next home game for Ohio is December 4th at the Canton Civic Center as they face the Kings in what looks to be an exciting rematch.
PASL-Pro Names Eller Player of the Week
CANTON, OH - November 18, 2010 - The Professional Arena Soccer League (PASL-Pro) named Allen Eller as its first ever Player of the Week.

Eller of the Ohio Vortex led all scorers during the opening weeked of the 2010/11 season with five goals, helping his team to an 11-10 home victory at the Canton Civic Center.

Eller, 33, tied for the league lead in scoring last year with 53 points and was second with 34 goals. The veteran signed with the Cleveland Crunch (NPSL) in 1999. He would go on to play for several clubs, including the USL's Pittsburgh Riverhounds (1999-2001), WISL's Houston Hotshots (2000), MISL's Harrisburg Heat (2002), USL's Cincinnati Riverhawks (2002), MISL's Baltimore Blast (2002-2005), and MISL's Cleveland Force (2005).

The PASL-Pro kicked off its third season last weekend, but this is the first time that the league will recognize a single player for excellent play each week. One player each week, regardless of position, will be selected.
Ohio Vortex Near Important Match with Division Rivals
CANTON, OH - November 18, 2010 - The Ohio Vortex (1-0) face a stiff challenge this Friday night from the Cincinnati Kings (1-0), who are the reigning Eastern Division Champions in the Professional Arena Soccer League (PASL-Pro).

The match has the potential to be a high scoring affair as Cincinnati's Jeff Hughes and Ohio's Allen Eller face off in this important matchup early in the 2010/2011 season. Hughes registered 37 goals and 16 assists to lead the PASL-Pro last year, while Eller finished with 34 goals and 19 assists. Hughes started the season with a hat trick in the 6-5 win against the Louisville Lightning, while Eller scored an unbelievable 5 goals in the 11-10 victory over the Detroit Waza.

The Kings would seem to have an advantage at goalkeeper with Craig Salvati, who started the season with 14 saves in the win over the Lightning. Salvati is considered to be one of the premier keepers in the entire league after finishing with 211 saves and an 11-2 record in 2009/2010. However, the Vortex have a shot stopper of their own in Serbian keeper Sasha Djuric. Ohio would get 12 saves from Djuric in their home opener on November 13th.

Ohio hopes to keep the Kings in single digit scoring and this is certainly a possibility with an array of strong defenders: Louie Rolko, Michael Pertz, Jared Dombrowski, and Ross Cochran. The Kings have Hughes to lead their attack, but have to learn to live without John Mellencamp and Kevin Noschang.

The Vortex have no concerns with putting points on the board thanks to Eller and their other offensive weapons: John Ball, Milko Cecez, Pete Angelokostopoulos, Steve Gillespie, and Adis Kuduzovic. Putting a ton of goals past Salvati will certainly be easier said than done, but the Vortex have the personnel to make it happen.

This certainly has the makings of a classic matchup in professional indoor soccer. Will it be a goalfest or a defensive struggle? Will Eller continue to lead the league in goals or will Hughes become an early MVP candidate? Stop by the Canton Memorial Civic Center on Friday night at 7:30 pm to find out.

Tickets are still available by calling 330-354-7778 or by visiting http://www.ohiovortex.org or the Civic Center box office.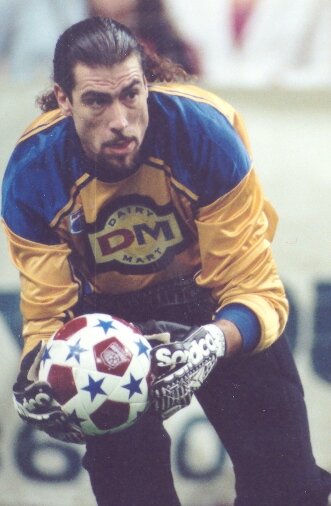 The Ohio Vortex Partner with Otto Orf
CANTON, OH - November 15, 2010 - Helping the less fortunate through the game of soccer is a common mission for both the Ohio Vortex and Otto Orf's HandsOnSports Foundation.

The Canton, Ohio based Vortex have selected the HandsOnSports Foundation as a game night partner for Friday, November 19th. Proceeds from that night's ticket sales will go directly to Orf's non-profit that is planning to build an inner-city futsal court in Akron, Ohio.

"It is a win-win situation," Orf commented. "It is a great thing for Canton, a great thing for Northeast Ohio, and a great thing for the less fortunate."

The former Cleveland Crunch and Cleveland Force goalkeeper is excited about the Vortex, who play in the Professional Arena Soccer League (PASL-Pro). "It is a great opportunity to promote the local talent that we have," Orf, a player with 21 years of professional soccer experience, stated.

The Vortex are likewise excited about working with Orf and HandsOnSports. "Otto's HandsOnSports Foundation does important work in many communities as he reaches a lot of less fortunate kids and helps expose them to the sport of soccer," Ohio Vortex founder Nick Bogdan declared. "You never know if one of them will be the next Pelé."

Tickets for the November 19th matchup between the Vortex and Eastern Division rivals the Cincinnati Kings can be ordered at http://www.handsonsoccer.com or by calling 330-354-7778.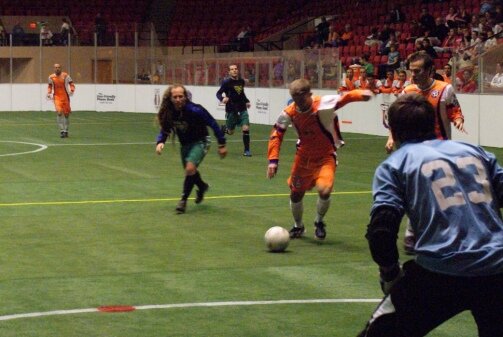 Vortex Start Season with Big Win over Rivals
CANTON, OH - November 13, 2010 - The Ohio Vortex (1-0) defeated the Detroit Waza 11-10 in PASL-Pro action on Saturday night. The Vortex attack was buoyed by five goals from veteran striker Allen Eller, who finished last season with 34 goals.

"Allen is our leader on the field and off the field as well," Vortex midfielder Milko Cecez commented. "He led us in goals last year so we know we can rely on him. We try to feed off his energy on the field."

The match was quite a rollercoaster for both sides with the result in question until the final seconds of the game. Detroit (0-1) would get a hat trick from both Dan Dragoi and Rodrigo Gonzalez and a solid performance from goalkeeper Anthony Santilli, who finished with 13 saves on the night.

The Vortex would enjoy 12 saves from keeper Sasha Djuric, making his first start with the Vortex. Djuric would replace Nate Rausch, who did not return this season after registering 145 saves in 2009/2010.

"He made some good saves down the stretch, some key saves," Cecez continued.

The Vortex return to action at the Civic Center on Friday, November 19 as they face the Cincinnati Kings with a 7:30 pm kickoff.

In Friday's action from the PASL-Pro, the Kings defeated the Louisville Lightning by a 6-5 margin thanks to a hat trick from Jeff Hughes. The Cincinnati striker had a great start to the 2010/2011 season after leading the league in goals with 37 last season. The Kings also got a great performance out of keeper Craig Salvati, who finished the night with 14 saves.

Louisville looked equally impressive, especially with the duo of former MLS players Othaniel Yanez and John Michael Hayden taking the field together. Both Yanez and Hayden scored a goal along with Safet Kovacevic, Adam Boyer, and Chad Hagerty.
Charity Partners Announced for the Ohio Vortex
CANTON, OH - October 1, 2010 – The Ohio Vortex of the Professional Arena Soccer League (PASL-Pro) are pleased to announce their charity partners for the 2010/2011 season.
A portion of proceeds from every ticket sold will be given to diverse local non-profit organizations that work for the greater good. Last season approximately $10,000 was given to charities here in NE Ohio.

With the support of the community, the Vortex will be able to support even more programs and organizations during the upcoming season. For more information or to purchase tickets, please visit http://www.ohiovortex.org or call 330-354-7778.

This season's charity partners and their respective game nights are as follows:

Saturday, November 13 at 7:00 PM
Hammer & Nails

Friday, November 19 at 7:30 PM
HandsOnSports Foundation

Saturday, December 4 at 7:00 PM
Stark County Hunger Task Force

Saturday, December 18 at 7:00 PM
"Community Grant Night"
Community Soccer Club
Stark Social Workers Network
Canton Health & Wellness Free Clinic
Cross Eyed Mission
Greater Stark County Urban League

Saturday, January 8 at 7:00 PM
"Stark County Schools Night"
North Canton City Schools

Saturday, January 22 at 7:00 PM
Domestic Violence Project

Saturday, February 5 at 7:00 PM
Project Rebuild

Friday, February 11 at 7:30 PM
Stark County Association of Realtors (SCAR) Charitable Foundation
Home Schedule Released for Ohio Vortex
CANTON, OH - October 1, 2010 – The Ohio Vortex of the Professional Arena Soccer League (PASL-Pro) are pleased to announce their home schedule for the 2010/2011 season.

The Vortex enters their second season in PASL-Pro after an 8-8 record in 2009/2010 and a third place finish in the Eastern Division. The team had a busy offseason: conducting camps and clinics, making public appearances, and playing in exhibitions across NE Ohio.

Several Vortex players actually found themselves playing professionally outdoors during the late spring and summer in the United Soccer Leagues (USL). Defender Michael Pertz made six appearances with the Real Maryland Monarchs (USL-2) before training with Crystal Palace Baltimore (USL-1). Defender Louis Rolko would log 1,434 minutes over 19 games with the USL-2 Pittsburgh Riverhounds.

The Vortex, which operates as a non-profit organization, remains committed to providing affordable family entertainment that at the same time benefits local charities. A strong and stable ownership group combined with a unique business model allows the team to donate a portion of ticket revenue to non-profits across NE Ohio.

Home games are played at the Canton Memorial Civic Center on the following dates and times:

Detroit Waza vs. Ohio Vortex - Saturday, November 13 at 7:00 PM

Cincinnati Kings vs. Ohio Vortex - Friday, November 19 at 7:30 PM

Cincinnati Kings vs. Ohio Vortex - Saturday, December 4 at 7:00 PM

Illinois Piasa vs. Ohio Vortex - Saturday, December 18 at 7:00 PM

Detroit Waza vs. Ohio Vortex - Saturday, January 8 at 7:00 PM

Illinois Piasa vs. Ohio Vortex - Saturday, January 22 at 7:00 PM

Louisville Lightning vs. Ohio Vortex - Saturday, February 5 at 7:00 PM

Louisville Lightning vs. Ohio Vortex - Friday, February 11 at 7:30 PM
Diamond Sports Complex to Host Ohio Vortex Tryouts
CANTON, OH - September 25, 2010 - The Ohio Vortex (PASL-Pro) are pleased to announce that tryouts will be held on Tuesday, October 19, 2010 from 8:00 pm to 10:00 pm at the Diamond Sports Complex, 2782 Diamond Street NE, Canton, OH 44721. Registration will begin at 7:00 pm. Players by invitation can attend at no cost, while free agents will be charged a $30 fee.
Preseason practices will also be held at the Diamond Sports Complex from 8:00 pm-10:00 pm on the following dates: October 19th, October 20th, October 21st, October 28th, October 29th, October 30th, November 2nd, November 3rd, and November 4th. Physicals will be take place on October 29th at Diamond beginning at 7:00 pm.
All players attending the tryouts must comfirm their participation via email only to [email protected], no phone calls please. Players that do not confirm their attendance will not be allowed to participate.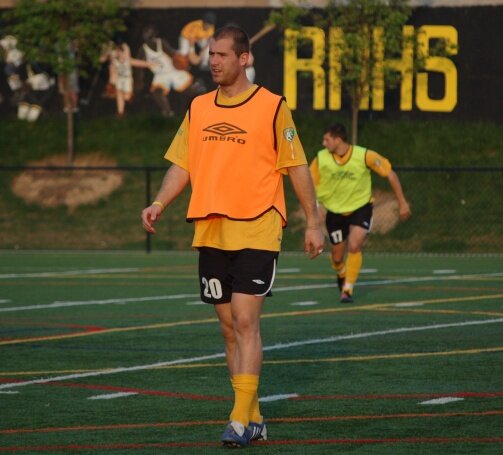 Pertz Continues to Climb
Ohio Vortex and Real Maryland defender Michael Pertz has begun the next chapter of his professional career, training with Crystal Palace Baltimore of the United States Soccer Federation Division II Pro League (USSF D-II).
"I'm looking forward to the opportunity to play with Crystal Palace," Pertz commented. "I know they have a lot of talent in their squad, and I can't wait to start training."
In the fall of 2009 Pertz played his first indoor season in the Professional Arena Soccer League (PASL-Pro). He would make 10 appearances for the Vortex, tallying 3 goals, 1 assist, and 11 blocks. His impressive size and deceptive speed quickly caught the attention of opposing coaches and pro scouts alike.

He spent much of the spring and summer with Real Maryland of the United Soccer League's Second Division (USL-2) before heading to train with Crystal Palace Baltimore. Pertz logged 7 appearances with the Monarchs despite playing behind some of the league's best defenders.

Pertz, 23, appreciated the experience gained from playing for USL's Second Division. "I really enjoyed my time at Real Maryland," the young defender stated. "We struggled a bit for results, but I felt my time there was well spent with great players and an excellent coaching staff."

It was clear that Pertz continued to grow as a player under the expertise of Head Coach Anthony Hudson, a former West Ham United and Luton Town midfielder.

"Anthony was a great coach," Pertz continued. "Even though he may be young, he had more insight than most coaches I've worked with. It was a privilege to play for him this season."

The Medina, Ohio native has also played for some of the nation's best collegiate programs, including the University of Akron (OH), Mount Vernon Nazarene University (OH), and Azusa Pacific University (CA).

Every season seems to see Pertz climb a little higher in his professional career. It won't be long before we see him on the pitch of an MLS club or tending to his trade overseas. For the time being he will be training with one of the NASL's elite clubs, just waiting for his next opportunity.
Louie, Louie Keeps the Ball Rolling in Pittsburgh
How ironic is this…a Cleveland native is helping a Pittsburgh team push for the playoffs?
Defender Louis Rolko has made his name known throughout the USL-2 this year with the Pittsburgh Riverhounds, a team that will soon qualify for the playoffs, but still is jumbled for the last two playoff spots.
"I did catch a little slack for being from Cleveland," Louis joked about playing in a city that Clevelanders generally do not like. "When we go out to camps I usually tell people my name and that 'I am from the greatest city in the world.' Then all the kids ask what city I am from and when I say Cleveland they start booing."
All joking aside, 'Louie' (as he is better known by) has represented his city well with the Riverhounds, as he is a part of a special breed of defenders that hail from Northeast Ohio (Dasan Robinson of the Chicago Fire and Barry Rice of D.C. United).
When asked why Cleveland had done so well, the defender said, "I think there is a good level of coaching there. Growing up I think I was very lucky to have coaches with World Cup and professional experience. Foreign coaches especially gave their insight to the game and that has been very beneficial to us."
Rolko added that playing with different nationalities adds flavor and competition that players may not get at another place. "I think that is unique to our area."
Cleveland has seen her players play in different levels of soccer throughout the country, but without a team of her own, one may wonder if Cleveland can continue to give the game the great players like it has. Rolko disagrees and adds, "I think the quality (of players) is there, even the college programs in the area will help put good players out there even though they are lacking that next level."
Like most other athletes in the country, Louis had to choose the sport that fitted him best, "When I was 10 I played baseball, basketball, football and soccer. Football was first to go because it was the biggest conflict with soccer, then basketball went because it wasn't fun, and then baseball went because of the time commitment."
Louie points out that he had to give all to his commitments. "It was almost impossible and unfair to the other players on my team in the other sports because I was not always going to be there, and I had to have a full commitment in one sport."
Not only has Louis committed to several different teams in his career, but he has spent time indoors, recently with the Ohio Vortex, of the Professional Arena Soccer League (PASL). "Playing with the Vortex was different," he said. "Nobody really teaches you how to play indoor soccer, so there was a big adjustment and a big change. I think we were lucky to have Denzil (Antonio) as our coach, since he has a wealth of indoor experience. I think it was a good experience and I really look forward to playing with those guys again."
Louis is surrounded, in Pittsburgh, by another Cleveland native, "I did not know Jeremy (Deighton), of Broadview Heights, until I met him here. We have gotten to know each other and we live together, so it's cool getting to play with somebody from Cleveland. When we go back (to Cleveland in the offseason), we'll probably train with each other."
Now these two Clevelanders will be searching for a USL-2 crown, no matter how big of a rivalry Cleveland and Pittsburgh have.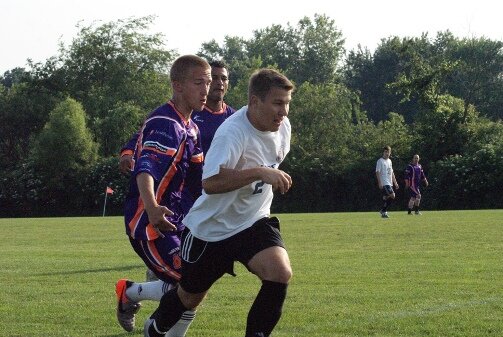 Vortex Dominate in Exhibition Play
AKRON, OH – June 11, 2010 – It was a beautiful evening for soccer as the Ohio Vortex (PASL-Pro) strolled to a 6-0 victory over the Akron Metro Futbol Club (AMFC) U-18 squad in an exhibition matchup.
It was clearly "a game of men against boys" as the AMFC U-18s struggled to find any sort of rhythm against a veteran squad. The Vortex would put up three goals in each half in an easy victory for the Canton, Ohio franchise.
The lone bright spot for Akron Metro was Dillon Parsons, who was a difference-maker on the field. Parsons, a senior at Archbishop Hoban HS, was perhaps the only player who could even compete with the older professional players.

The reason for the match was simple: both clubs share the same coach, Denzil Antonio. Both the professional and youth players appreciate the work of Antonio. "He really teaches you a lot. He really gets you ready for college," Parsons commented. "He can tell you what to do and what you need to work on to be part of a college team one day."
Vortex Players Face Off in Maryland
ROCKVILLE, MD - April 16, 2010 - Ohio Vortex teammates Michael Pertz and Louis Rolko face each other in USL-2 action Saturday evening.
Pertz, a defender with the Real Maryland Monarchs, will face Rolko, who recently signed with the Pittsburgh Riverhounds. It is the first game of the outdoor season for both clubs. Pertz spent time at the University of Akron as well as Mount Vernon Nazarene University and Azusa Pacific University. He spent the entire 2009/2010 indoor season with the Vortex PASL-Pro squad.
Rolko is a former member of the Charleston Battery. He split time between the Vortex PASL-Pro and PASL-Premier squads during the 2009/2010 indoor season.