Akron Batters the Buckeyes
AKRON, OH - September 28, 2011- With their NCAA record 42-match unbeaten match on the line, The University of Akron men's soccer team defeated the Ohio State Buckeyes 3-1 Wednesday night in front of a record crowd of 5,819 at FirstEnergy Stadium - Cub Cadet Field.
"It was a very dominating performance overall," Akron head coach Caleb Porter said. "I thought we had possession for most of the game and we are putting together nice sequences of buildup and we created chances. We just have to have more of a killer instinct in the final third."
Akron moves to 6-0-2 on the year and Ohio State falls to 5-4-1.

Akron was the first team to score as they knocked in the opener at the 20:59 mark when defender DeAndre Yedlin scored off a loose ball for his first tally of the year. Yedlin beat the charging Ohio State goalie, Matt Lampson, down the right side and slid the ball in.

"Luckily I beat them down the line. I tried to cross it in, but got a good deflection and it went in," Yedlin said.
The Zips continued to pressure Ohio State for their second, but the tough OSU defense held Akron to just the one goal at the half despite the continual possession by Akron. The Zips ended the half with four shots on goal to OSU's none.
Yedlin would again come up big with under 25 minutes to go. Akron was unable to clear a ball in their own box, which set up a point-blank shot for Parnell Hegngi. Hegngi took the shot in the box, beat Akron's keeper David Meves, but Yedlin was on the line to clear the ball.
"I think [clearing the ball off the line] was important," Yedlin added. "It stopped their momentum and if they would have scored, who knows what would have happened."
That would be key because Akron went down the field and after Lampson stopped a Luke Holmes shot, Thomas Schmitt knocked the rebound into the back of the net and Akron led comfortably 2-0 with 21 minutes to play.
Ohio State pulled within one with just 16:57 as Sebastian Rivas collected a nice lob pass and beat Meves, getting Akron's attention.
Luke Holmes would put the game on ice with 8:32 left. Holmes controlled the ball outside the box after a pass from Wil Trapp, shot, hit the crossbar and the ball bounced in, giving Akron their sixth win of the year.
"I think Luke gives us another dimension," Porter said. "He brings energy to our team."
The Zips head to the road for their next pair of matches (Western Michigan and UC Santa Barbara) before returning home for their first home MAC game on October 8 versus Northern Illinois.

ISN's University of Akron men's soccer coverage is proudly presented by Expedia® CruiseShipCenters®. Cruise? All-Inclusive? Vegas? Call Bob Hasinski at 440-724-3513 for a great deal on a vacation of a lifetime! Bob can also be reached at . You won't be sorry if you book your next vacation with Bob Hasinski and Expedia® CruiseShipCenters®.
Golden Hurricane Nothing More than a Shower for Mattocks, Akron
TULSA, OK - September 24, 2011 - Sophomore striker Darren Mattocks recorded the second hat trick of his career to lead The No. 4 University of Akron men's soccer team to a 3-0 victory at Tulsa Saturday night at Hurricane Track and Soccer Stadium.
With the win, the Zips (5-0-2) remained unbeaten on the season and improved to 5-0 all-time against the Golden Hurricane. Mattocks, who last recorded three goals in a win against Buffalo last season, scored once in the first half and twice in the second to record his second multiple-goal performance of the year. He has now scored seven goals in six matches this fall.
The Golden Hurricane (4-4-0) recorded 18 shots – though many were from distance – and were dangerous on a number of occasions. But the tremendous play of UA center backs Chad Barson and Bryan Gallego neutralized a host of threats and – combined with a season-high seven saves from David Meves – ensured Akron's fifth shutout in seven matches.
UA struck quickly in the ninth minute. Aodhan Quinn won the ball just past midfield and skipped a pass to Mattocks, who had slipped behind the Tulsa back line, on the right flank. The Jamaican pulled the TU keeper Michael Murray out of position before lifting a shot across the box and into the top left corner of the net. Junior Thomas Schmitt had a great chance to give UA an early, two-goal cushion in the 18th minute but was unlucky when his liner from the near left flank rang the cross bar. It was one of many opportunities for the Zips in the first 45 minutes but they could not add to their lead and settled for a 1-0 advantage into the break.
Akron's persistence paid off in the 55th minute however when Mattocks found the net for the second time by finishing off a run by Wil Trapp. Trapp created space near the right goal post for Mattocks, who turned and fired a rocket across the goal and past the diving keeper. Mattocks then completed the hat trick in the 87th mintue, finishing a cross off the foot of Reinaldo Brenes.
Akron will return home to host Ohio State Wednesday night at FirstEnergy Stadium – Cub Cadet Field. The Zips and Buckeyes will kick off at 7:30 p.m.
Caldwell PK Wins One for UA
AKRON, OH - September 18, 2011 - The University of Akron men's soccer team landed a 1-0 victory over Cal Poly (3-2-2) in the final game of The University of Akron Tournament at FirstEnergy Stadium – Cub Cadet Field Sunday night.
Scott Caldwell converted a penalty kick in the 83rd minute to win the match for the Zips (4-0-2). Aodhan Quinn set the play up with a brilliant pass to freshman DeAndre Yedlin, who dribbled into the box before being taken down from behind.
"Cal Poly today certainly gave us a test," UA Head Coach Caleb Porter stated in a postgame interview.
The first half was relatively quiet with neither side gaining an advantage. Cal Poly's physical style, which resulted in a total of 17 fouls, seemed to slow down a UA attack that was without Jamaican striker Darren Mattocks. Mattocks sat out the game after collecting a red card in Friday's match against New Mexico. Thomas Schmitt did his best to replace Akron's leading goalscorer, having a pair of opportunities that just couldn't be finished.
"That is one of the things we want to be, is an adaptable team that is tactically flexible," Porter continued.
George Malki had the Mustangs' best chance of the evening in the 40th as his shot ricocheted over the post and crossbar before heading out of danger. Unfortunately for the visitors, opportunities weren't plentiful as Cal Poly managed just seven shots on the evening. Akron's David Meves had a relatively easy night and managed three saves.
The Zips hit the road for their next match at Tulsa Saturday before facing Ohio State on September 28th.
UA and New Mexico Play to a Controversial Draw

AKRON, OH - September 16, 2011 - The No. 4 University of Akron men's soccer team (3-0-2) earned a 1-1 draw against No. 16 New Mexico (4-0-2) at FirstEnergy Stadium - Cub Cadet Field Friday night in front of 4,301 fans. It was a rollercoaster of a match for two teams that brought unbeaten records into the University of Akron Tournament.
The match started out very one sided for the first few minutes with Sierra Leone striker James Rogers making his mark all over the pitch for the Lobos. Rogers became even more dangerous when paired with Devon Sandoval. Caleb Porter and the Akron defense made some adjustments to contain the New Mexico attack as the back four seemed to keep bending, but never broke. Rogers was all over the pitch, playing more behind Sandoval rather than beside him up top.

There wasn't much in the first few minutes of the game, but then in the 9th minute Akron got away with a complete breakdown. Defender Chad Barson made a backpass to his goalkeeper David Meves, who tried to clear the ball. Instead of providing clearance, it was deflected off Sandoval. Akron miraculously came away with the clearance and New Mexico was given their first corner kick of the match.

Akron, with its "death by a thousand passes" style of play, took control of the match after a rough opening ten minutes. Most of the attack was down the right side and always seemed to go through Akron defender DeAndre Yedlin. Yedlin played more of a right wing back rather than a traditional right back.

In the 20th minute Yedlin had a beautiful cross from the right that Akron striker Darren Mattocks could not get a head on. Mattocks' Jamaican flavor was all over the pitch, but never seemed to be able to get a call his way. New Mexico and their high backline kept Mattocks in check and cause him to get called offsides quite a bit. Mattocks had a nice shot in the 27th that went into the back of the net, but Mattocks called offsides once again and the goal was quickly called back.

Although Akron held most of the possession after the 9th minute, James Rogers of New Mexico was still all over the pitch and causing the Akron defense fits. That all changed in the 32nd minute when he was subbed off. The New Mexico attack seemed to disappear when Rogers came off the pitch, which helped the Zips attack.

Akron midfielder Michael Balogun would land a header off the post and past the Lobos keeper in the 36th with Scott Caldwell and Aodhan Quinn getting credit for setting the entire play up. The match was still mostly in Akron's possession as the first half came to an end with Akron up 1-0 thanks to Balogun's goal.

The second half would come with a lot of controversy. Referee Chris Penso awarded the first of many cards in the 51st minute as Akron goalkeeper David Meves was cautioned for delaying the game.

In the next few minutes there were a lot of scuffles on the pitch between the New Mexico attackers and the Akron defenders. Rogers and Sandoval of New Mexico were again causing problems in the Akron back four and it looked as if New Mexico came out the second half with the idea of playing a little harder and dirtier.

In the 54th minute there was a scuffle between Sandoval and Balogun. The scuffle led to both players receiving yellow cards.
Not more than three minutes later the biggest call of the match came. Darren Mattocks seemed to get into a pushing match with New Mexico goalkeeper Victor Rodriguez. It led to Mattocks taking a half swing at Rodriguez. Penso went straight to Mattocks and pulled a straight red card, then gave the New Mexico goalkeeper the free kick.

Although a man down, Akron's defense still held strong. The Zips held a lot of possession and kept attacking. In the 78th minute Akron had four shots on goal in less than ten seconds.

Then around the 80th minute New Mexico would finally break through the Akron back four. Kyle Venter came up with his second straight late match-tying goal to things even at 1-1. The match from there would be played mostly in the midfield except for the last few moments.

New Mexico kept pushing to trying and get that late winner, but was unable to put the game away. At the end of regular time the score was Akron 1, New Mexico 1. Being a tournament match, it would go to overtime with the golden boot rule in force.

The game would quickly go to double overtime, where possession was the name of the game and the match eventually ended in a 1-1 draw.

The match was a national broadcast for Fox Soccer Channel, bringing notoriety and positive publicity to the university and its unique supporters group, the AK Rowdies. The Rowdies are currently led by their president, Brandon Ferguson.

"I think it does our school and us as a group a lot of good," Ferguson stated. "There are a lot of other schools that are starting to have supporter-style groups come into the college game and a lot of them look at us as an example."

Akron won't have much time to recover as they host the always tough Cal Poly Sunday at 6 pm.
Akron Dominates St. Louis
ST. LOUIS, MO - September 10, 2011 - The No. 4 University of Akron men's soccer team stayed unbeaten on the season with a commanding 4-0 victory over Saint Louis Saturday night at Hermann Stadium.

UA, which improved to 3-0-1 on the year, dominated possession throughout the contest and owned a 21-4 advantage in shots - including a 13-2 margin on frame - over the Billikens (1-3-0), who upset No. 10 Notre Dame, 2-1, last weekend.

Junior midfielder ScottCaldwell led the way with a highlight-reel worthy goal in the second half to go with two assists as Akron won for the first time in five all-time appearances at Saint Louis.

Senior Matt Dagilis,who earned his first start in more than a year, netted the game-winner with a header in the first half while Jamaican strikers DarrenMattocks and Akeil Barrett added to the tally in the second stanza.

The Zips took a 1-0 lead with a set-piece goal in the 21st minute. Following a run by DeAndre Yedlin down the right side of the field, Aodhan Quinnsent the resulting corner kick into the box where Dagilis punched the ball into the back of the net from six yards out.

It was the second career game-winner for the Akron native and first goal since his freshman year of 2008. Dagilis nearly made it 2-0 in the 33rd minute on another UA corner kick, but this time his diving header sailed just wide of the left post.

The Zips had another prime chance to score just before the end of the half when Mattocks split a pair of defenders and fired from straight on but Billikens' keeper Mark Pais, who finished with nine saves, was there to turn it away.

Akron, which out-shot SLU 14-1 after the intermission, was rewarded for its persistence in the second half early and often.

Mattocks started the scoring in the 59th minute when he took a Caldwell pass and slotted the keeper from the top of the box. It was Mattocks' team-leading fourth goal of the season.

Saint Louis continued to push numbers forward in an attempt to cut into the lead but was punished late when Akron scored back-to-back goals in the span of 51 seconds.

After assisting Mattocks' goal, Caldwell decided to help himself with a rocket beautiful strike from distance that tucked into the upper right corner of the net. Then, just seconds later, Caldwell slipped a ball to Barrett on the right side of the box for the final goal of the evening.

After playing the last three games on the road, Akron will return home to host The University of Akron Tournament next weekend. The Zips will face New Mexico Friday at 7 p.m. in a match that will be broadcast on FOXSoccer Channel and then Cal Poly on Sunday at 6 p.m.
Caldwell's Golden Goal Pushes Zips Past Cal State Northridge
NORTHRIDGE, CA - September 3, 2011 - Scott Caldwell's golden goal in the 106th minute lifted The No. 2 University of Akron men's soccer team to a 2-1, double overtime victory over Cal State Northridge Saturday night at Matador Soccer Field.
Caldwell took a DeAndre Yedlin cross from the right side of the field and buried the ball past Northridge keeper Michael Abalos, who finished with 12 saves, at the 105:43 mark. It was the junior midfielder's second goal of the season and third game-winner of his career. Caldwell's late heroics were almost unnecessary as the Zips (2-0-1) held on to a 1-0 lead with less than 10 minutes left in regulation.
But the Matadors (1-2-0) received a shorthanded, counter attack goal from Yarden Azulay in the 82nd minute to force overtime. Freshman Wil Trapp had his shot from straight away blocked following an Akron corner kick to set up the improbable goal. Azulay quickly collected the rebound and found himself one-on-one with UA goalkeeper David Meves, who had no chance stopping a lob shot from the top of the penalty area. It was the only shot on goal for the game for Northridge, which Akron out-shot 24-8 overall and 14-1 on frame.
"Credit to Northridge, they fought hard and didn't die," said UA head coach Caleb Porter, who won his 92nd career match Saturday. "But I thought our guys dug deep as well. We're a young group and there are a lot of guys still struggling to find themselves. Our overall personality of the team is still taking shape. But we made good progress tonight. I was proud of them for finding a way to win the game."
The game began with a similar physical style of play as Thursday's draw with Cal State Fullerton as CSUN was called for seven fouls and drew three yellow cards in the first 13 minutes of the match.
But the things changed dramatically when Matadors' center back Nicholas Hamilton tackled Darren Mattocks from behind and was shown his second yellow in the 18th minute – forcing CSUN to play the rest of the match a man down. The Zips, who had began to dictate play well before the second caution, punished Northridge in the 25th minute when Caldwell found Mattocks, who slipped the ball just inside the right post for his third goal in three games this fall.
Akron pushed on in the second half and created a number of scoring chances – out-shooting CSUN, 10-3 – but couldn't find a second goal. The Zips were particularly dangerous late in regulation but Abalos, who recorded four saves during a 10-minute stretch, was spectacular at times to turn UA away. Abalos' clutch play proved to be crucial as the Matadors pulled even at the 81:18 mark and further gained momentum when Zips' freshman defender Bryan Gallego was shown his second yellow card just minutes later for grabbing a Matadors' attacker on a breakaway.
But Akron was resilient and took back control shortly after in overtime with a number of scoring chances – including Abalos' point-blank save of Thomas Schmitt in the 92nd minute – before winning the game.
ISN's University of Akron men's soccer coverage is proudly presented by Expedia® CruiseShipCenters®. Cruise? All-Inclusive? Vegas? Call Bob Hasinski at 440-724-3513 for a great deal on a vacation of a lifetime! Bob can also be reached at . You won't be sorry if you book your next vacation with Bob Hasinski and Expedia® CruiseShipCenters®.
Akron Men's Soccer Draws Cal State Fullerton, 0-0, at Labor Day Classic
NORTHRIDGE, CA - September 1, 2011 - The No. 2 University of Akron men's soccer team played Cal State Fullerton to a 0-0 draw Thursday in the opening match of the Cal State Northridge Labor Day Classic at Matador Soccer Field.

Despite a 10-2 advantage in shots, including a 6-1 margin on frame, in the first half alone, UA (1-0-1) was a little unlucky and had a hard time adjusting to the physical bullying by Cal State Fullerton (1-0-1), which recorded 28 fouls (to Akron's seven) and five yellow cards.

"We're not going to make excuses; we didn't play our best game today," said UA head coach Caleb Porter. "But clearly, Fullerton's game plan was to chop the game up with fouls and be physical and not allow us to get into a rhythm.

"We could be disappointed with the way the game was officiated, but the bottom line is we didn't handle (the physical play) very well. To me, we looked like a young team that wasn't ready to deal with a physical team that came to play. Fullerton wanted to rattle us and, in some ways, it worked. We have to do better next time."

The goalkeepers for both teams stood out for their performance. Akron's David Meves made four saves, incaluding a pair of highlight-reel worthy stops, as well as made great reads on balls in the box while Fullerton's Trevor Whiddon finished the game with nine stops.

Ironically, Whiddon was not involved in the Zips' best opportunity to score however, when a Fullerton defender cleared the ball off the line in the 29th minute. Following a Zips' free kick from 40 yards out, Tommy Schmitt, who earned his first career start, gained control on the left side near the touch line and served the ball into the box. Scott Caldwell, who finished with a career-high seven shots, was there to receive it and headed it towards an open net only to be denied.

If the Zips were unlucky in the first half, they were lucky to start the second when a long-ranged shot by Fullerton's Roberto Vernaschi rang the left post following a Titans' free kick.

The remainder of play was fairly even with both teams earning chances, but neither could get into a rhythm due in large part to the sizable number of stoppages. For the game, the Zips out-shot the Titans 20-14 overall and 10-4 on frame.

UA's best opportunity to score in overtime came in the first stanza during a three-minute stretch that saw shots by Darren Mattocks and Caldwell result in Whiddon saves and a third shot by Wil Trapp, who had a good look from straight on, sail high.

Akron will have an off day before returning to Matador Soccer Stadium Saturday to take on host Cal State Northridge at 10 p.m. (ET) Live stats and an audio stream will be available on GoMatadors.com.
Akron Opens Title Defense with 5-0 Win
AKRON, OH – August 27, 2011- It did not take long for the University of Akron men's soccer team to make their first statement in the quest to defend their 2010 NCAA Championship, as they beat rivals Cleveland State 5-0 in front of a record crowd of 5,241 at FirstEnergy Stadium – Cub Cadet Field.

The win is the first for the Zips in the 2011 campaign, but it cements their legacy in NCAA history as they now hold the longest unbeaten streak at home with 40 matches.
Not only was there a record crowd on hand, but the 2010 NCAA Championship banner was unveiled in a pregame ceremony.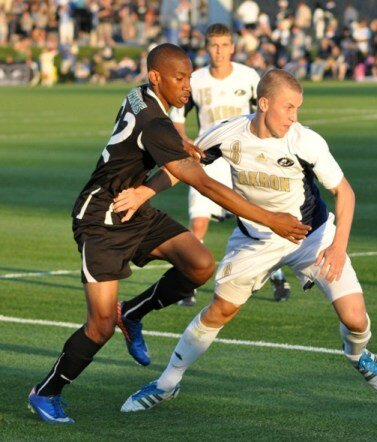 "It's a great start," University of Akron head coach Caleb Porter said. "I felt that we played well on both sides of the ball and our attack created plenty of chances and we had great rhythm, which is something we are looking to do."
Cleveland State attempted to control the tempo from the beginning, but after the Zips re-controlled the ball shortly after kickoff, it was all Akron. The Zips used their attacking formation to put pressure of the Vikings.
It took only six minutes from kickoff for the Zips to open their scoring account. Darren Mattocks brought in a lob from midfield placed by Wil Trapp. The Jamaican striker then put his shot past Cleveland State goalie Brad Stuver and Akron led 1-0.

"It's a good start for the first game of the season and a pretty good performance," Mattocks said. "This is just one game and we just want to stay focused."
Akron used a very successful formula to hit the net five times, as they would use their quick midfielders to get the ball out to the wings, center the ball, and the quality of the forwards helped make Akron a tough team to defend.

The Zips' attacking 4-3-3 formation consisted of a starting lineup of one senior (Balogun), three juniors, three sophomores, and four freshmen.
Akron continued their scoring just six minutes later as Aodhan Quinn and Scott Caldwell played a corner short, then crossed it in to the head of Micheal Balogun. Balgoun headed the ball in and Akron held a 2-0 lead in just the 13th minute.
"We were really pleased with our performance in the first half," Caldwell said. "We came out and we wanted to put them on their heels. Our goal is to keep them off the ball and tire them out."
Stuver had some nice stops in goal for Cleveland State, as he had four saves, but twice Akron was able to knock in rebounds and score. First Caldwell knocked his in after a Mattocks shot (22nd minute), then Mattocks had his second goal at the 31st minute mark.
"Darren has taken his game to a whole new level," Porter said. "He is the real deal and we are going to need him to be."
Akron went into halftime, holding a 4-0 lead and dominated the stats, outshooting CSU 8-2 and had four corners to CSU's zero.
"I thought everybody played well tonight, and that is pleasing to see," Porter said.
Akeil Barrett scored the only goal in the second half, but it was a beautiful shot. With Cleveland State possessing the ball in their own end, a Viking defender made a bad pass backwards, which Barett scooped up, then before anyone could cover him, took the shot. The shot from just inside the box, was bended with Barrett's right foot and was placed around a diving Stuver, who had no chance to make the stop.

Stuver ended the night with five saves.
The Zips cotrolled with 10 shots on target, six corners, and 16 totals shots, as CSU could only muster one shot on target.
Akron's next home match occurs on Friday, September 16 when they face New Mexico. The match will also be broadcast on Fox Soccer Channel.
Akron Starting XI: David Meves, Chad Barson, Bryan Gallego, David Mayer, DeAndre Yedlin, Wil Trapp, Aodhan Quinn, Zac Portillos, Scott Caldwell, Michael Balogun, Darren Mattocks
Cleveland State Starting XI: Brad Stuver, Cameron Eisses, Christopher Koy, Zach Ellis-Hayden, John Wargo, Brian Donnelly, Aslinn Rodas, Mike Derezic, Manuel Conde, Admir Suljevic, Jordan Hart

Akron Men's Soccer Plays No. 10 Creighton to 1-1 Draw in Exhibition
It was the first time the public got to see 16 newcomers take the field and they were not disappointed. Kingston, Jamaica native Akeil Barrett was the most impressive of the new players and looks to have earned a starting spot in Head Coach Caleb Porter's 4-2-3-1 formation. Barrett showed great speed and touch during the scrimmage and tallied an assist on one of Quinn's goals in the first half. Defender David Mayer (Wigan, England) did not play due to a minor injury, but is expected back for the home opener against Cleveland State University.
Akron has a final exhibition game Saturday against preseason No. 10 Creighton in Ft. Wayne, Ind., at 8:30 p.m. ET as part of the Shindigz National Soccer Festival.

"This team has a good perspective," Porter declared. "We want to really be the team at the end of the year that is playing our best soccer. We're not going to be the finished product at the beginning of the year."

The team has 19 regular season games to prepare them for what they hope is going to be another run at the national title.

"We're not going to be scared," Porter continued. "We're not going to be intimidated. We're not going to be tentative going into any game."

This young team is going to have to lean on several veterans on both sides of the ball. First and foremost Akron's electric style relies on attackers scoring goals. Darren Mattocks, fresh off 18 goals his freshman year, looks to provide the scoring punch.

"We had a scrimmage yesterday and he had four goals in the first half," Porter added. "This guy is a goal-scorer. He's a killer."

Captain Chad Barson heads up a revamped backline, looking to fill some big shoes. They are replacing a group of defenders that recorded a record 33 shutouts, which explains why Porter calls them "one of the best back fours in the history of college soccer."

Fellow captain Scott Caldwell looks to be the new field general in the middle, hoping to provide a link between the back and players upfront as well as being a defensive presence.

And you can't forget the steadying presence of junior goalkeeper David Meves.

"He's taken his game to another level," Porter said of Meves. "That's what we hoped would happen."

Porter was quick to compliment the maturity and play of freshmen Bryan Gallego and Wil Trapp. Gallego is likely to start at center back, while Trapp faces a stiff challenge from senior Michael Balogun for a starting position in the midfield. Other recruits, including those highly touted international players and transfesr, figure to play a role in a team that welcomes an unheard of 15 newcomers.

Fans don't have to wait long for the local derby and home opener against Cleveland State on August 27th. It is going to be a challenging start to the season, but homefield advantage certainly comes into play for the Zips. FirstEnergy Stadium - Cub Cadet Field has become quite a fortress thanks to what Porter calls the best fans in the country and a hefty 39 game home unbeaten streak.

-Senior Luke Holmes, NAIA National Player of the Year at Notre Dame College (OH), figures to play a prominent role in the attack. The English midfielder/forward looked explosive in the spring and was simply dominant in PDL play with the Michigan Bucks this summer. He is likely to be selected in the 2012 MLS SuperDraft along with Mattocks, who may be the next UA player to turn pro.

-Porter would not disclose much in terms of formation or tactics, but it will be a team that pushes forward a lot. He mentioned that they sometimes leave only two defenders back on a counter attack so the aggressive play will continue. Outside backs, midfielders, and forwards will be very active. This puts pressure on a rebuilt backline, but there is no reason they won't be exemplary.

-Porter admitted that his favorite professional club is FC Barcelona. "A lot of what we do is based on Barcelona's philosophy and how they play the game," Porter declared in a one-on-one interview with ISNSoccer.com. "We went over there and studied how they train and studied some of the things they preach to their guys."

-Thanks to the UA staff's world travels, fans should really see some international flavor to the playing style and composition of the squad. "When you see Akron play, it doesn't look like a typical American college soccer team," Porter concluded. "Hopefully it looks like more of an international team that plays with a bit more flair, creativity, imagination, and possession."