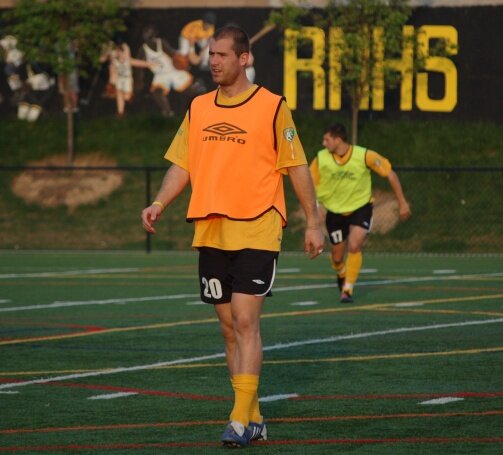 Pertz Continues to Climb
Ohio Vortex and Real Maryland defender Michael Pertz has begun the next chapter of his professional career, training with Crystal Palace Baltimore of the United States Soccer Federation Division II Pro League (USSF D-II).
"I'm looking forward to the opportunity to play with Crystal Palace," Pertz commented. "I know they have a lot of talent in their squad, and I can't wait to start training."
In the fall of 2009 Pertz played his first indoor season in the Professional Arena Soccer League (PASL-Pro). He would make 10 appearances for the Vortex, tallying 3 goals, 1 assist, and 11 blocks. His impressive size and deceptive speed quickly caught the attention of opposing coaches and pro scouts alike.

He spent much of the spring and summer with Real Maryland of the United Soccer League's Second Division (USL-2) before heading to train with Crystal Palace Baltimore. Pertz logged 7 appearances with the Monarchs despite playing behind some of the league's best defenders.

Pertz, 23, appreciated the experience gained from playing for USL's Second Division. "I really enjoyed my time at Real Maryland," the young defender stated. "We struggled a bit for results, but I felt my time there was well spent with great players and an excellent coaching staff."

It was clear that Pertz continued to grow as a player under the expertise of Head Coach Anthony Hudson, a former West Ham United and Luton Town midfielder.

"Anthony was a great coach," Pertz continued. "Even though he may be young, he had more insight than most coaches I've worked with. It was a privilege to play for him this season."

The Medina, Ohio native has also played for some of the nation's best collegiate programs, including the University of Akron (OH), Mount Vernon Nazarene University (OH), and Azusa Pacific University (CA).

Every season seems to see Pertz climb a little higher in his professional career. It won't be long before we see him on the pitch of an MLS club or tending to his trade overseas. For the time being he will be training with one of the NASL's elite clubs, just waiting for his next opportunity.