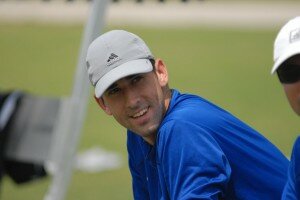 The coaching world needs a lot more people like Florida Gulf Coast University assistant coach Danny Cepero. He is a former MLS and USL player that has taken his game and a new career in coaching to the collegiate level.
Florida Gulf Coast is an emerging program with loads of potential on the national scene.  Cepero couldn't pass up an opportunity to serve as the team's goalkeeping coach under the expert tutelage of Head Coach Bob Butehorn.
The Baldwin, NY native had experimented with a life outside the beautiful game, but quickly came to a new realization after spending time with a PR firm and a software company.
"I realized I missed the game," Cepero concluded.
The position with FGCU allowed him to coach goalkeepers and take care of coursework that would eventually lead to a Master's degree in History.  Simply put, it was a win-win situation, especially since he would be reunited with one of his coaches from the University of Pennsylvania.
Cepero is fresh off a successful professional career that included time with the New York Red Bulls and the Harrisburg City Islanders.
Playing with the Red Bulls certainly had its perks, including spending time with legends like Claudio Reyna, Juan Pablo Angel, and Ronald Watterus.
"The most genuinely caring person that I have seen around soccer was Claudio,"Cepero added.
Cepero admired Reyna's ability and willingness to work with the younger players, teaching them about everything from soccer to what they eat to how they work out.
The former Penn star was also excited to train and play with Angel, saying that JPA forced his level way up as a keeper, a position where he faced stars every day in practice.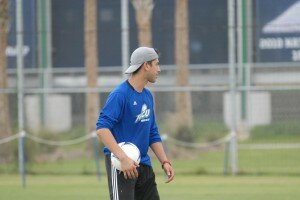 It doesn't hurt that he served as an understudy to Watterus, who was a famous netminder for Rangers and PSV Eindhoven.
"Learning everything I could, acting like a sponge, was amazing," Cepero continued.  Watterus even got Cepero some time with PSV's reserve squad, where he could see top-flight soccer in a different environment.
Cepero also spent time with the Islanders, which allowed him to see American soccer at a different, but still incredibly competitive level.
"I had a good relationship with them because I was on loan there my second year with the Red Bulls."
Cepero was a fan favorite in Harrisburg, but eventually decided that he needed to take care of his life after soccer.  That life would start off as a college coach, who can share his experiences and knowledge as a successful college and pro player.
Remember this is the same player that helped New York make a storybook run through the playoffs and into the league's championship game in 2008.  Yes, he started four playoff games and was between the posts for the final.  This followed a record set by Cepero, who became the first keeper in MLS history to score a goal when he drilled home a free kick from 80 yards.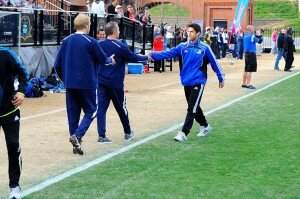 Cepero has a lot of lessons to share.  The biggest is the business side of the pro game.
"A lot of these players think going pro is easy," Cepero said. "They forget the fact that it's a business. If you are not playing up to snuff, you are replaceable. That reality check is important for these players to keep their drive alive."
His expertise has been invaluable to younger FGCU players like defenders Daniel Stanese and Aaron Guillen and of course 2011 A-Sun Tournament MVP Nathan Ingham.  Cepero believes each of these players has the potential to be professional players at some point in their careers.  For now the entire FGCU staff is working to make them that much better, developing them as players and people.
Many people question the role of college soccer with an increased emphasis on the academy system, a program that is so prevalent and successful around the world.  A 10 month academy season has put high school soccer on notice in many places, but Cepero explains why college soccer is still relevant in the development of American talent.
"Jumping from an academy team to the pros is a big jump."
But the college game provides a stepping stone to the professional game, allowing players to continue to hone their skills in a high-energy locale.
"Going to college doesn't negate your chances of going pro," Cepero continued. "You have to get used to the rigors of a longer season.  You have to be able to balance a bunch of different things.  There is more pressure; you have to face more competitive teams. It is a more physical game at the college level."
He is also bullish on the future of the American game as a whole, saying "the only way we are going is up."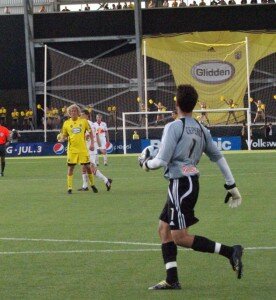 On the coaching philosophy side of things, he is all about growing well-rounded players who can think through the game, playing with athleticism and technical ability.
"The mental aspect of the game is one of the more important things."
He points out that too much weight can't be placed on a single aspect of someone's game.  You have to be a great all-around player to make it in the pros.  You nurture strengths and correct weaknesses, making sure that every player has the fundamentals so that they can climb even higher.  And you have a plan for every practice and training session, providing players with a structured environment.
Cepero is a great coach in the making, but he is still a great fan of the game he loves.  He keeps tabs on his former team, the Red Bulls, because they are after all his former team and his hometown club.  And he roots for the league with the hopes that the league will continue to grow and develop, adding teams like that turn out like Portland, Seattle, Vancouver, and Montreal. Cepero believes these markets and these clubs have made "soccer in the U.S. so much better."
He is also excited about the possibility of a second New York team.
"The market is there. There are people that eat, breathe, and sleep soccer."
He is also for having the Cosmos be that 20th team in MLS.  He believes there is a preexisting infrastructure that could be valuable for an expansion team, along with the history and tradition that would certainly resonate with fans.  Simply put, people of any age would surely embrace the Cosmos brand and the Cosmos name.  It brings back great memories for everyone.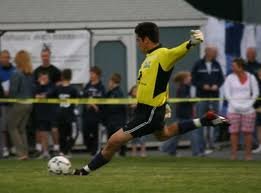 Looking back to the Cinderella season of 2008, he knows that the camaraderie and the relationships meant just as much as the honors and headlines.  And with his help, Cepero is hoping that his FGCU players might get a little taste of what it means to be a pro.
Korrio understands it is your passion for coaching kids that drives you. We also know that the less time you spend dealing with administrative, communication and automation hassles, and the more time you spend on the field, the happier you'll be. And because you play a crucial role in our children's lives, we want you spending as much time as possible coaching our kids. Korrio offers a modern approach to coaching by allowing new ways to communicate and develop a community on and off the field. Congratulations to the ISN Star of Coaching this month!