Detroit and Cleveland Finish with Draw
CLEVELAND, OH - July 5, 2013 - AFC Cleveland clinched the fourth and final spot in the Great Lakes Conference Playoffs with a 1-1 draw with Detroit City FC.
870 fans and supporters from both Cleveland and Detroit were present for a fast, physical, and intense matchup.
AFC Cleveland was the first on the board as Tom Beck set up a Tom Granot goal in the 35th minute. The home side would carry that same 1-0 lead into halftime.
Former Columbus Crew striker Knox Cameron brought things even at 1-1 for Detroit with an unassisted goal in the 77th minute.
Both sides continued to fight, but neither could gain the advantage as the match ended in a draw. Royals keeper Ben Yabrow was stellar again, making crucial saves at different points during the game.
"Ben has come up big when he needs to," AFC Cleveland head coach Andy Hoggarth commented. "Now I am going to have to talk him into not moving back to Georgia next year so we can keep him around."
AFC Cleveland will meet DCFC again in the playoffs next weekend in an intriguing rematch, one that is exciting for fans and players alike.
"They are going to play with a little bit of bite," AFC Cleveland forward Tommy Schmitt stated. "They know that we can compete with them game in and game out."
AFC Cleveland Dominates Sparta on the Road
BERKLEY, MI - June 30, 2013 - AFC Cleveland defeated FC Sparta Michigan 5-1 on Sunday to move into the fourth and final playoff spot in the Great Lakes Conference.
The first half ended 1-1, but the second half was all Royals. FC Sparta was the victim of two red cards as Jacob Prudhomme and Ali Gelan were sent off. This added to the home team's difficulties as Cleveland's attack was indeed clicking on all cylinders.
Tom Beck finished with a brace, while Ryan Minick, Tommy Schmitt, and Tommy Granot each scored a goal apiece.
New Albany's Anthony Flowers made his NPSL debut, relieving starting Royals goalkeeper Ben Yabrow late in the second half.
AFC Cleveland returns home to face 1st place Detroit City FC on July 5th at Krenzler Field.
A True Battle, A True Rivalry
Photo Courtesy of Pam Moody/ISNSoccer.com
CLEVELAND, OH - June 21, 2013 - AFC Cleveland fell to Detroit City FC by a score of 3-2 in what could be called the most hotly contested match of the NPSL season.
"What's happened is that we have developed a really great rivalry," DCFC co-owner Sean Mann commented. "It's the class of the NPSL in a lot of ways. It's fun to have two good teams playing in front of packed stadiums."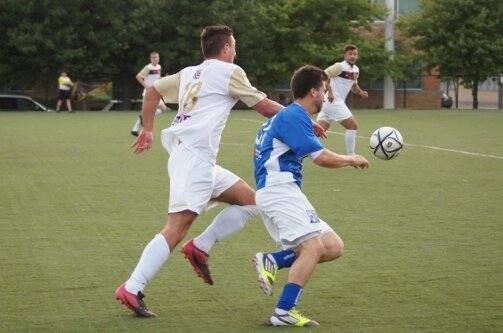 The Royals were the first on the board thanks to a header from Tommy Schmitt in the 5th minute. Tom Beck would get the credit for the assist after launching a beautiful cross to set up the goal.
Detroit would even things up at 1-1 as Lachlan Savage scored off a Jeff Adkins cross just 5 minutes later.
The opportunities continued to flow for both sides. Adkins took a shot off the far post in the 36th, while Vinny Bell and Beck had solid chances of their own in the 40th and 41st minutes respectively.
The halftime whistle blew with no change to the 1-1 scoreline.
Detroit held an advantage in shots (7-6) and corner kicks (6-2) in the first half, but possession remained even at 50% for both sides throughout the game.
DCFC's Fabio Pereira converted a PK in the 64 minute to put the visitors up 2-1, but that lead was short-lived as Bell scored in the 76th off an assist from Keisuke Ohata.
It was the first appearance of the season for Ohata, who recently joined AFC Cleveland from a Japanese club.
"I wasn't expecting that many supporters," Ohata said. "I am glad to be here. It's an honor."
Grant Chong beat Cleveland keeper Ben Yabrow in the 87th to give the visitors a 3-2 lead, which they held until the final whistle. Yabrow finished the match with 7 saves.
DCFC would finish the match with an advantage in shots (14-10) and corner kicks (8-4).
The win kept DCFC's unbeaten record in place, while Cleveland continued to be a victim of Lady Luck.
"Sometimes things just don't go for you," AFC Cleveland head coach Andy Hoggarth stated. "Maybe last year we used all our luck. We were the one scoring the last minute goals."
It was a great match with a fantastic atmosphere thanks to the over 850 fans in attendance. It was also a special night as the city's Terminal Tower turned blue and white in support of AFC Cleveland and the night's charity, the Pediatric Brain Tumor Foundation.
Subside Sports Man of the Match: FWD Grant Chong, Detroit City
Match Photos
AFC Cleveland Wins Presidential Cup in Hard-Fought Battle
Photos by Pam Moody/ISNSoccer.com
CLEVELAND, OH - June 7, 2013 - "The Battle for Ohio" took place Friday night between AFC Cleveland and Zanesville Athletic FC at Krenzler Field on the Cleveland State University campus. The coveted Presidential Cup, the first piece of hardware awarded in the 2013 NPSL season, went to AFC Cleveland in a 3-2 win and a 6-4 score on aggregate.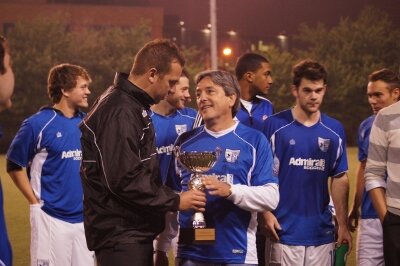 The Royals came into the match leading the Presidential Cup standings thanks to a 3-2 AFC Cleveland victory against Zanesville on May 19th.
A great crowd was on hand for a rollercoaster match where the final result was up in the air until the final whistle.
"It doesn't matter how we're playing," AFC Cleveland head coach Andy Hoggarth stated. "The fans are going to stay behind us. They trust us that we are doing everything we can to win."
The first half was one of opportunities for both sides even though Cleveland held an advantage in possession. It took a full 45 minutes for former Akron striker Tommy Schmitt to score off a looping free kick to put Cleveland up 1-0.
Christian Earnest made it 2-0 in favor of the home team in the 51st off an assist from Schmitt.
Zanesville responded with a goal of their own eight minutes later thanks to a strike from Smart Osadolor, who caught Royals keeper Ben Yabrow off his line and was able to sneak one past to keep the visitors in the match at 2-1.
Zanesville's Anthony Bahadur brought things even at 2-2 in the 82nd minute.
But it was Mount Union forward Tommy Beck, with an assist from Tyler Johnston, who scored seven minutes later to put the Royals ahead for good. It was an important goal that brought his team a much needed three points and a piece of hardware for the AFC trophy case.
Zanesville did not go down easy as they continued to fight in the final minutes. A red card was shown to ZAFC's Tim Findall in stoppage time, which put the visitors down to 10 men for the final minutes of the match. To their credit Zanesville continued to attack until the final whistle was blown.
"It was definitely a good result," AFC Cleveland defender Phil Spagnolo commented. "Ben [Yabrow] did great. In stoppage time he saved a wide open 1 on 1 goal. He had great hands all night, great positioning, good distribution. He did well."
Neither team has much time to rest as they have yet another match on Sunday. AFC Cleveland hits the road to face FC Buffalo, while Zanesville heads home to take on FC Sparta Michigan.
Subside Sports Man of the Match: FWD Tommy Schmitt, AFC Cleveland
Cleveland Falls to FCB at Home
CLEVELAND, OH - May 31, 2013 - Red cards change games and that was certainly the case as AFC Cleveland fell 2-0 to FC Buffalo at Krenzler Field.
The game was knotted at 0-0 for most of the match until 2 red cards, that's right 2 red cards, gave Buffalo a serious advantage.
The result was 2 goals scored in an amount of 10 minutes. The first was a penalty kick by FCB midfielder Ian Mort in the 86th minute. The second goal came from another Buffalo midfielder, Ozzy Morales, in stoppage time.
The Royals weren't without their own opportunities. They had 18 shots and both Tommy Schmitt (7 shots) and Vinny Bell (5 shots) were active in the attack.
There was solid goalkeeping on both sides as Ben Yabrow (10 saves) and Andrew Coughlin (12 saves) were impressive between the posts.
Cleveland looks to rebound from the loss on Friday, June 7th as they host Zanesville Athletic, a team they defeated 3-2 on May 19th.
Goals Galore as Conference Powers Collide
Photos by Rob Ivory/ISNSoccer.com
CLEVELAND, OH - May 24, 2013 - If you liked goals then you would have enjoyed yourself at Krenzler Field Friday night as AFC Cleveland drew with the Erie Admirals on a 3-3 scoreline.
"Probably both teams had opportunities to win, but I don't think anyone really deserved to," AFC Cleveland head coach Andy Hoggarth stated. "We'll take the draw."
It was hard to figure out how the match would end thanks to the back and forth action in this fast and physical match.
"The draw was a fair result," Admirals head coach John Melody stated. "There is nothing between us. There was nothing between us last year. It doesn't look like there is much between us this year."
Michael Lennox, with an assist credited to Billy Colton, put the visitors up 1-0 in the 9th minute. Ryan Minick set up Vinny Bell with an equalizer in the 30th.
Former University of Akron striker Tommy Schmitt added another for Cleveland 4 minutes later to give the home side a 2-1 edge.
Cleveland's lead didn't last long as Tom Davis scored less than 10 minutes later to bring things even at 2-2. Afrim Latifi, one of the longest tenured players for the Admirals, got the assist.
Colton added a goal of his own 10 minutes later to put the visitors ahead 3-2. But it was Schmitt who was the hero of the night as he slotted home the tying goal in the 84th minute.
Schmitt's performance earned him Subside Sports Man of the Match honors from ISNSoccer.com, his second of the season, and also a nomination for the NPSL National Player of the Week.
Hoggarth was excited about Schmitt's play.
"Tonight is probably the best game we have seen from him since he has been with us. He was consistently good."
Cleveland isn't done with NPSL regular season play this Memorial Day weekend as they visit FC Sparta Michigan on Sunday.
Match Photos
The Battle for Ohio Begins with a Bang
Photos by Pam Moody/ISNSoccer.com
ZANESVILLE, OH - May 19, 2013 - The Battle for Ohio is usually reserved for the Indians and the Reds or the Browns and the Bengals. But this weekend the Battle for Ohio was all about the NPSL as AFC Cleveland hit the road to face newcomer Zanesville Athletic FC in a weekend of firsts.
It was the first home match for ZAFC, the first meeting between Zanesville and Cleveland, and the first-ever Presidential Cup match. What's the Presidential Cup? The teams' faithful are excited about this new rivalry series that pits the two Ohio clubs against each other in what looks to be a great derby for years to come.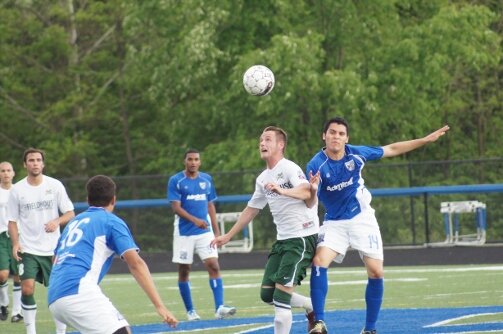 Cleveland got an early lead in the cup competition, defeating ZAFC 3-2 on Sunday.
"The boys finished well," AFC Cleveland head coach Andy Hoggarth stated. "We took our goals well. It was a good win and we are happy with it."
Both Cleveland and Zanesville started their attacks early, trading chances in the first moments of the match.
Cleveland striker Tom Beck was the first to go on the board, scoring a goal in the 5th minute on a breakaway run. The Royals would add to that lead in the 31st as Vinny Bell turned an Andre Learned cross into a goal.
Zanesville was awarded a dangerous free kick just outside the box minutes before halftime, but the home side was unable to convert the chance.
The 2-0 lead by Cleveland didn't last long as Cedric Bruce-Kotey and Smart Osadolor teamed up for a goal in the 49th minute, cutting the visitors' lead in half.
ZAFC continued to make attempts at the Cleveland goal, including a quick sequence where the ball bounced off multiple players before keeper Ben Yabrow was able to fall on it.
But everything changed in the 68th minute as Osadolor was handed a red card for an aggressive tackle on Cleveland's David Murrow.
A man down, Zanesville surrendered a third goal 10 minutes later as Bell scored his second of the night and third of the weekend.
Both sides continued to trade chances, but it was the home team that struck in stoppage time as Zanesville's Tim Findall collected a cross from Ryan McClay to end things at 3-2.
The physicality of the match was never in question.
"It was a tough game," ZAFC midfielder Michael McLaughlin stated. "It was a tough loss. I think the team has done well and will do well in the future."
The result gives AFC Cleveland their first win of the season, while Zanesville remains winless despite two strong showings.
Subside Sports Man of the Match: F Vinny Bell, AFC Cleveland
Match Photos
Match Audio – Vinny Buzzetta Interview
AFC Falls to Sparta in Shocker
Photos by Pam Moody/ISNSoccer.com
CLEVELAND, OH - May 10, 2013 - Jesus Ginez and FC Sparta Michigan spoiled AFC Cleveland's home opener on Friday night with a sneaky goal in the 89th minute. The goal gave the visiting side a 1-0 victory in their first-ever NPSL game.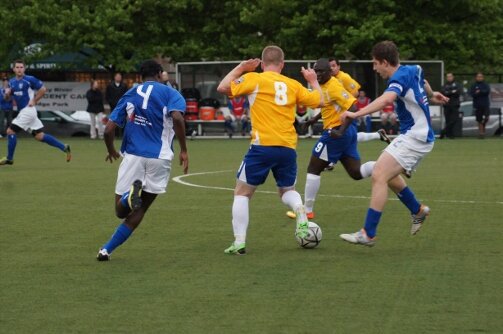 It was an even match with both teams having their share of scoring chances. Vinny Bell and Tommy Schmitt were both effective in the attack for the hometown Royals, a squad that held an edge in possession on the night.
Bell would clank a shot off the crossbar late in the first half, while Schmitt constantly tested the Sparta backline as he tried to get behind defenders in the attack.
"I think we just need to get together more," Schmitt remarked. "We were only together for two weeks. We got unlucky and lost 1-0. We are going to focus on chemistry and getting game fitness back."
The weather was less than optimal as a day of showers and storms turned Krenzler Field into a fast and slick surface. Fans and supporters from the 6th City Syndicate braved the elements to enjoy the beautiful game in its return to downtown Cleveland.
"It's nice being down here in a more intimate atmosphere, where you can really hear the noise," Cleveland head coach Andy Hoggarth commented.
The game seemed to be headed to a draw after a 0-0 score at the end of the first half.
The teams continued to trade chances after the break, including a near miss from Cleveland attacker Ryan Minick in the 74th minute. But it was Ginez that scored the game-winner for the expansion Sparta side with literally moments to spare.
"They played it in," Ginez said when asked about his goal. "It kind of bounced around there. I just hit it with my right foot."
"We honestly didn't know what it was going to be like," Ginez added. "It felt good out there though."
The 1-0 win gave the visitors three points to start their inaugural season, while Cleveland must look to road games at Detroit and Zanesville to advance up the league table.
"Possession is great, but possession with no purpose to it really isn't great," Hoggarth added. "We didn't test their goalkeeper enough."
Subside Sports Man of the Match: Tommy Schmitt, AFC Cleveland
Event Photos