Champions: The Inside Story of Our Historic 19th League Title Triumph is a special text, an insider's perspective on Manchester United 2010-2011 campaign.  Steve Bartram gets unprecedented access to the Red Devils, following them on their rollercoaster season that had plenty of highs and lows and many thrills in between.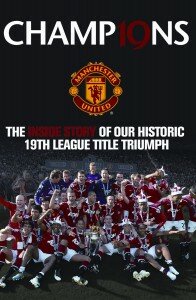 You will hear about United's magical journey to North America in the preseason, Wayne Rooney's surprise contract squabble, and the anguish of a defeat at the hands of Barcelona in the Champions League.  And of course you will see the joy and excitement of United's successful run at yet another league title.  Bartram presents his content in an organized and logical fashion, going game by game in order. Highlights of every match from the preseason to the Champions League are shown with great precision, including lineups and box scores.
There are plenty of books about Manchester United, but none have been able to capture comments from all the stars in one place. Interviews with Sir Alex, Paul Scholes, Ryan Giggs, John O'Shea, Patrice Evra, and Rio Ferdinand can be found throughout the book, giving you the feeling that you are right there in the locker room.
The photography in the book is marvelous, offering visuals from every moment in the season.  This is certainly a must-read for supporters of Manchester United or any English football fan. It is sportswriting at its best, an enjoyable read that captures the great spirit of the world's most valuable sports franchise.
Purchase the book by clicking here.